disclosure: affiliate links may be used in this post.
 Painted Table using MMSMP
The painted table has several layers of milk paint. I planned it that way. The layers are varying colors and the paint chips between each layer so there are multiple colors showing through the top layer of paint.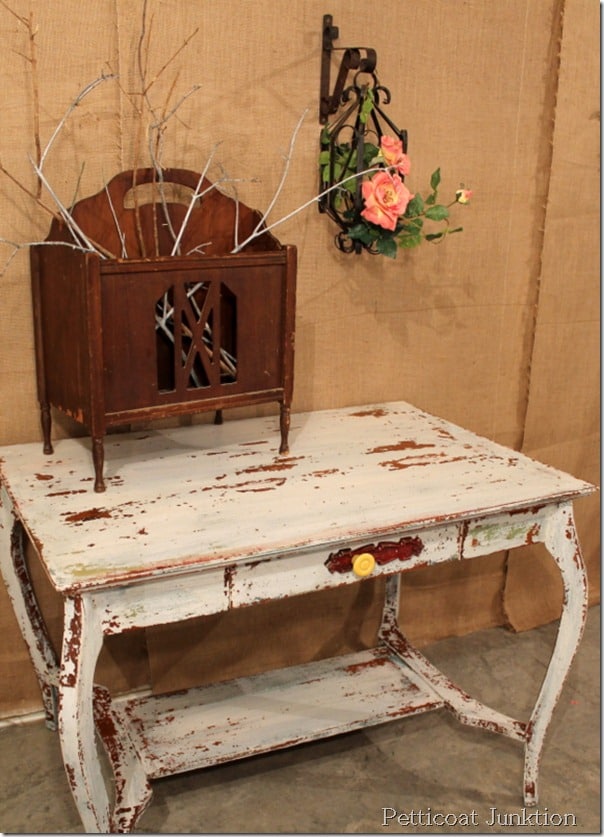 Painted Table With Multiple Paint Layers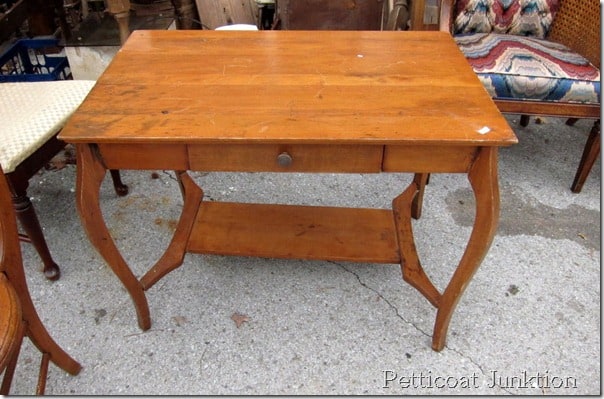 table from My Favorite Junk Shop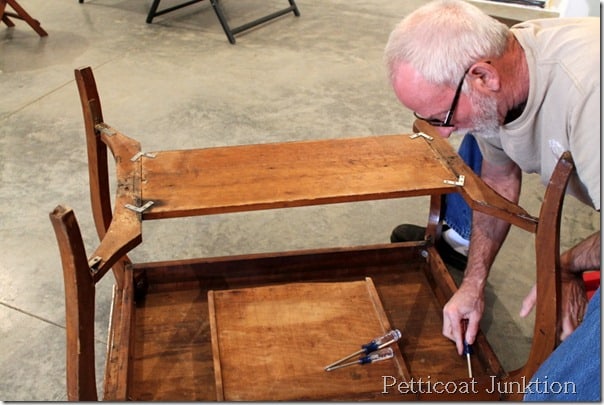 It was really rickety and put together with metal pieces and probably a little spit and glue. The Junktion Technical Specialist made it steady as a rock.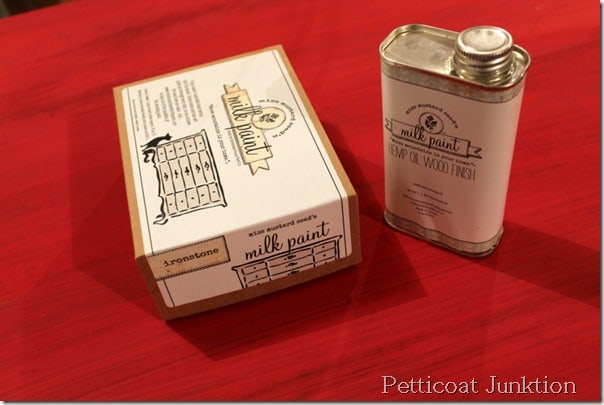 I wanted to do something a little quirky for this project. It was a cheap table and just right for "technical experimentation". I first put on a coat of Miss Mustard Seed's Milk Paint in Tricycle Red. This pic shows the table with one coat of Tricycle. I read on facebook where you could put MMS Hemp Oil between the layers and it would act like Vaseline and the top layer of paint would chip off where the hemp oil was used.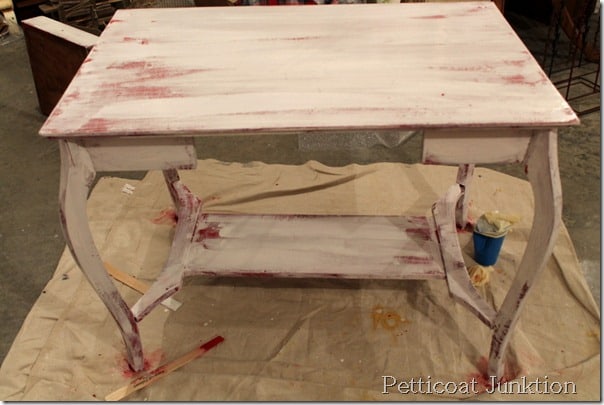 I wasn't too sure about this process so I used a very very tiny bit of hemp oil. Then I put on a coat of MMS Milk Paint in Ironstone.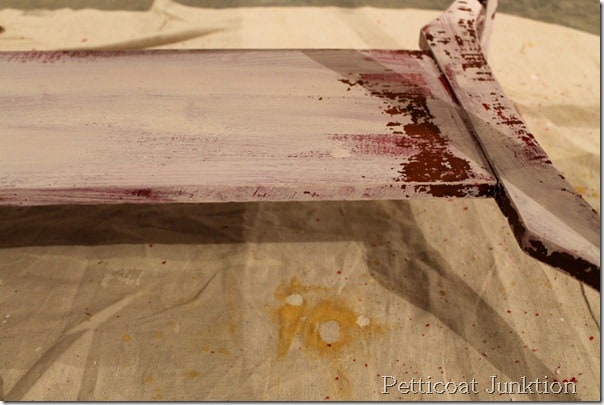 After the white paint dried I rubbed off the chippy areas with a rag.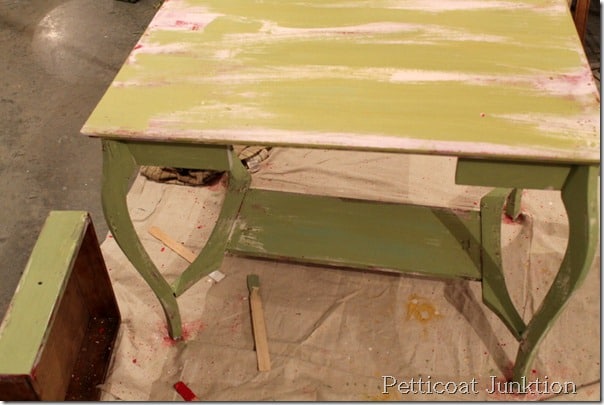 more MMS Hemp Oil and MMS Milk Paint in Lucketts Green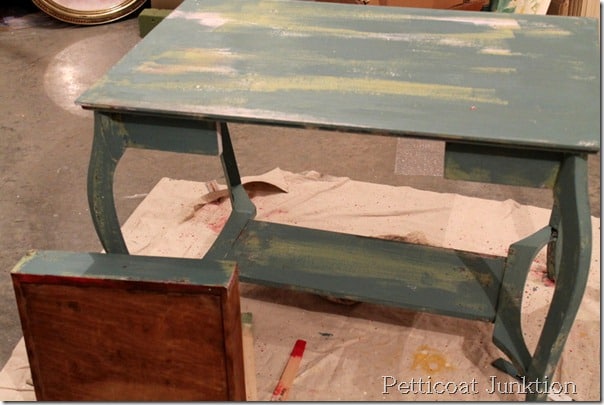 more MMS Hemp Oil and MMS Milk Paint in Kitchen Scale
final coat of Ironstone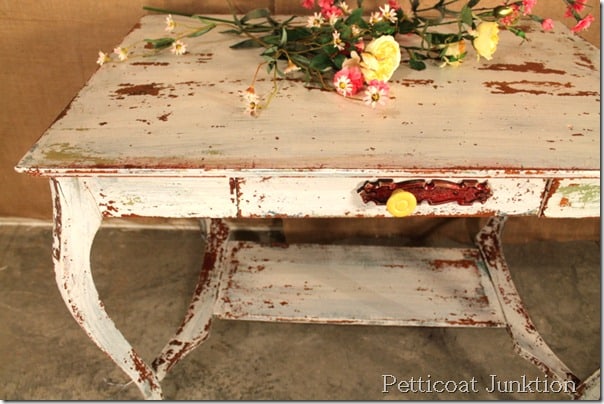 I took my paint scraper to the table and chipped off the loose pieces of paint.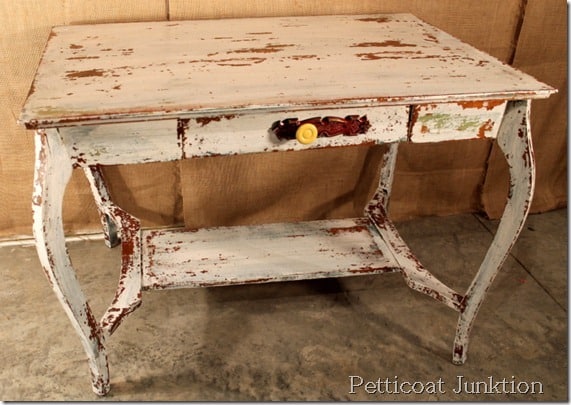 two coats of poly-acrylic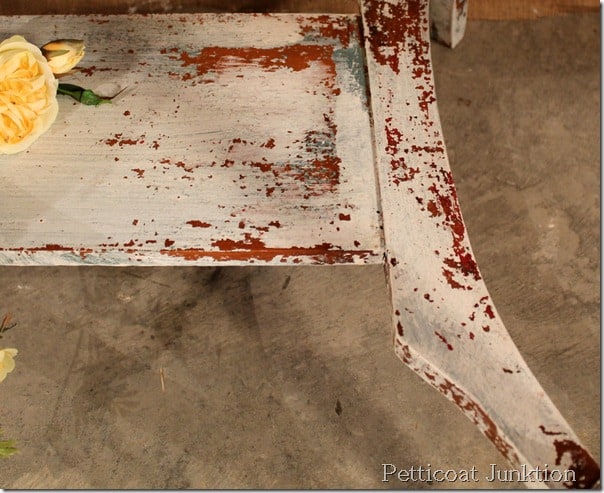 Kitchen Scale Blue peeking through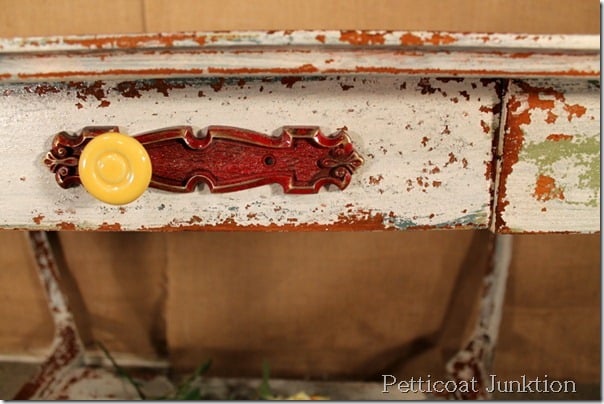 quirky knob to go with the quirky table…..hardware back plate painted red and a new yellow knob from Hobby Lobby…placed off-center
Tips for using Milk Paint…
1. I prefer the mixture of 1 part milk paint powder to 1¼ parts warm water.
2. Mix it in a fruit jar or something similar with a lid in case you have leftovers. Stir with a paint stick. For an average size chest of drawers I would mix about ½ cup of milk paint powder with between ½ to ¾ cup of warm water. After you have done a couple of projects you will get a feel for the proper consistency. It's easy to mix more paint if you run out.
3. Stir for a couple of minutes, let it set for a few minutes then stir some more. If you have a few small lumps after mixing they should brush out or you can just wipe them off.
4. Brush on a coat of paint and you should be able to put on a second coat within a very short time. Brush on the second coat as soon as possible or it will start chipping as it dries and if the paint chips off and you put a second coat over the flaked off part it doesn't look good.
5. I've never put on more than two coats.
6. When its dry and starts chipping use a putty knife and gently rub it over the piece. If you want a lot of paint off the edges then scrap a little harder with the putty knife. I love this technique because it looks so much better than distressing with a sander.
7. After you have it chipped or distressed like you want, use a dark or clear wax to seal it. I've also used a clear polyacrylic for a little shine.
8. If you don't want the paint to chip add the bonding reagent. The paint colors are so intense they look great with just a medium to dark wax over them.
Most Popular Milk Paint project….., Tricycle Red Cabinet