Brown and White Color Block Furniture
Color block furniture is trending now. I'm usually behind the trends by at least a couple of years. Not sure I like how this project turned out but I left it as is and took it to the booth to sell. You guys will have to let me know what you think.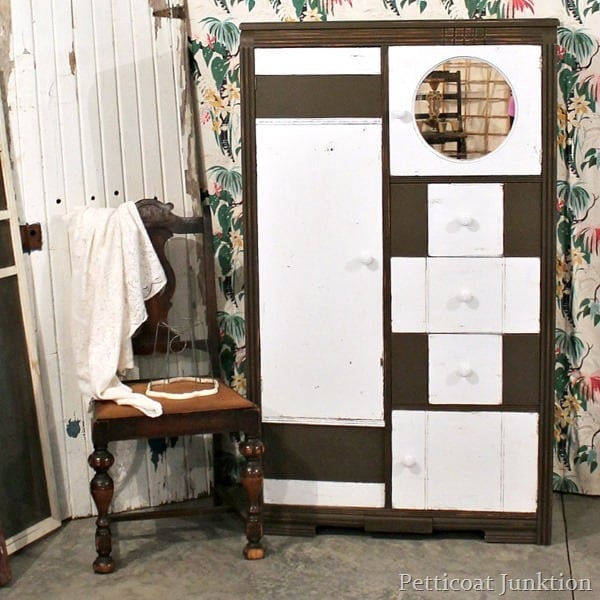 I could say I painted this in 2011….but I painted it last week. I don't mind being the last one on the bandwagon on trends.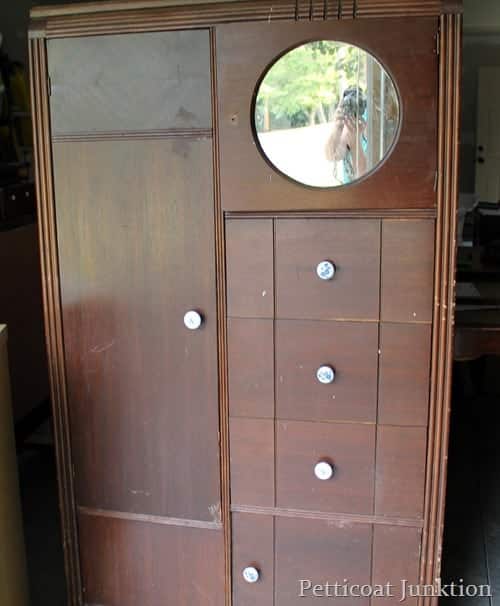 You probably remember this wardrobe from my June Nashville Flea Market shopping trip. I paid $40 for it.
I prepped the wardrobe for painting and shared the prep details last week. One of my readers emailed and asked about prepping furniture because sometimes we don't put those details in our posts. I admit I'm guilty of that, and embarrassed, I should have been including this important detail all along !!
I like trying new finishes and painting techniques, although sometimes I'll repeat a technique back to back, especially if its something new and I really like it. A lot of my paint projects lately have featured turquoise…turquoise and green….. turquoise and white…you get my drift.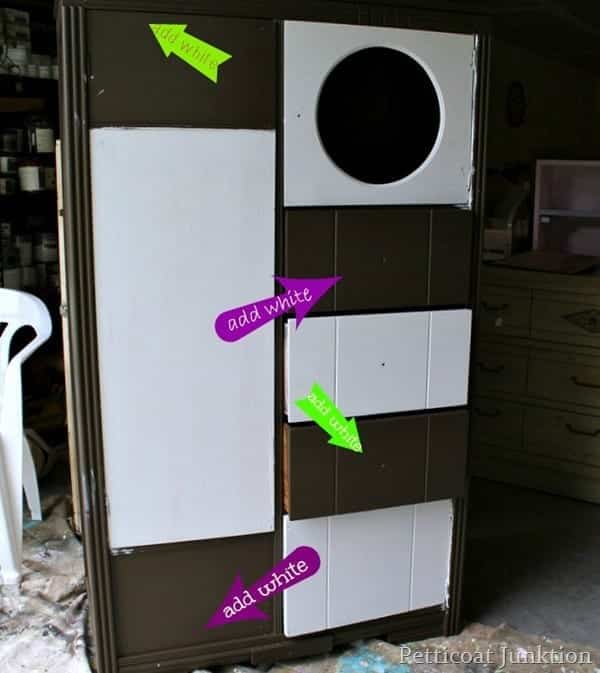 So for my first color block furniture project I selected a nice subdued brown. I thought this would be an easy piece to color block but I changed plans a couple of times during the makeover.
The photo above shows the original plan, with the arrows showing tentative new plans! I painted it like this……then kept looking at it….and looking at it. No, didn't work for me. So I got out my Frog Tape and taped off blocks and stripes. Painter's tape is a must have for me.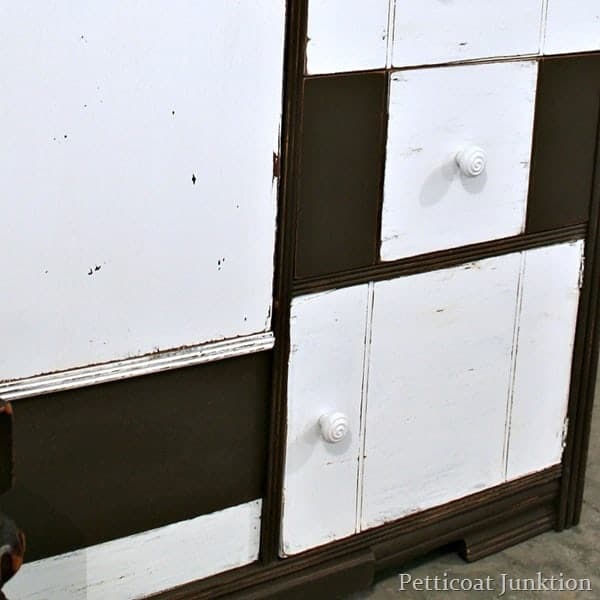 Petticoat Junktion is a participant in the Amazon Services LLC Associates Program. As an Amazon Associate I earn from qualifying purchases.
The knobs were a thrifty buy from the Nashville Habitat Restore. I purchased them for 25 cents each and knew they would come in handy someday. They worked well on this piece. Love the swirls. I think I got about 20 of them. Wish I had bought more.
I did a little light distressing on the edges and the details using my electric palm sander and 120 grit sandpaper. Ta-dah, that's it.
Like I said at the beginning of the post….not sure I like this look. You can share your opinion just be kind in your comments.
Thanks for stopping by and have a great week, Kathy