Enough to make any little girl smile.
My granddaughter claimed this desk as her own while I was in the middle of the makeover. She loves to help me in my painting and is one of my biggest supporters. She also tries to take home about half of my paint projects. Her mom and dad want let her take anything home because her bedroom is full! She talked me into keeping this desk for "her bedroom" at our house. I said yes,
b
ut
only on the condition that we remove a piece from the bedroom. My rooms are full too!
chair and desk pre-beautification
This little cabinet held a phonograph and darn it, I forgot to get a picture before my husband removed the thing.
He cut some plywood for the inside bottom so it makes a nice little storage area for papers, pencils, etc.
The notebook is by
Rebecca Sower
. Her mixed media creations are a work of art.
I keep it handy for writing down any ideas or random thoughts. I have to write things down or I forget them. That's just the way it is.
Looking at this notebook cover
makes me smile. The colors of the Owl
design just pop and the lace and
buttons are icing on the cake, 
or notebook in this case.
It all comes together to
make a pocket for pens, cards, etc.
Petticoat Junktion is a participant in the Amazon Services LLC Associates Program. As an Amazon Associate I earn from qualifying purchases.
It's all set up in what we call my granddaughters bedroom at our home. Now that she has a little sister it will have to be known as "the girls bedroom". I don't know how she's going to like that.
Don't worry, we also have a bedroom known as "our Grandson's room".
No special treatment around our house!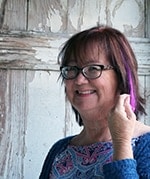 Kathy Owen is the creative guru, content creator, photographer, and worker bee behind the popular Home Décor DIY Blog Petticoat Junktion. She focuses on reinventing found treasures and decorating her home Get all the nitty gritty on Kathy here.