Painted Vintage Wood Chair
Hi to all my fellow junk lovers. This painted vintage wood chair is my first ever project for my first ever blog post. That being said, I am going to just jump right in. Here goes…..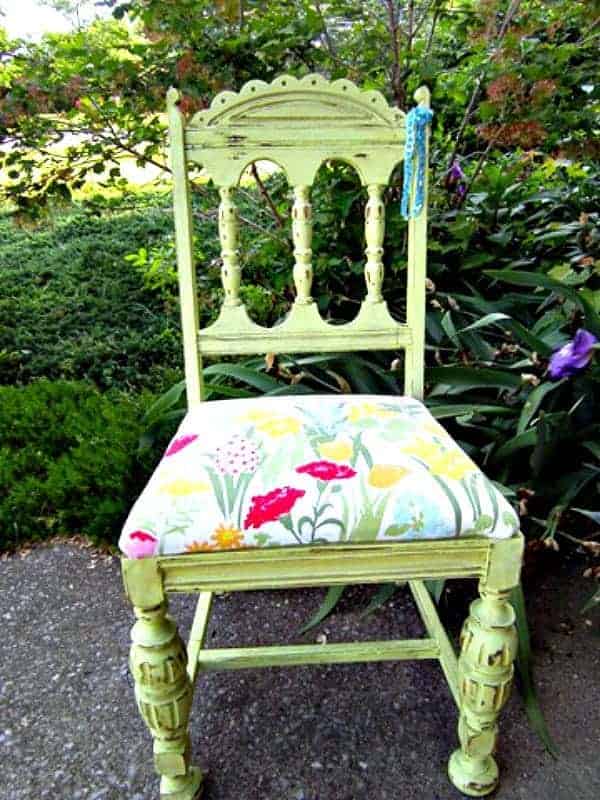 I found this chair at my favorite junk shop. It has great details but definitely needs a makeover.


I started by using my handy-dandy drill to remove the seat. A regular screwdriver works too but takes a lot more energy and time.

Next I went through my fabric stash to get some inspiration for chair color. I picked out a bright floral piece that once upon a time was a kitchen curtain. I always try to use what I have around the house when redoing anything.
To re-cover the chair seat I laid my fabric right side down  and  cut a piece large enough to fold up around the bottom of the seat. I then stapled the fabric to the seat. I always do 2 opposing edges first, then the last 2 and then ease the corners so I don't have a lot of wrinkles or folds on the finished product.
Sometimes I have to replace the foam in the cushion but this seat  was still nice and firm. I just stapled the new fabric over the existing cover.


Wow, so easy. Looks great, huh. Only thing left to do is reattach it to the chair.


I painted the frame a bright honeydew color. I brushed on the first coat then  immediately went over it with a 4 inch sponge roller.
I let the paint  dry for about 4 hours then distressed the chair  with my palm sander. I just hit places here and there where the paint might wear over the years.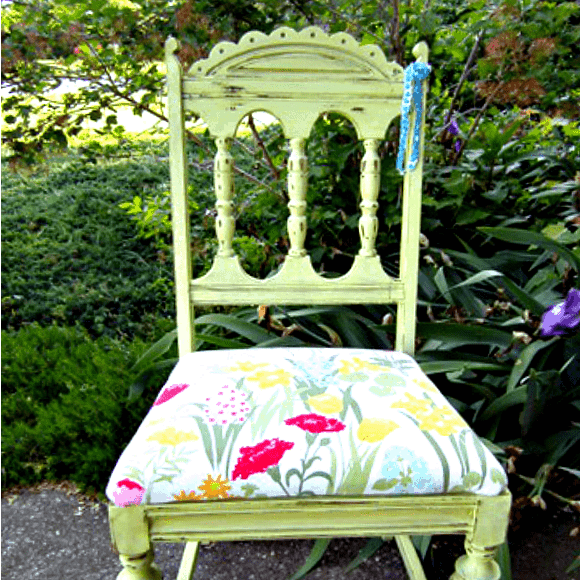 I finished the chair by aging  it a little with Caromal Colours toner. This product cuts some of the sheen and freshness of the color. I screwed the seat bottom on and embellished the back with a little sparkly blue ribbon. I just love this little whimsical chair. You can see it next week at ARTifacts Emporium in downtown Clarksville.
As always thanks for being here, Kathy