Cedar Chest Painted Pink
Do you like pink? I do. Pink is a color that can fit in anywhere.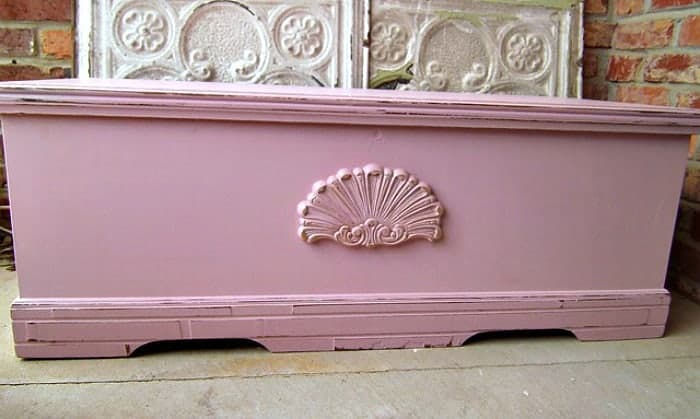 Pink Painted Cedar Chest
This is the cedar chest from the Nashville Flea Market. It was in pretty sad shape. Veneer was peeling off in places and the stained wood finish was discolored. As promised a few posts ago I'm going to take you through the makeover.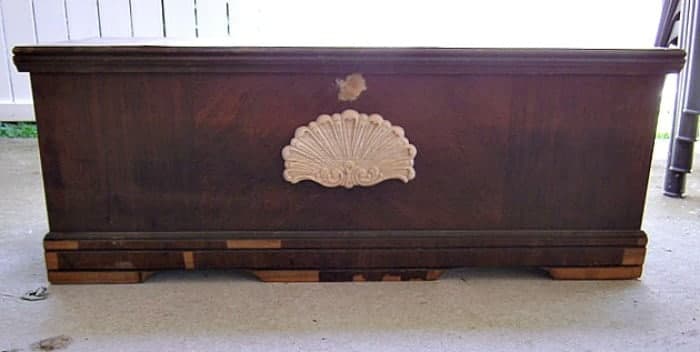 The chest didn't have a lot of detail so I added this decorative wood appliqué. My technical support, namely my husband, got out the nail gun for me and I went to town.
The nail gun is so easy to use but sometimes I think it's too much trouble to wheel out the air compressor. My husband knows all about tools and carpentry and is always showing me faster and easier ways to do things. Oh, by the way, I bought several of these appliqués at the flea market. They were so cheap I wish I had bought more.
The little lock piece was missing so I filled the hole with wood putty and sanded it smooth.
With the added appliqué detail I decided to paint it pink for a little girls room. I mixed Beyond Paint in bright white and some Caromal Colours Paprika to get the color I wanted. I rolled on two coats of paint almost back to back because the paint dries really fast.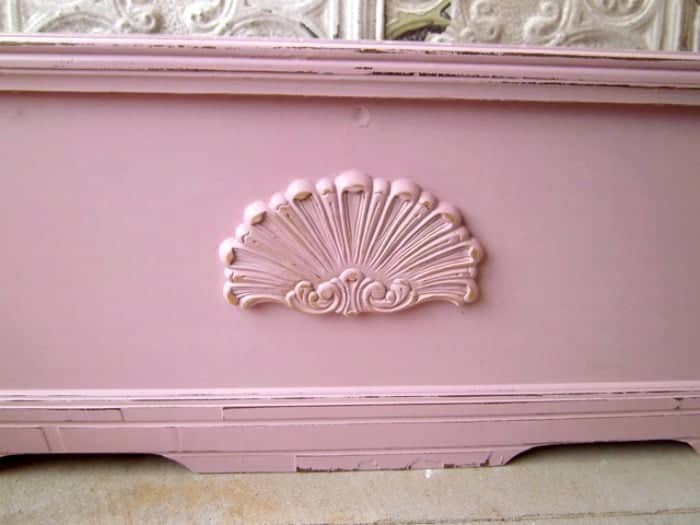 I distressed it just a tad and then waxed it with
Liberon Clear Wax
(Amazon affiliate link) to protect the finish and give it a little sheen. Another "makes me smile" finished product. Thanks, that's all folks.
This is a safety alert from Lane.....Since many of our cedar chest products have withstood the test of time and have been in homes for decades, there have been cases where children have climbed inside chests with old style latching mechanisms and locked themselves in, and there have been incidences of suffocation inside chests. As a result of this important and urgent safety concern, Lane has launched numerous successful programs since 1987, all concentrating on lock replacement. However, based on our best records, there are still an estimated 6 million chests owned by consumers that may require the new lock upgrade. Please click here for more information
Thanks for being here, Kathy