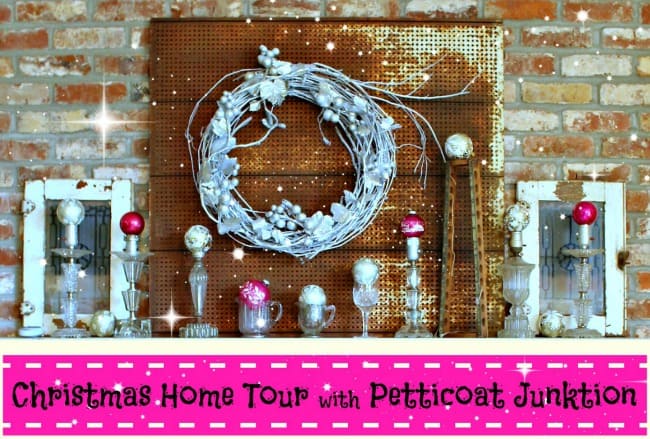 Welcome to my very first home tour ever….and it's a Christmas home tour.
I should have none better!
These things are a lot of work.
I will say one thing though….this tour made me get myself in gear and get the decorating done.
It seems I finish the decorating up later and later every Christmas.
Ok, grab a cup of spiced cider or a mug of hot chocolate…..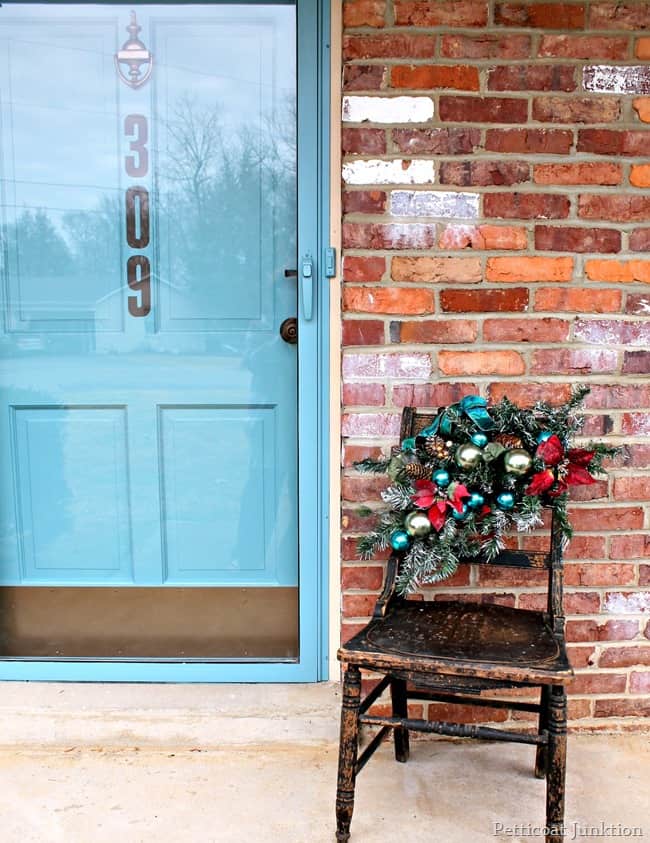 I painted those house numbers and put them on the front door last month.
I didn't want to cover up my handy work so I added a Christmas arrangement to my favorite chair.
We're starting the tour in our den.
This is my favorite room in the house.
At some point before we purchased our home which was built in 1967, someone enclosed the two car garage and made this large, large space.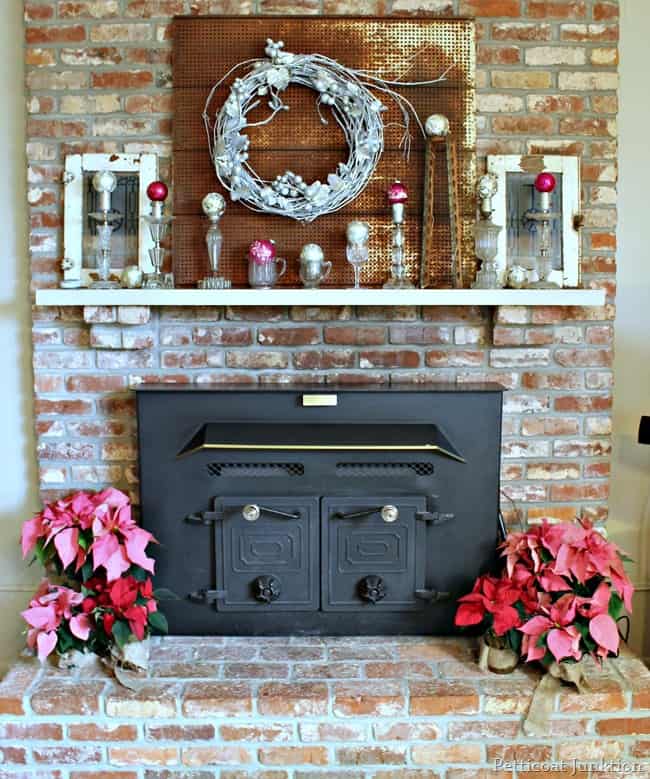 You guys may recognize the large rusty metal piece leaning on my mantel.
I purchased it at the Nashville Flea Market last month thinking it would look great on the mantel.
It has little diamond design cut-outs and it's perfect for hanging things…..like the wreath!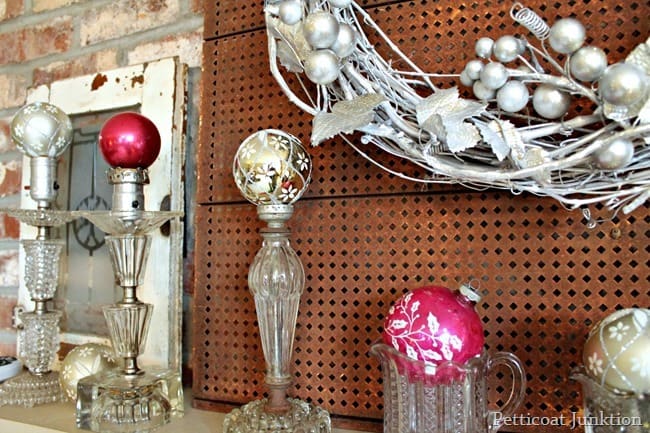 My fireplace mantel is the favorite part of my décor this year.
I had ideas for the mantel running through my head but I never know what look I will end up with.
I used vintage lamps from my junk treasure stash and a few cut glass dishes from the house as accents.
Ready for the tree unveiling…….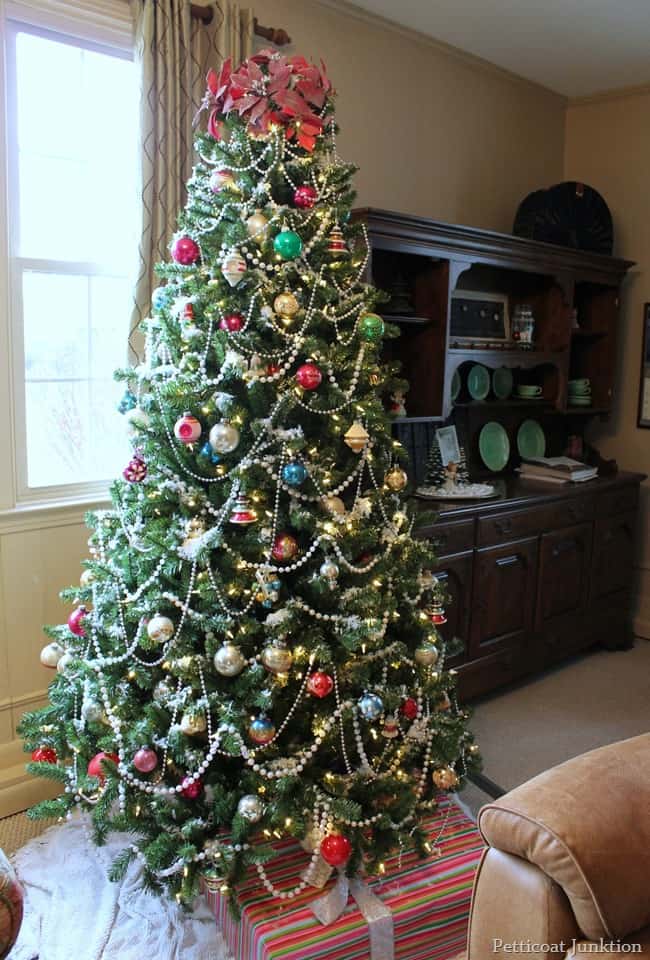 Ta-dah!
We broke down and purchased a new tree because all the lights in the middle of our old one died off over the years.
We have this running debate (argument) over clear lights vs colored lights. This tree has both
You can turn on all white lights, or all colored lights, or have both types of lights alternate blinking!
Now everyone in the family is happy.
(I plan to do a whole post on the Christmas tree sometime soon)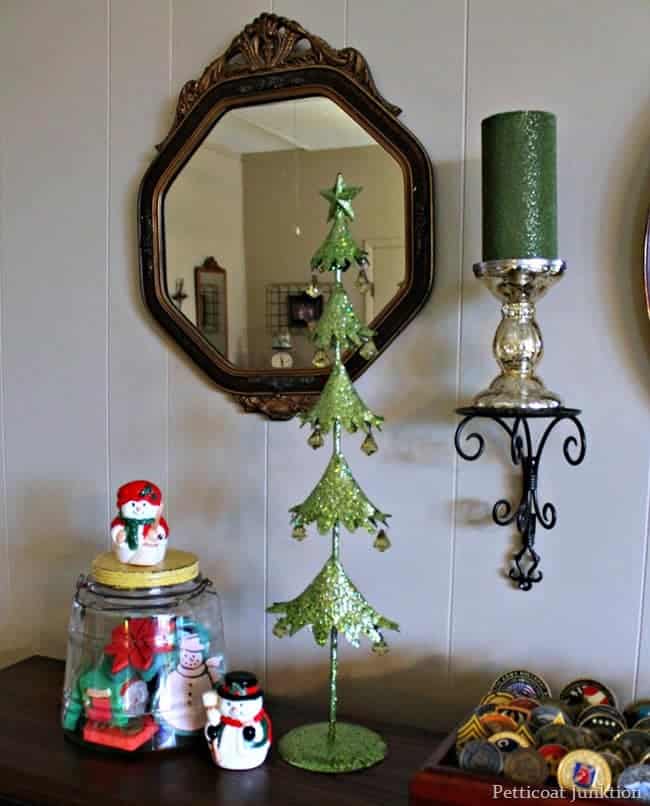 a little bit of glitter and my Christmas stamps for projects in the glass jar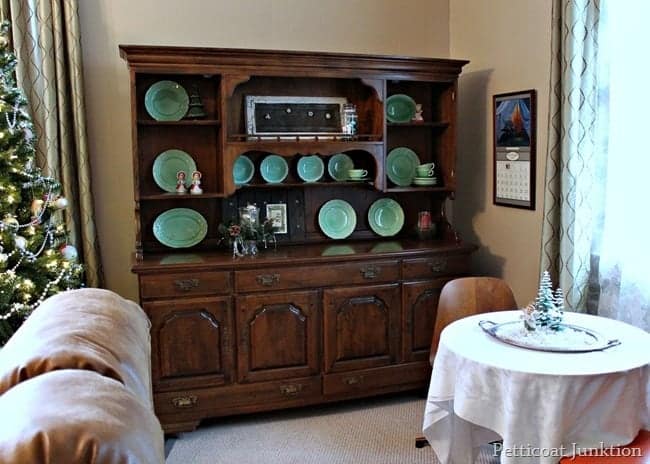 As I mentioned this room is really large and the early American hutch is one I purchased a number of years ago just because I loved it.
The décor changes with the seasons or on a whim!
The small table is where my granddaughter and I play card games.
She usually beats me.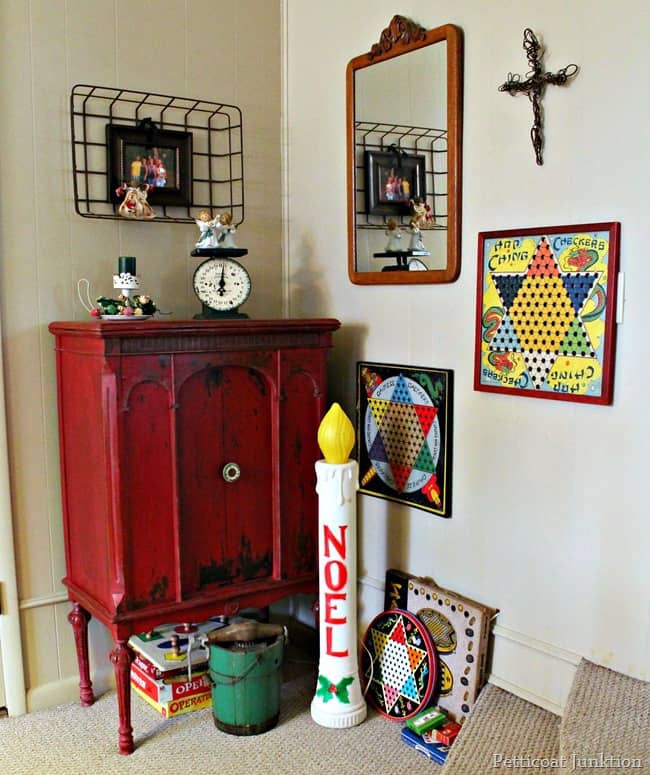 You guys know how I love bright colors.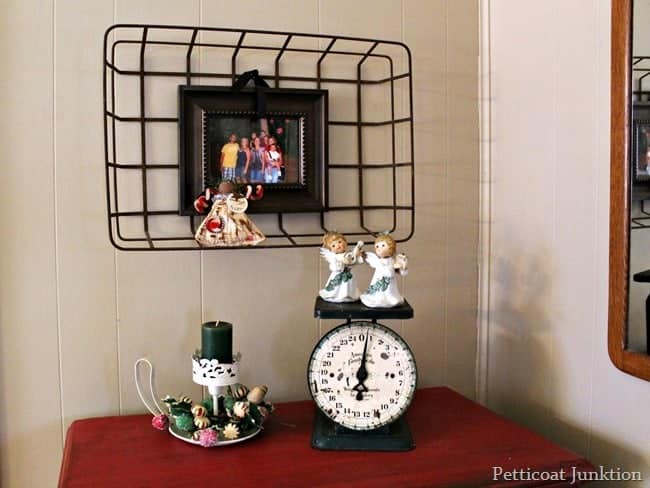 angels and vintage kitchen scales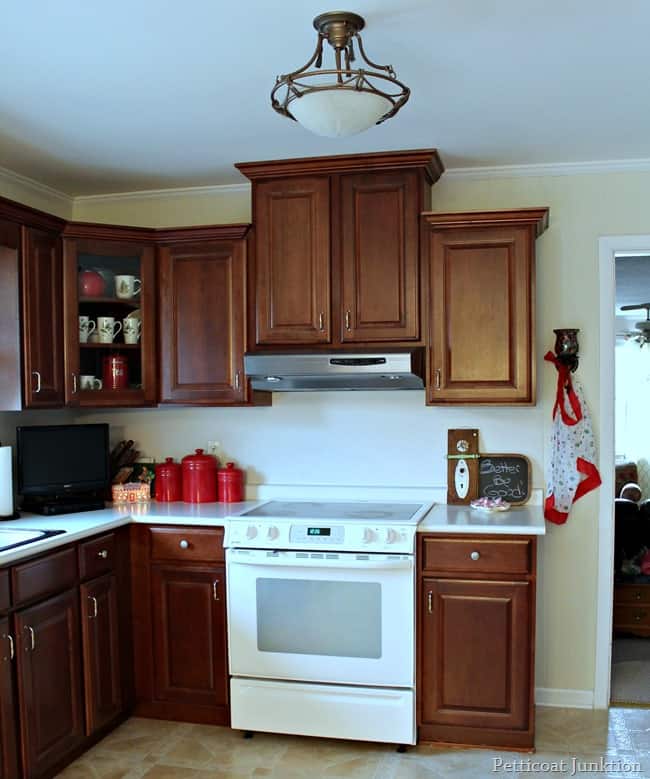 Not too much decorating in the kitchen area. I like to keep the counter tops clear…ok, mostly clear.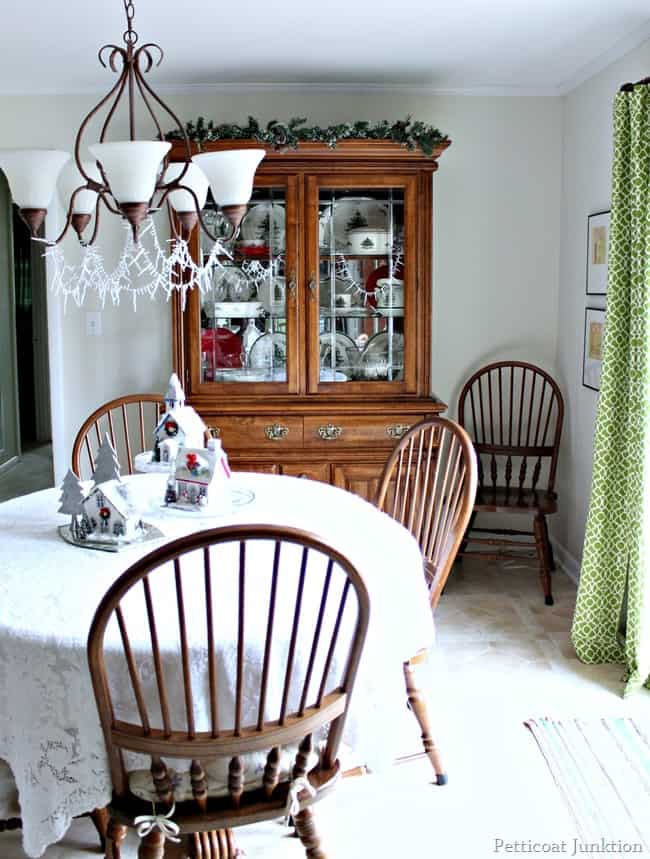 The dining area is adjacent to the kitchen. I like using a lot of white or neutrals and add color here and there.
more glitter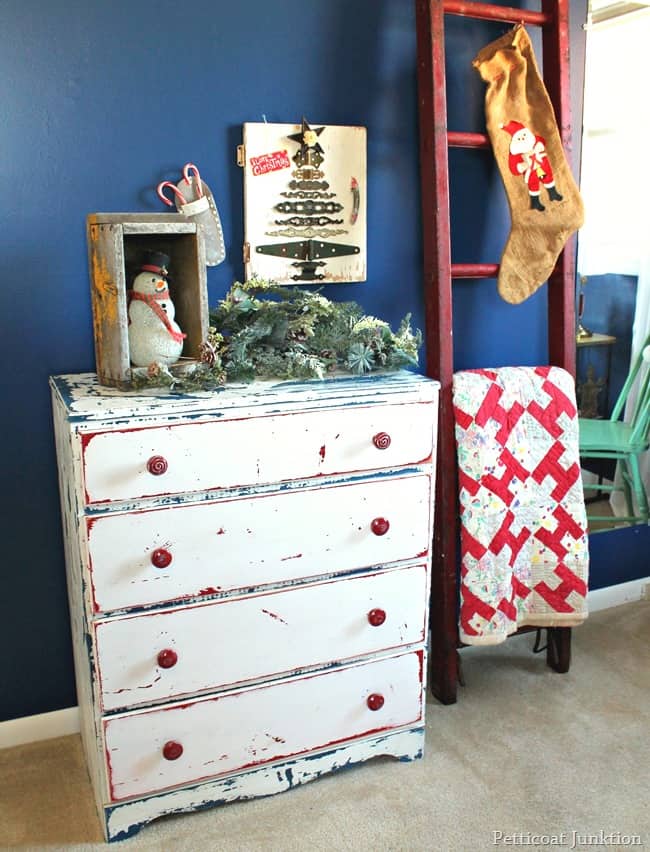 This is our spare bedroom that we refer to as the grandsons room.
It used to be our son's room.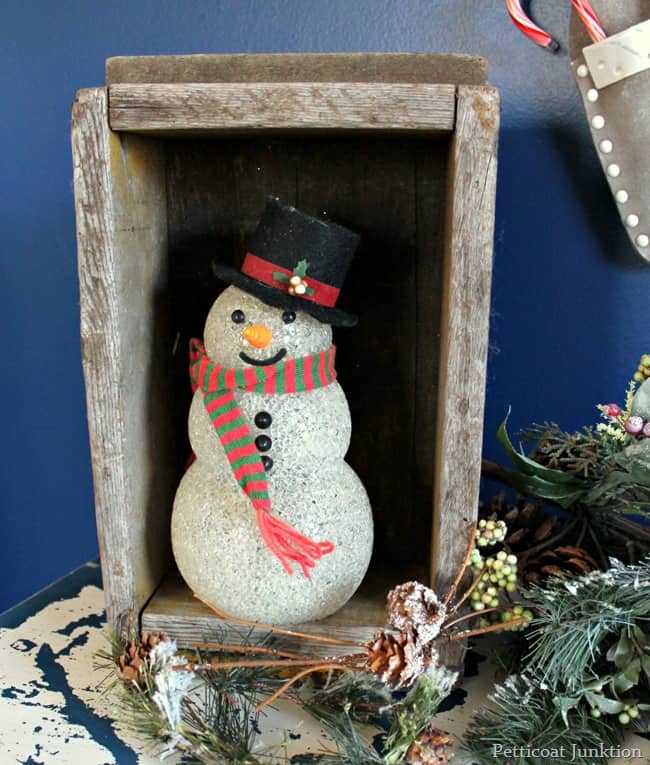 I love this tacky snowman.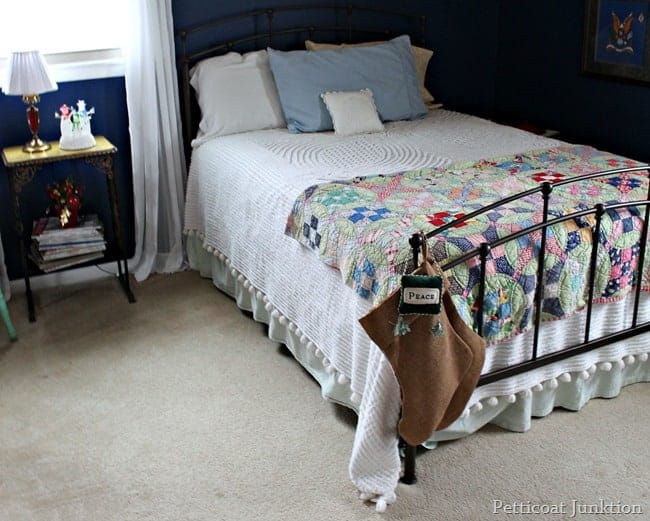 From my quilt collection I selected a favorite of mine with greens and reds to throw across the bed.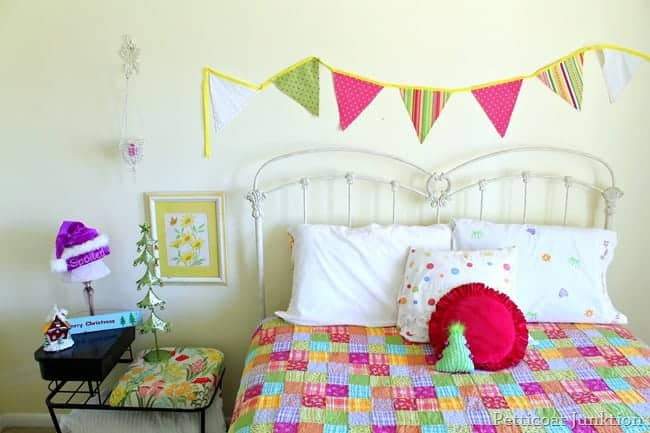 And this over-the-top girly room is what we call the granddaughters room.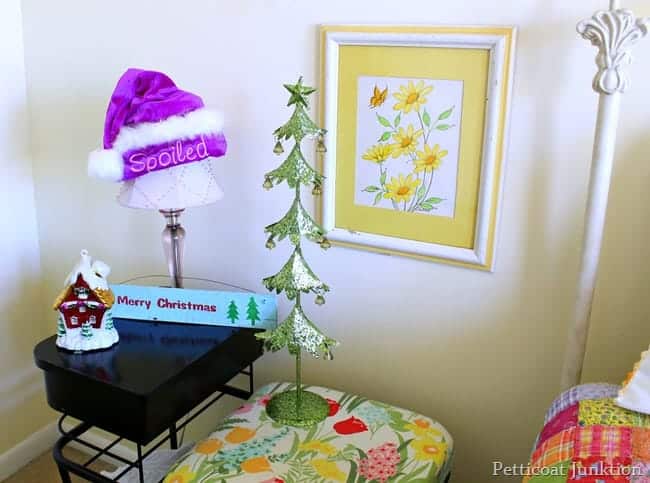 You see the Santa hat with the word "spoiled"….that says it all.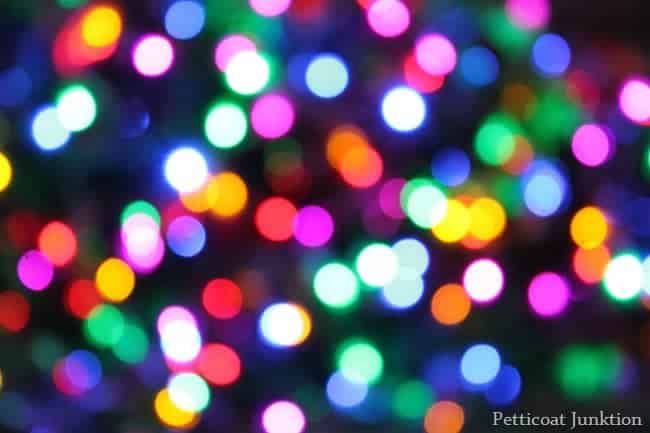 And this is a picture of the colored lights on our Christmas tree.
I've been playing with different some photography special affects.
Well, that's it folks. I hope you enjoyed it.
You can leave me a little note below.
Want more Petticoat Junktion Christmas Inspiration? Click any photo below!