Industrial Modern Table
This was an easy project. The industrial modern table consists of reclaimed parts. The base is a table saw base and the top is....well, reclaimed wood from somewhere. Not sure what it was in its past life.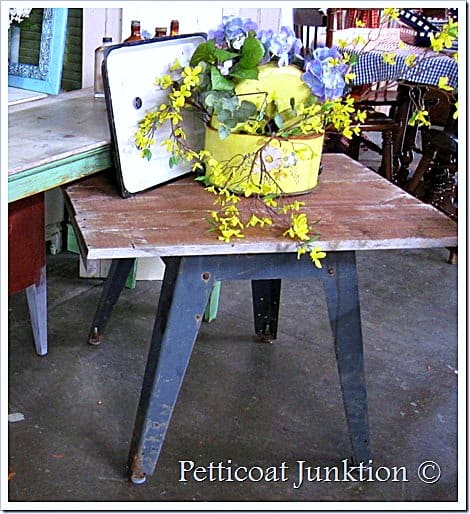 Industrial Modern?
I guess maybe the combination of scrap metal and weathered wood?...
I found the weathered wood piece at my favorite junk shop, oh, at least 3 months ago.
I found the table saw base at the same junk shop a couple of weeks age. I thought, huuummm, great base for that weathered wood piece.
And ta-da….worked perfectly.
It was an easy project since I envisioned it and my handy man (hubby) put it together. See him trying to scoot (escape) out of  camera range. Got him anyway! He's a pretty good guy.
What about it?
You guys like the combination?
Thanks for stopping by and spending part of your day with me,