Turquoise Furniture
I had a two day paint marathon that included turquoise furniture and a bunch of home decor accessories. You can paint a bunch of stuff at one time when using the same paint color. And what color is prettier than turquoise.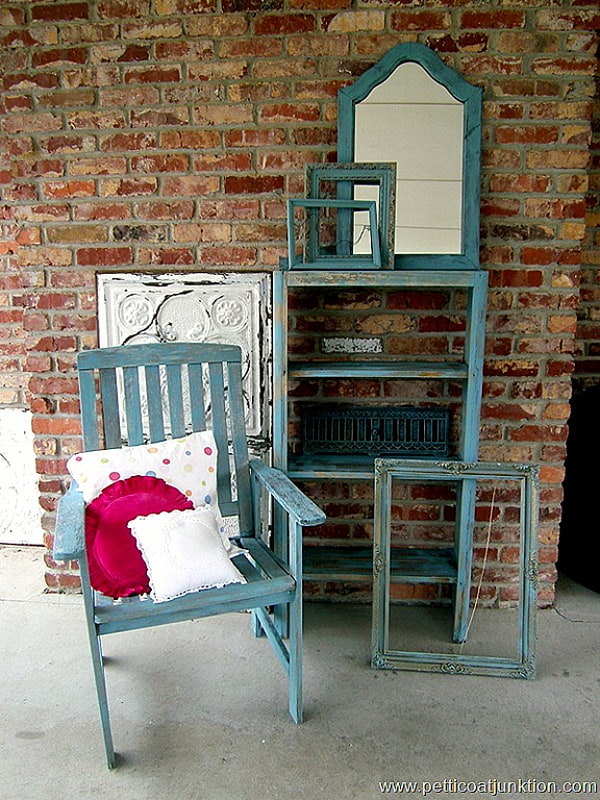 I was really industrious Sunday and painted these pieces in no time. I searched through my piles of stuff and selected several items to paint. And turquoise was the paint color of choice. I say if you are going to get out all the paints and supplies then make it worth your while and paint like crazy. 
Can you believe I painted all of that in one day?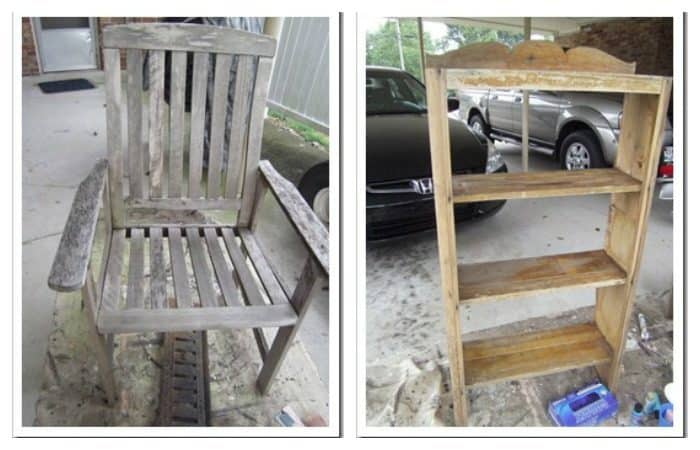 This chair was in great shape and just needed a pop of color. The shelf was missing a back, among other things, and was really rickety. My technical specialist (hubby) hammered in a few nails and fixed it right up.
I mixed 5 different paint types and colors to come up with the turquoise blue. I could never make the identical color again. I hate to buy more paint if I can work with what is in my paint stash. The vintage and antique picture frames have lovely details and will look over the top gorgeous with a little distressing.
I dry brushed this old stove piece and I painted strategic areas of the picture frame to achieve a soft romantic look.
Sometimes distressing paint isn't necessary. On this frame I heavily dry brushed the turquoise paint on and missed areas of the frame giving it a distressed look.
I was swooning when I found the outdoor chair and now I'm even happier.
I had so much fun painting all of this stuff I had another paint marathon a week later. Turquoise was the color of choice again. On to Paint Marathon Day 2…….
I painted all of these pieces in one spurt of energy and I completed them in less than 2 days including drying times and the photo shoot. It is such a time saver painting several things at once, especially when using the same color for all.
This trunk is solid wood and made by hand. The chest of drawers is also wood  but is covered with lots scars and scratches. I piled up all I could find to paint including baskets, frames, and odds and ends.
I mixed my own color again. I always try to use 
Colours
Caromal
Textured Basecoats as the base for my mix because the finish stays on and want pop off like latex paint(even those with primer built in). I used the CC Colonial Blue and CC Bayberry and then added some aqua acrylic paint.
The chest of drawers and trunk are all set for distressing. The paint dries fast and bonds tight so I use an electric sander and usually 60 grit sandpaper. The sander makes quick work of the job.
 Cane back chairs are so pretty. All this one needed was a pretty paint job and new fabric seat.
I found a vintage pillowcase in my stash of fabrics. I thought it would work great to cover the chair seat. This chair seat was still really cushiony and the fabric was in good condition so I just covered it as is.
It's easy to cover a chair seat, just cut the fabric large enough to fold under the bottom of the cushion and use a staple gun to adhere. Remember to staple opposing sides first then the remaining two sides, ease the fabric at the corners, staple and you're done! Reattach the seat using a screwdriver or an electric drill.
I think the chair turned out nice what do ya'll think? The more I look at the chair, the more I like it!
I just painted this little bench willy nilly. It is a redwood color and the color works well with the aqua blue. I painted lots of picture frames again. These are so easy to do and make a big statement.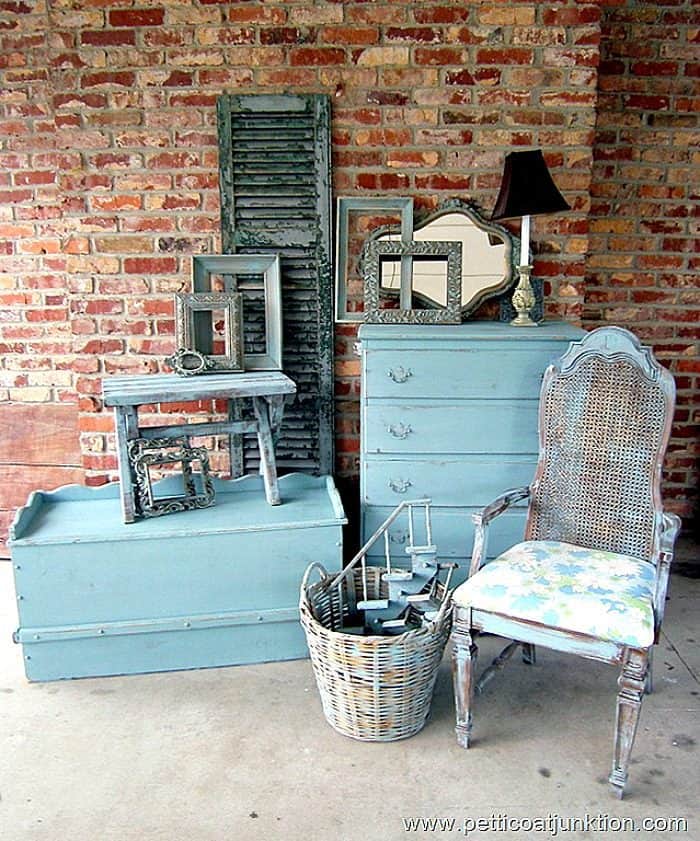 I didn't count the pieces as I was doing them but I count 16 in this picture and I think there may have been a couple of really small pieces in the bottom of the basket. I found the vintage shutter at a junk shop last week and thought it worked well with the display.
That's it for today folks. What do you think about the paint marathon? I did good didn't I! Thanks for stopping by and taking a look at my projects. I love what I do and it keeps me sane(well, maybe). 
 Kathy