Vintage Drop Leaf  Table With Layered Paint
Learn how to paint a vintage drop leaf table. This paint technique is for layering paint on furniture. I chose green and black paint for the drop leaf table.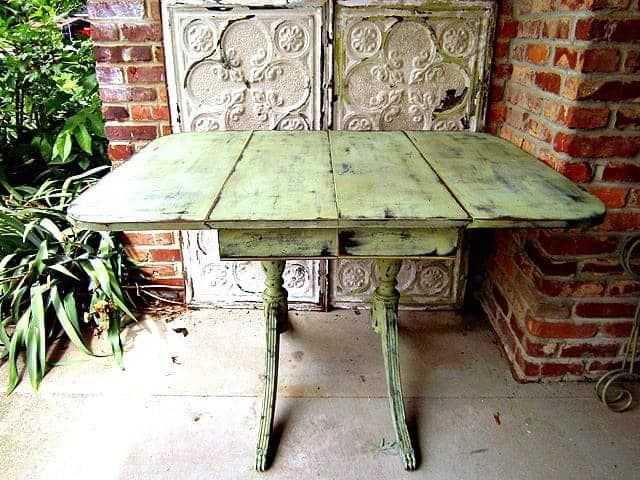 Layered Paint Furniture Project
The green and black are so pretty together.
This is a drop-leaf table I found at one of my favorite junk shops. It needed a little bit of wood filler but otherwise was in great condition. The drop-leafs lock smoothly and are nice and straight.
I always try to paint more than one piece of furniture at a time. With the prep work required in the painting process this seems to be a time saver. I had a large shelf and a chair stored away that needed painting and I decided to paint the three pieces with 
Caromal Colours
Peppercorn (black) basecoat.
The shelf and chair were finished in Peppercorn only but I wanted the table to have a two-tone aged look. I decided to paint the top a spring green color and leave the legs peppercorn.
To achieve the two-tone color I applied a coat of Caromal Colours Chipping Creme over the Peppercorn basecoat. Although the  chipping creme is white when applied, it dries clear. I mixed a spring green color using Caromal Colours Reclaim bright white and a green acrylic paint. I  mix my own colors to get a unique one-of-a-kind  look.
Here is the tabletop with the overcoat of green, sanded so the peppercorn shows through. I did not like the table legs with the peppercorn finish. This is one of those times when the picture in my mind did not match the finished product. That being said I put a layer of chipping creme on the legs and painted the spring green on them to match the top.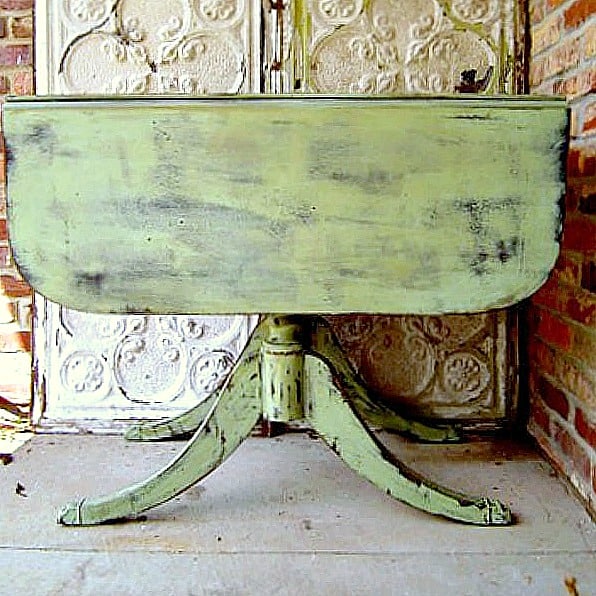 I polished the table with Howards Paste Wax in Oak to give it an aged look and also to protect the finish. I often have a finished look in mind when I start a piece but sometimes I have to change midstream. I'm glad I painted the table legs to match the top. You know my motto, when I look at a piece and it "makes me smile" it's a good day.
Thanks for checking in, that's it for today. Next post will be on the cedar chest I bought at the Nashville Flea Market.