Ok, I'm starting something different.
I don't want to get too predictable.
That's no fun.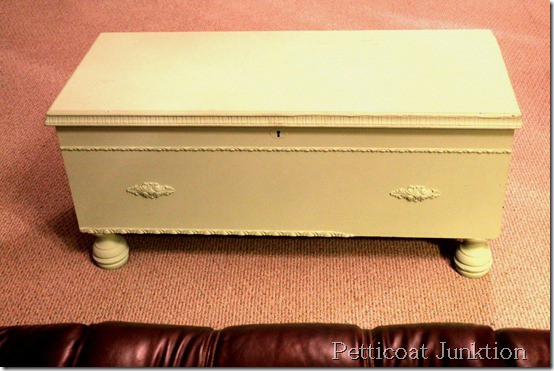 I purchased this cedar chest from my friend Kendal when she was running Artifacts and I had a booth there. She almost gave it to me, the price was so great. I love Kendal.
By the way Kendal, "Where are my Girl Scout cookies?"
Back to business.
The chest was painted green to start with and I painted it a different shade of green. It was in one of the spare bedrooms for a while and I really didn't gussie it up any, didn't even distress it!!
Now it's been in the living room subbing as a coffee table.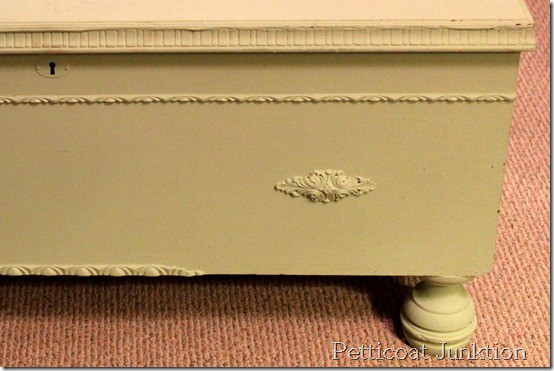 Doesn't it have lovely details? Some of the decorative molding is gone but that's part of the story. I love the ball feet too.
This is where I'm getting wild and crazy.
My plan is to paint it with Miss Mustard Seed's Milk Paint in Boxwood, a dark forest green. But first I'm going to rub a little MMS Hemp Oil in strategic places where I want the Boxwood to sand off easily so the lighter green will show underneath.
Here's hoping it works. It gets a little sticky at times. I start with a plan but it may get changed more than once during the makeover process.
When I post the finished cedar chest reveal……..well…. we'll see.
Sign up to receive my posts in a reader here, or email sign-up on my sidebar, and a Facebook like is always cause for a happy dance.
You know you want to see if all went according to plan…… or if the plan got thrown out the window!
Thanks for stopping by,
Kathy