Making A Eucalyptus Grapevine Wreath To Display With Red And Pink Stuff On The Mantel
I always have a few thrifty decorating ideas up my sleeve. Today it's all about making a wreath from a flea market find and showcasing the wreath along with red and pink stuff to celebrate February.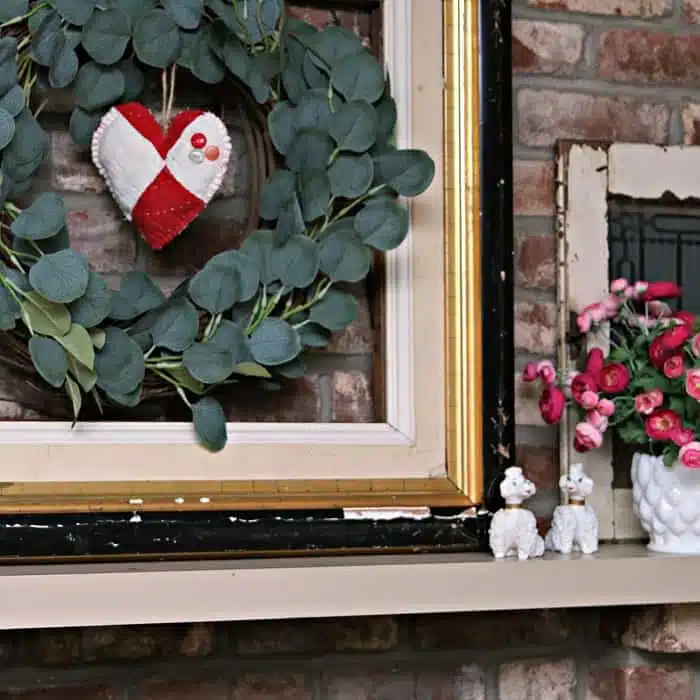 I didn't redecorate my mantel after Christmas. I just took down the Christmasy stuff and left the red wreath and a few other things on the mantel. Yesterday I got the urge to do a little decorating.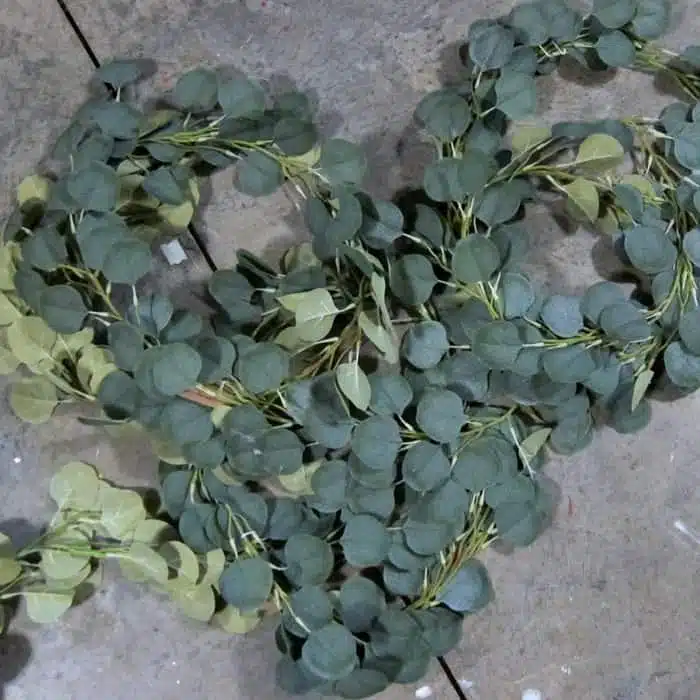 I bought these three Eucalyptus vines at a  flea market on Saturday. They were $3 each which I thought was a good deal. I planned to make a wreath with at least one of the vines. I will probably use the other two to decorate my booth.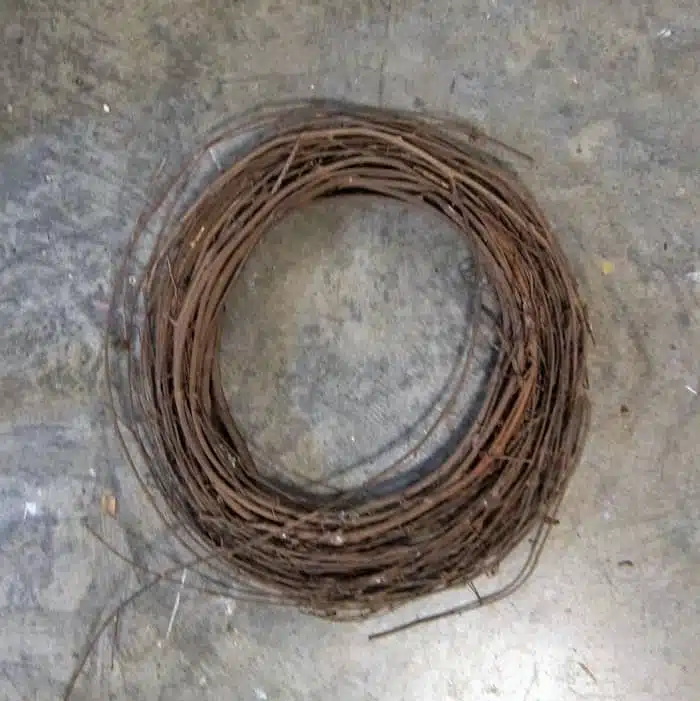 I went in my stash and found a grapevine wreath. I usually make wreaths for each season and holiday. I take the wreaths apart when I get ready for a change and reuse everything in other projects.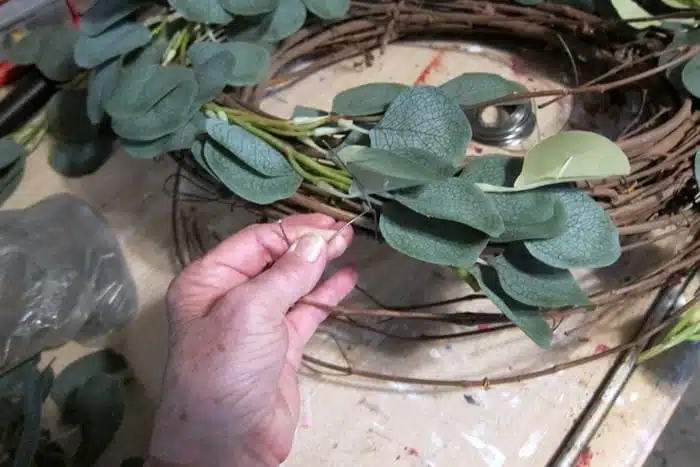 I circled the Eucalyptus vine around the wreath and cut it to size. Then I wired the vine to the wreath in 5 places.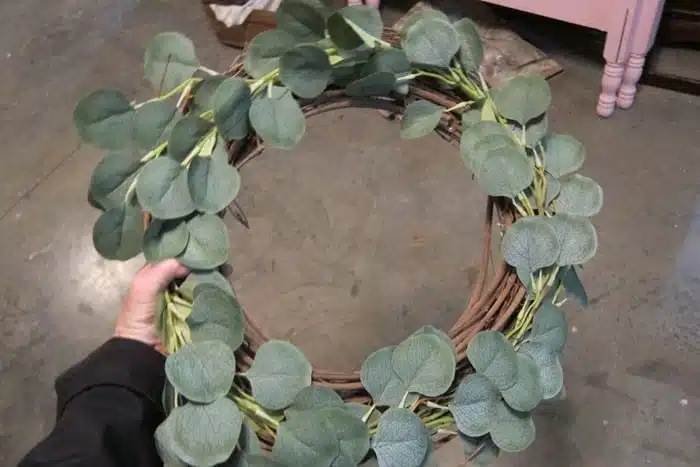 The vine looked a little skimpy so I cut up the remaining part of the vine, about two feet, and used it as filler. I just shoved those pieces into the grapevine wreath making sure they were tight.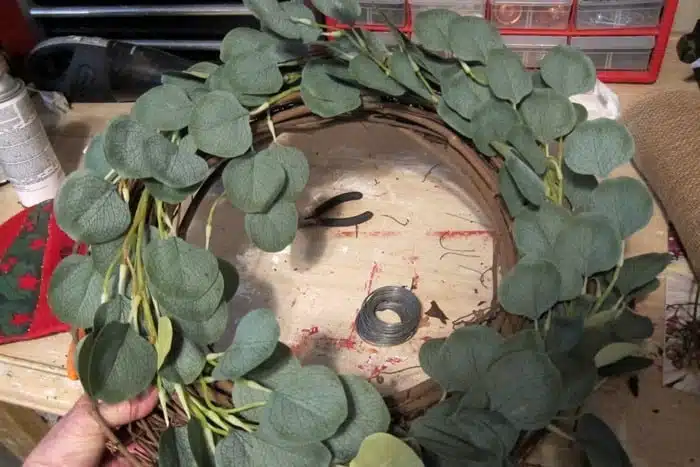 Much fuller and looks more expensive.
I hung the wreath on an antique photo frame using a piece of multi-color fabric trim. Then I remembered the handmade quilt hearts I purchased at the shop last week. One hanging from the top center of the wreath is perfect for the month of February.
I love red and so does my Mom. I bought a couple of the quilted hearts for her nursing home room. Always trying to change up the decor a bit. She may not notice but then again she may.
Thrifty Decorating Ideas
Next I went through the house and the workshop looking for red and pink items to decorate the mantel. The color scheme is a bit different but I like the two colors together......sometimes.
The vintage white etched glass cupboard doors are staples on the mantel. I bought them at the Nashville Flea Market years ago. The pair of poodles are vintage salt and pepper shakers.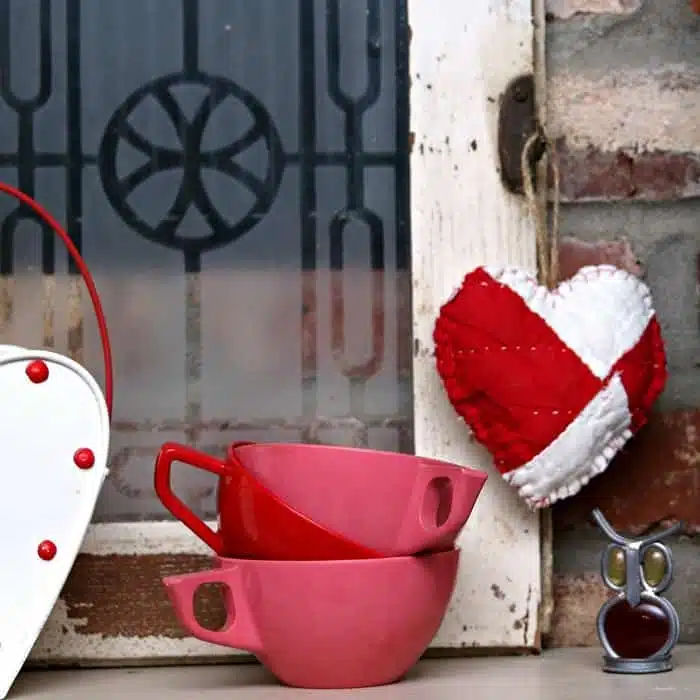 I found the pink melamine cups at my favorite junk shop this week. I already had 5 red melamine cups. The white tin planter with the red polka dots also came from the junk shop.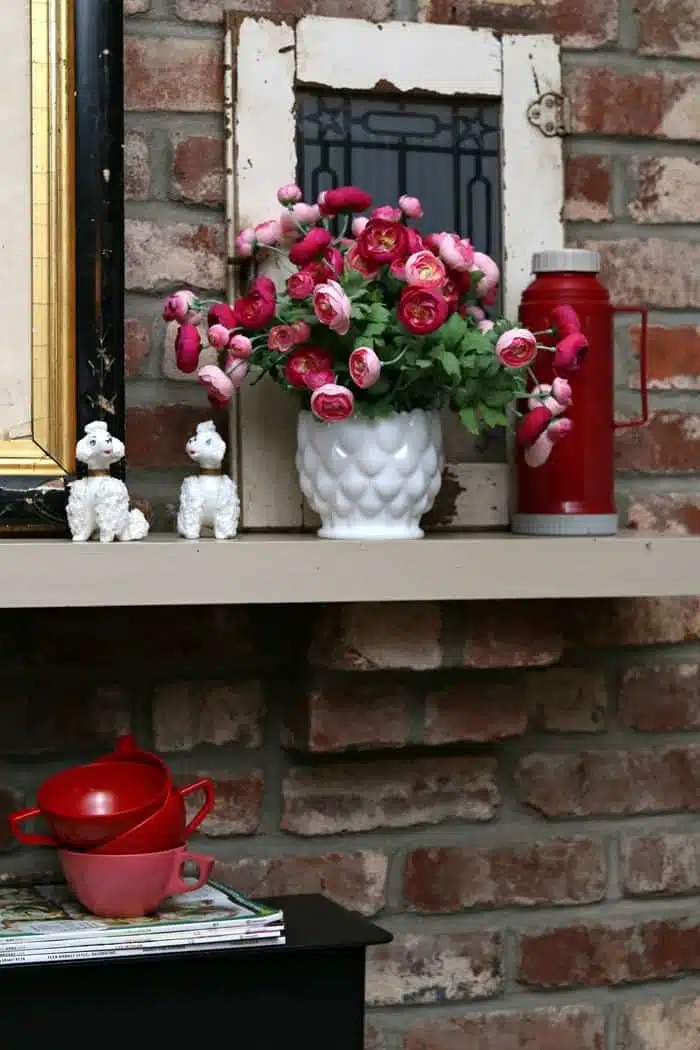 I bought the pink cabbage rose flower arrangement at Goodwill a couple of years ago. Sometimes I will slip the white container down into a burlap wrap, a tin bucket, or wood box. Just something to change it up a bit.

It only took me about an hour to put the display together including making the wreath. What are you making today? How do you feel about the red and pink color combo?
Thanks for being here, I know you have other things to do, Kathy