The white farmhouse bench is a beauty now but she didn't start out that way. The makeover was a bear.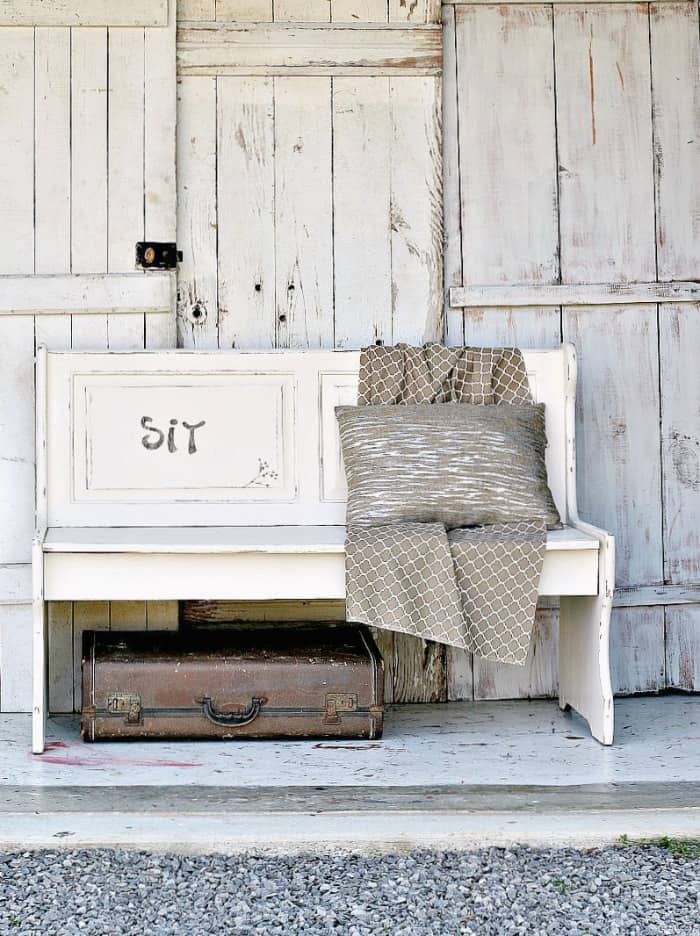 White Farmhouse Bench
Did you guys miss me yesterday? I sure hope so. I just couldn't get it together for a post. I've been stressed out the past few weeks over a Power Point Presentation I had to do for my Senior Seminar class.
I hate public speaking. I think I shared that little tidbit with you before. Anyway, the presentation was yesterday and I was busy with last minute details. Now I'm breathing a sigh of relief because it's over! Only 6 more weeks till graduation. Woohoo.
Today is themed furniture makeover day and the theme is "Farmhouse". I love farmhouse style. My home isn't decorated in the farmhouse style which to me definitely leans toward white walls and white décor.
I love color too much. Do you ever wish you could have two houses so you could decorate them differently. I know, crazy, right! I can't even keep one house decorated.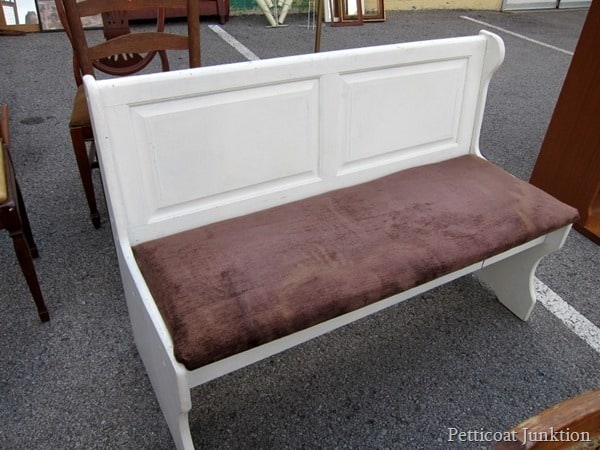 I found the bench at the Nashville Flea Market last July. Sometimes it surprises me how long a piece of furniture has been in the workshop. I think I may have paid between $30-$40 for it but not sure.
You can now find the complete makeover details here Farmhouse Style Furniture Makeover Full Of Surprises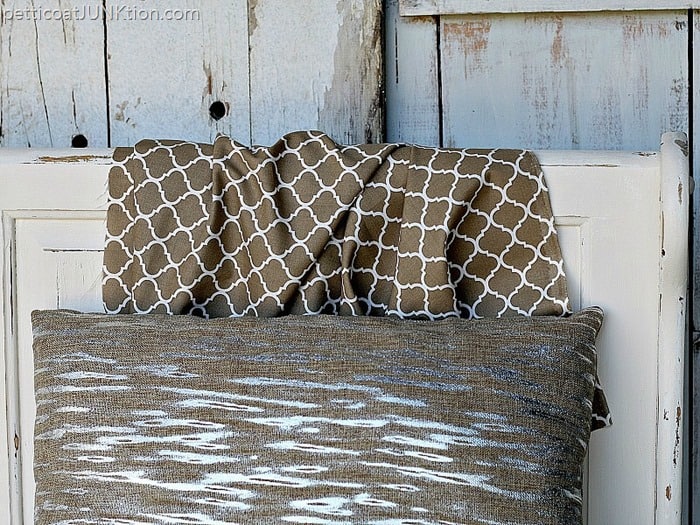 The makeover gave me fits. I first recovered the seat and that didn't work. Then I pulled all the fabric and the padding off the wood seat and what came next was a total surprise.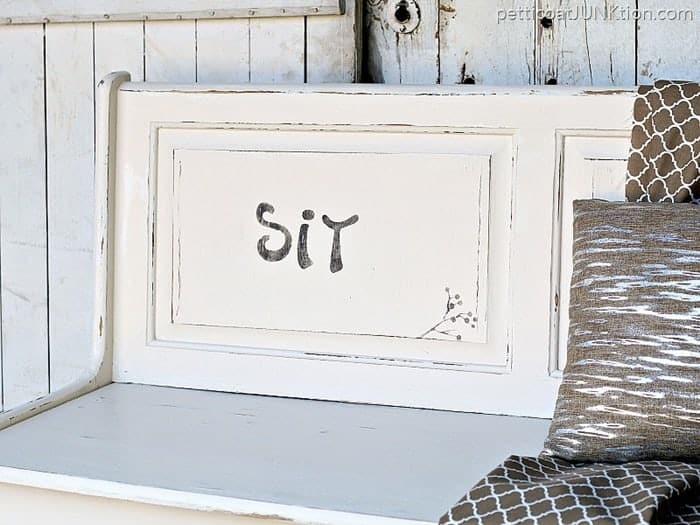 Petticoat Junktion is a participant in the Amazon Services LLC Associates Program. As an Amazon Associate I earn from qualifying purchases.
I don't have all the photos together so you get to see the makeover details with a lot of photos next week. I couldn't resist distressing the paint. And the stencil….what do you think? I added the "Sit", then it needed something else.
Something on the opposite side to balance the look. That's why there is just a wee little branch there in the corner. I like it! I stencil because I can't freehand paint anything.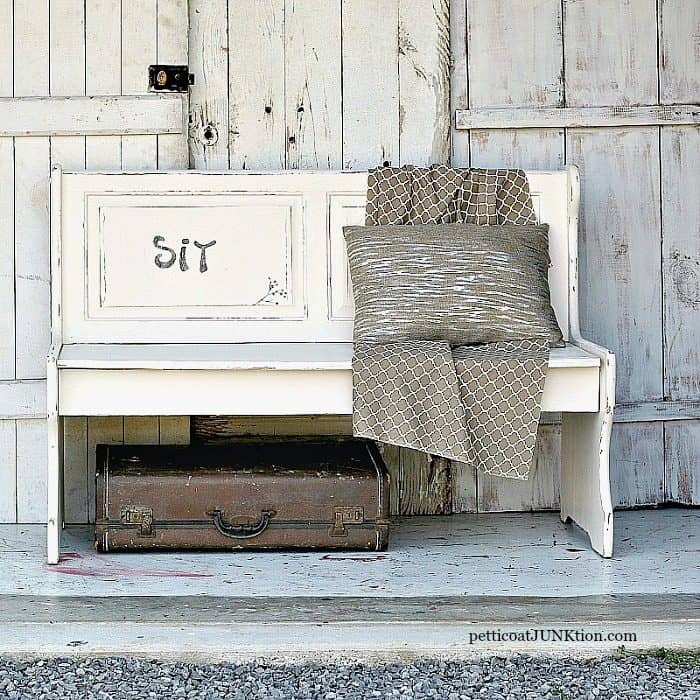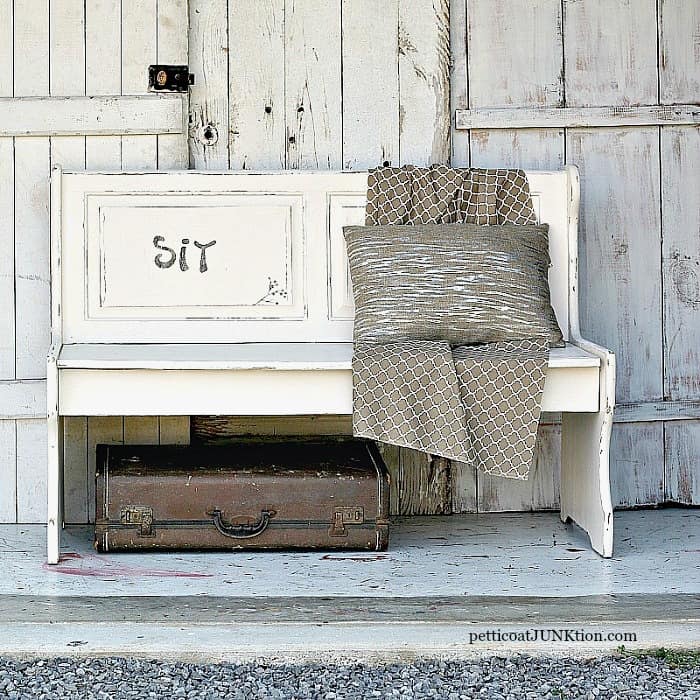 The fabric was for a bench cushion I never got made. I'm not much for sewing plus do you know how much foam costs!! To stage for the photos shoot I used a pillow that usually resides on our living room couch.
I bought it at Tuesday Morning at a great clearance price last year. The suitcase is a treasure I found last week and haven't had a chance to "revive". Not sure what I'm going to do with the case.
That's it for me. Let me know what you think of my white distressed farmhouse bench….painted with Beyond Paint. Time to see what my buddies have for us. I'll be taking the tour with you. I need a little inspiration for a chest of drawers I bought last week. Click those photos below to see the complete projects. Have a great weekend!
<!– end InLinkz script –>