disclosure: affiliate links may be used in this post.
It seems like it took me forever to get the Christmas decorations up this year. I finally have vintage Christmas decorations throughout the house…and they make me smile.
The JTS brought all the totes and the Christmas tree down from the shed attic the day after Thanksgiving. Then we went to Arkansas for a week and when I got back I worked on the Homes for the Holidays house with Warrick Dunn Charities. Soooooo it took a while but Christmas is up!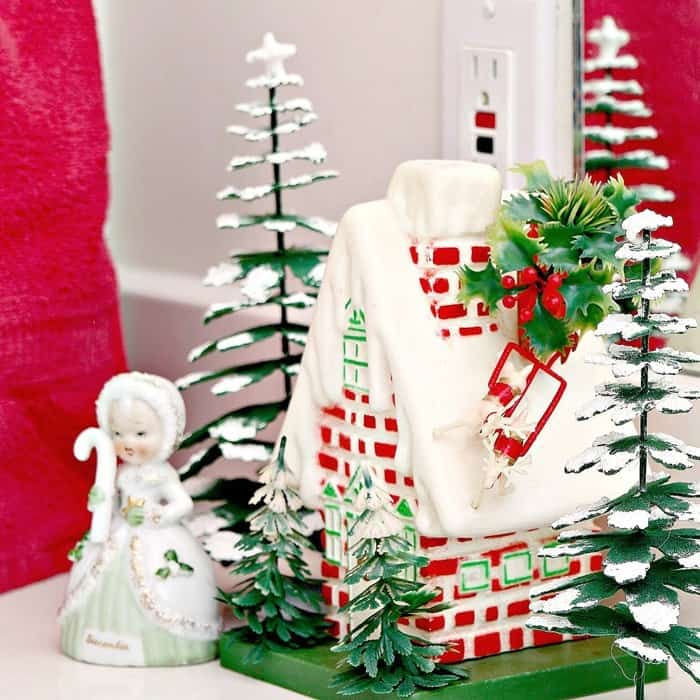 You might not believe it when you see my all of my vintage Christmas decorations but I went simpler this year. There are 6 totes of stuff I didn't unpack completely. I took my favorite things out of the totes and that was it.
I went back and sorted through the totes after the decorating was done and I have two big bags of stuff for Goodwill. No need in having so much stuff just taking up space. Now I'll have 3-4 totes to put back in the attic after Christmas.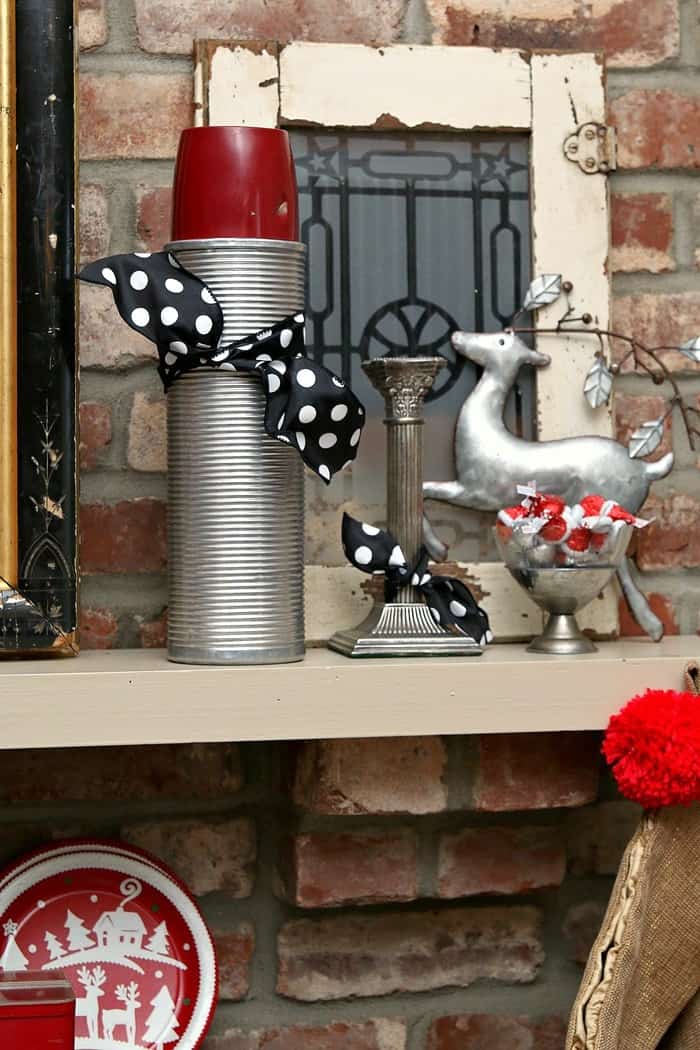 Polka dot decor may be out of style but not for me. I bought the black and white polka dot ribbon at the same time as the buffalo check ribbon. It looks nice dressing up the vintage thermos and silver plate candle holder.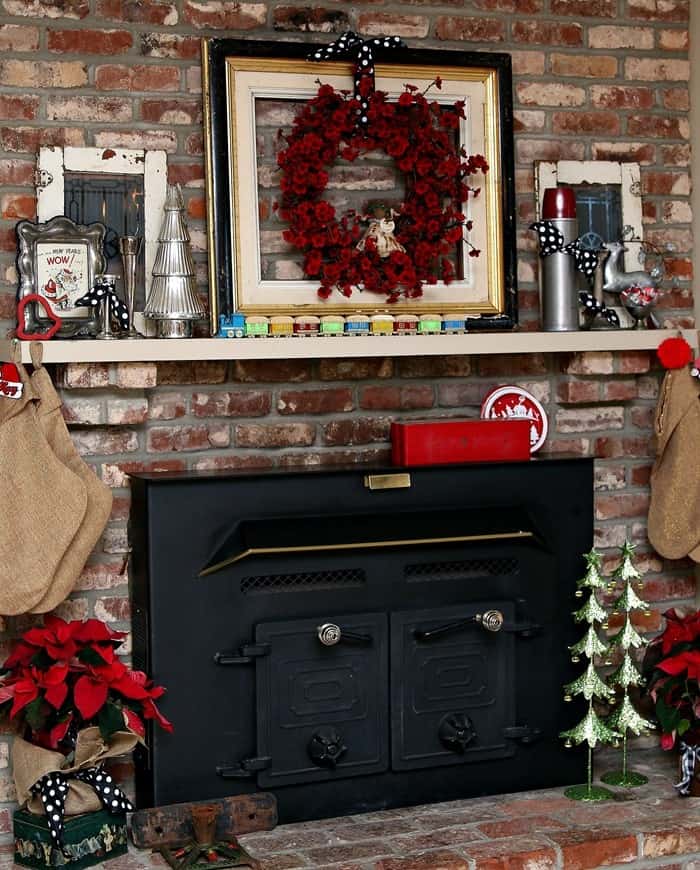 A look at the complete mantel and hearth decorations shows I have a mix of vintage and newer stuff. Red poinsettias are a staple of my Christmas displays.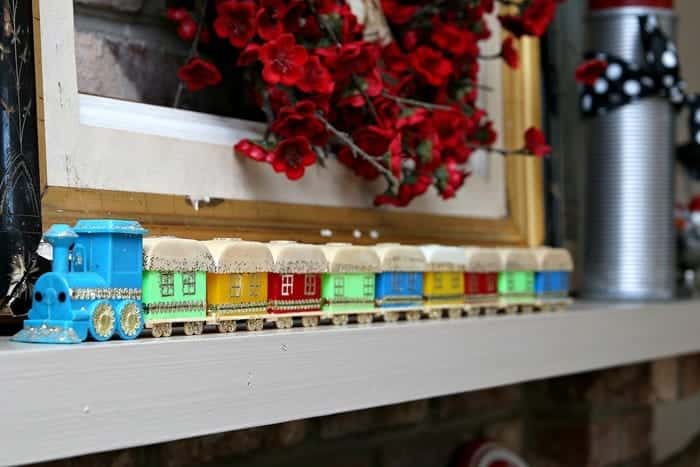 This little train is the only new Christmas thing I bought this year. And it's not new, it's vintage. Each piece of the train has a hole in the top for a candle. No candles for me but those colors….oh-la-la!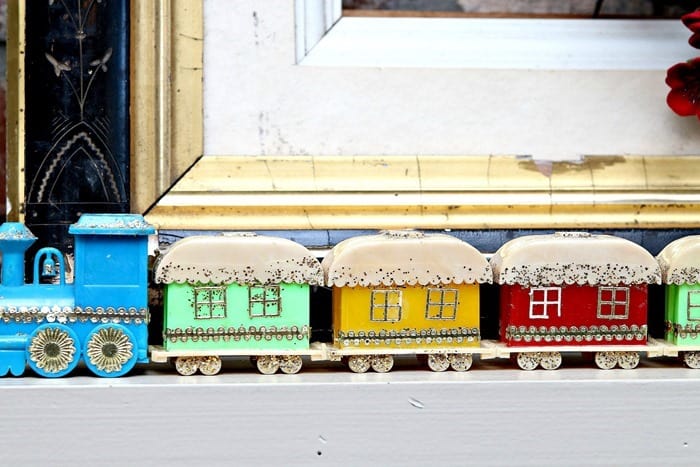 The plastic train is covered in glitter and fabric trim. I paid $14 for it at my favorite junk shop. The price was a bit over my budget but I was in love.
The red wreath was hanging on the front door but I swapped it out with a faux magnolia leaf and red berry wreath from the thrift store.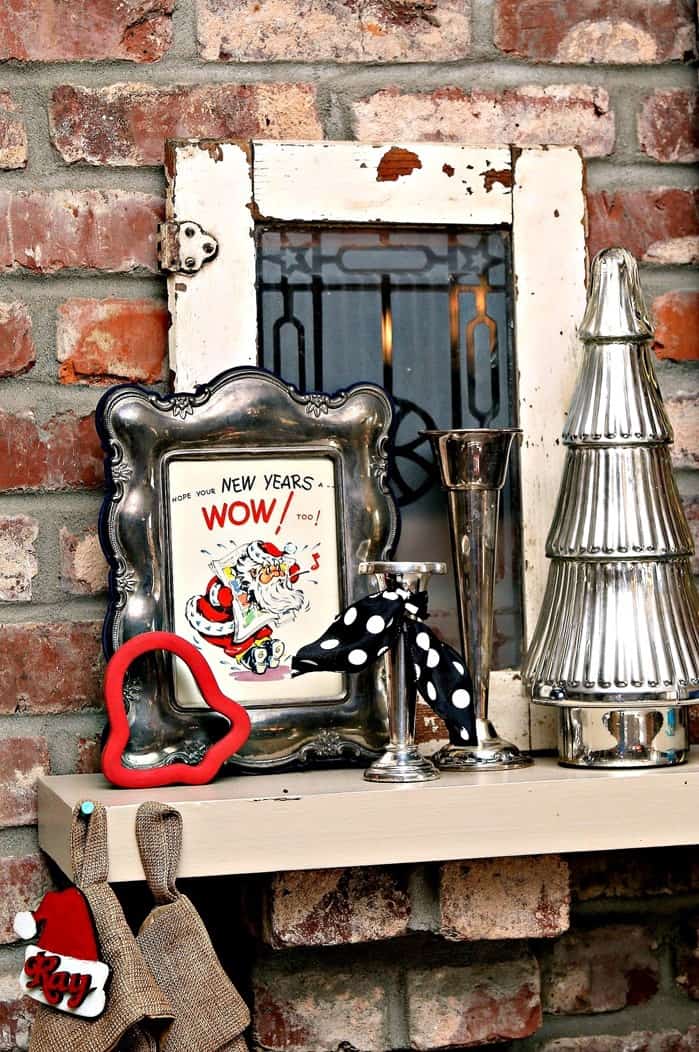 The "Wow" Santa in the silverplate frame is on the inside of a Christmas card. The card is vintage and oh so naughty because on the opposite page of the card is a girly in a red negligee.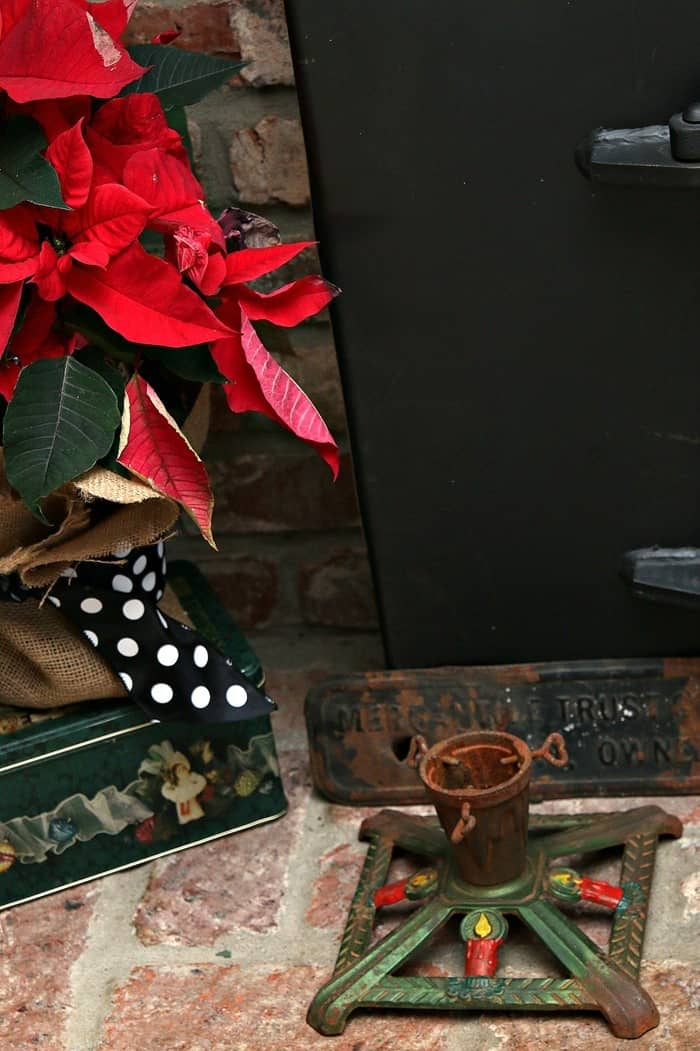 The antique wrought iron tree stand is one of the best find the JTS has ever bought at an auction. It was in a box of stuff and I think it was less than $5.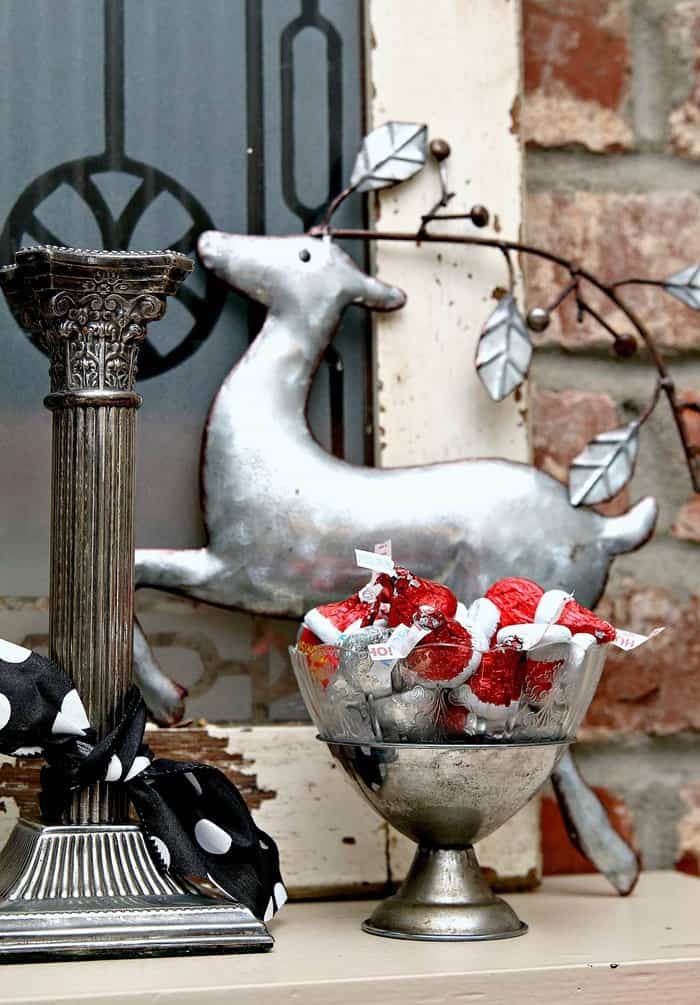 No holiday is complete without Hershey's Kisses. The silver bowl with etched glass bowl insert is from the Salvation Army thrift store.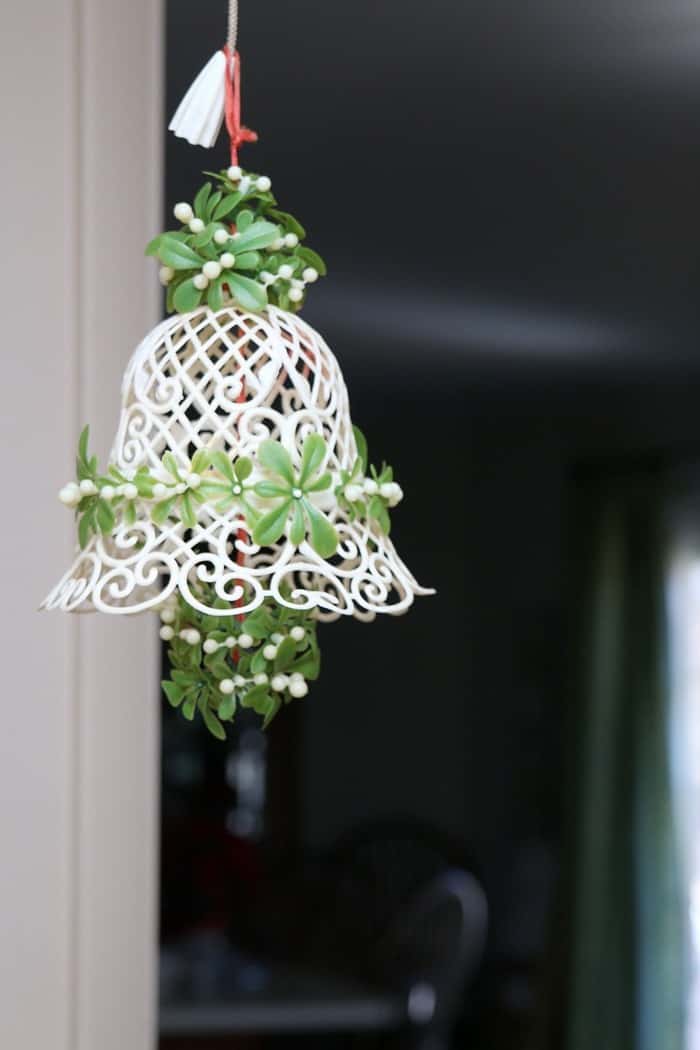 The vintage plastic bell is hanging from the pull down cord on our attic stairs. Hey, it works!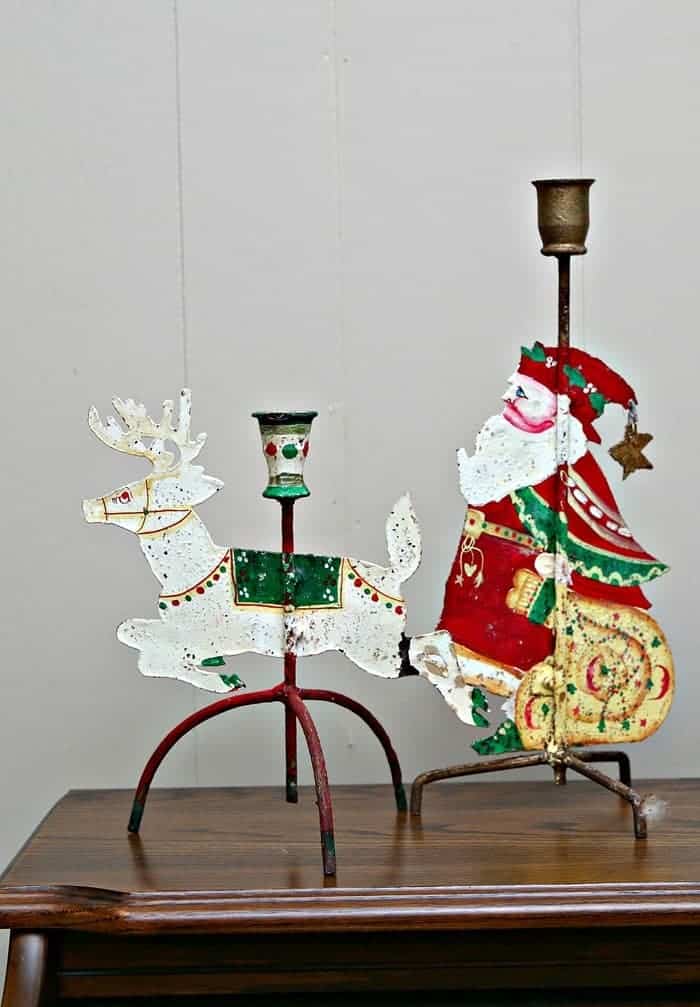 The folk art candle holders are part of a set of 5. Not sure if these are old or new. I bought them last year at the junk shop.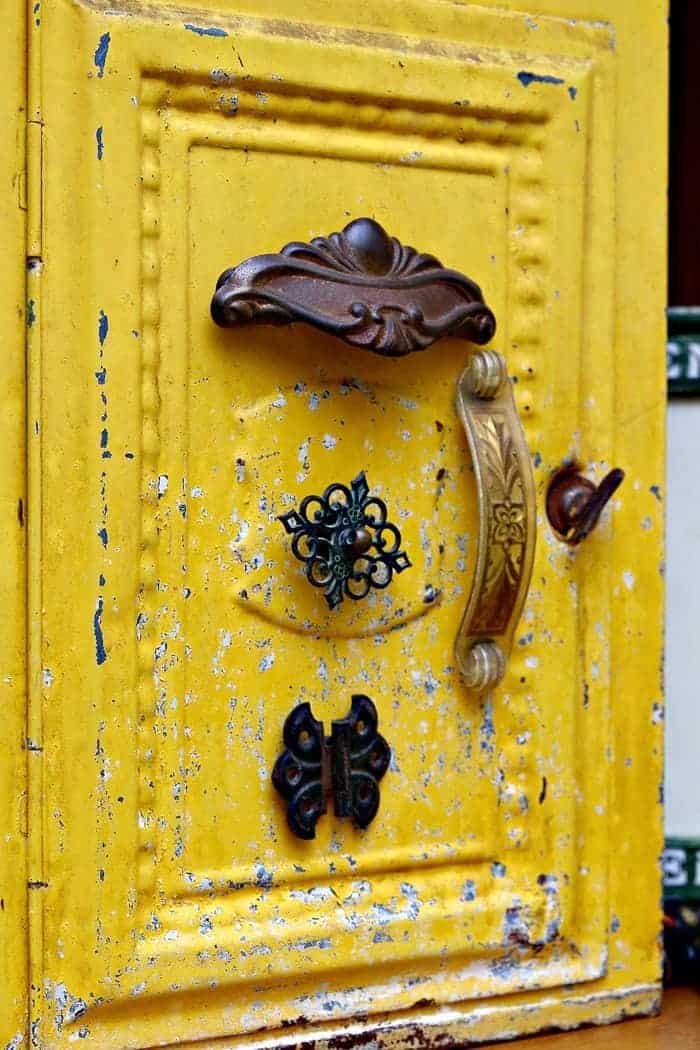 The magnets made from furniture hardware and pulls aren't Christmasy but they were there so they get featured too.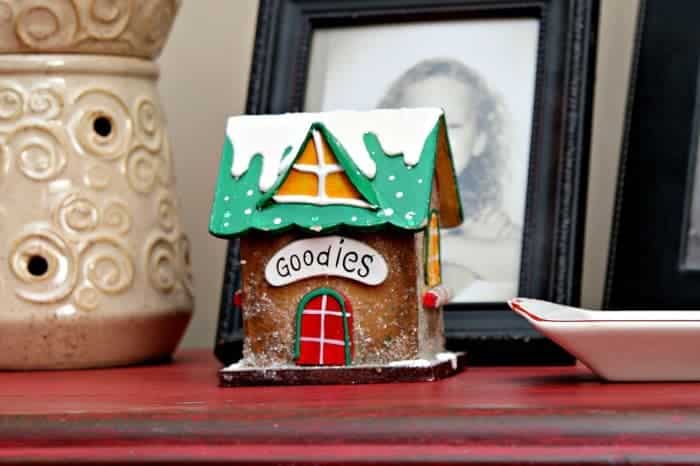 Just a house ornament but it's cute. I have ornaments sitting around the house. They don't have to hang from the tree.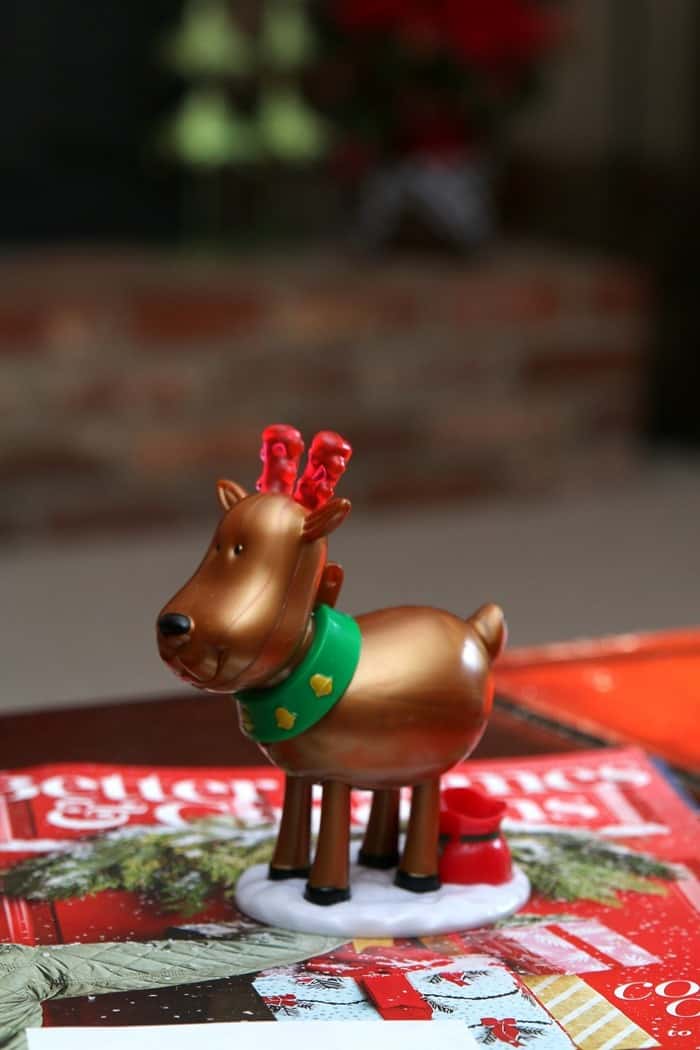 Whimsical little pooping (candy) reindeer that makes Sofi laugh.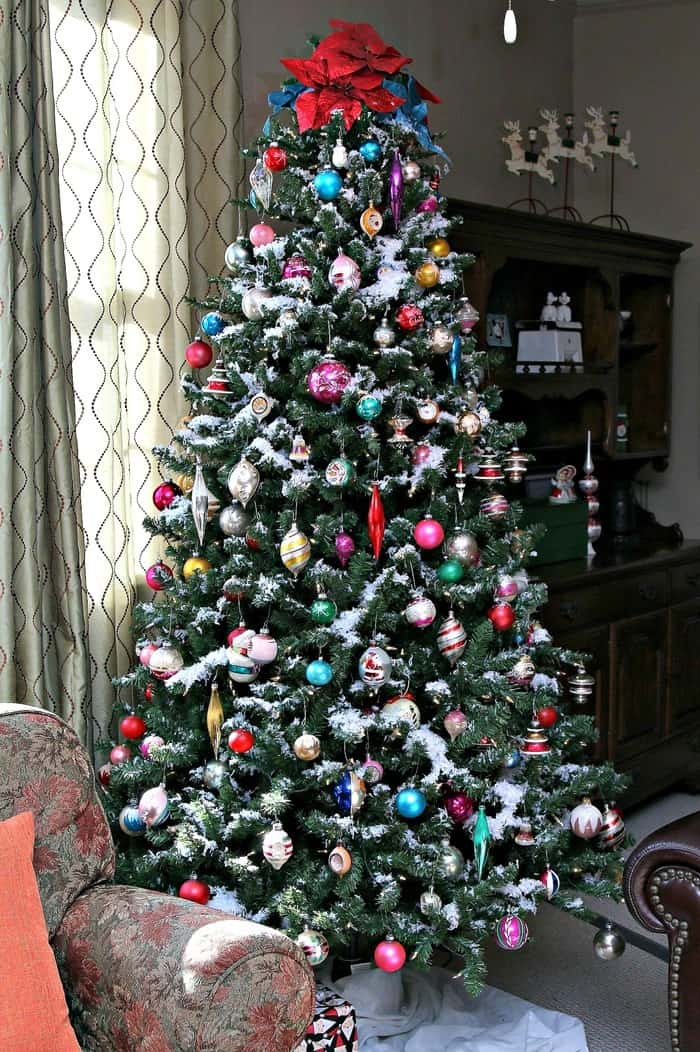 The tree decorated with shiny brites and other glass ornaments. As you can see there is a lot (two bags) of fake plastic snow on the tree branches. I love it but I think the JTS hates it. I wouldn't know why.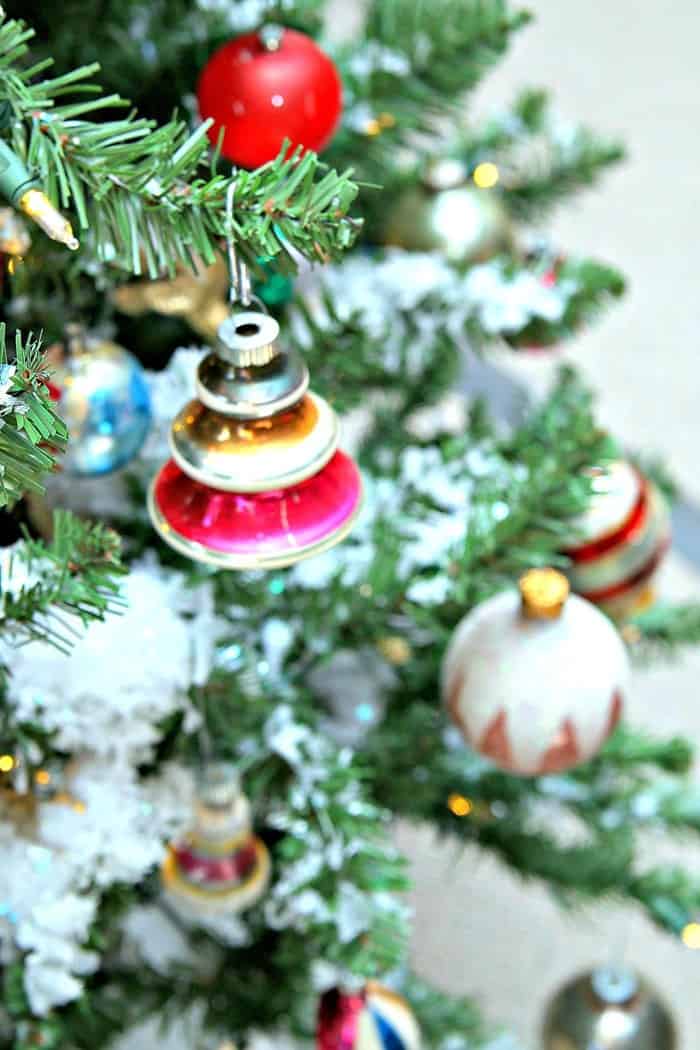 I bought several of the shiny brite bell shaped tree ornaments in Texas a few years ago when the JTS was working out there.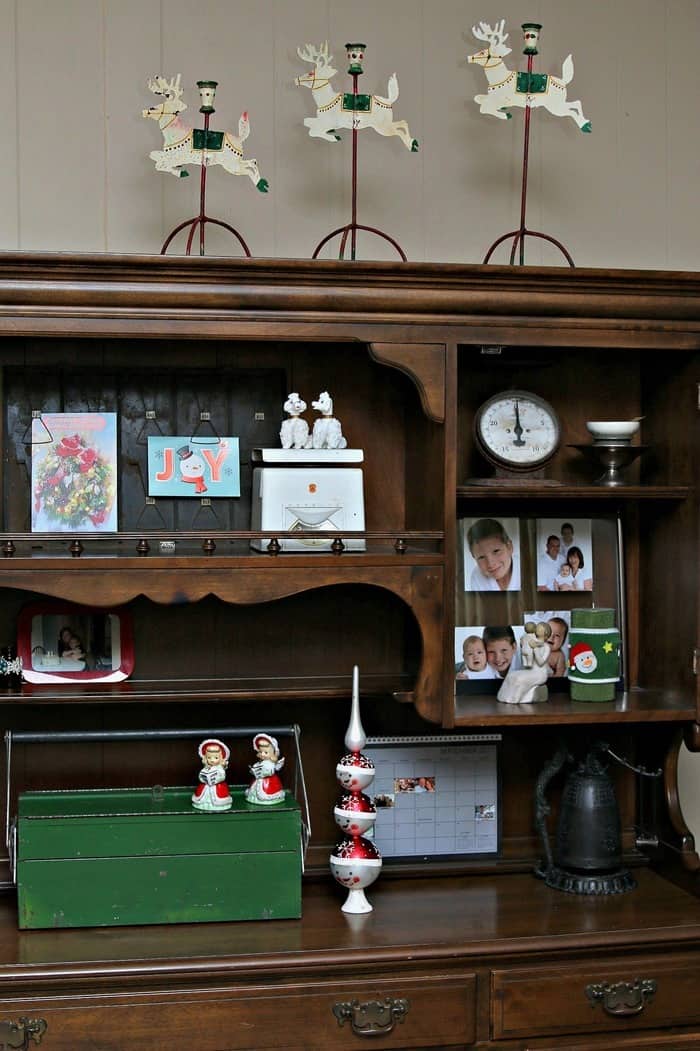 This china cabinet is in the den. I bought it about 25 years ago at a flea market. It gets decorated with Christmas dishes or other things every year.
The little spaghetti angels are some of my favorite vintage figurines. The green metal tool box is a purchase from one of my favorite vendors at the Nashville Flea Market.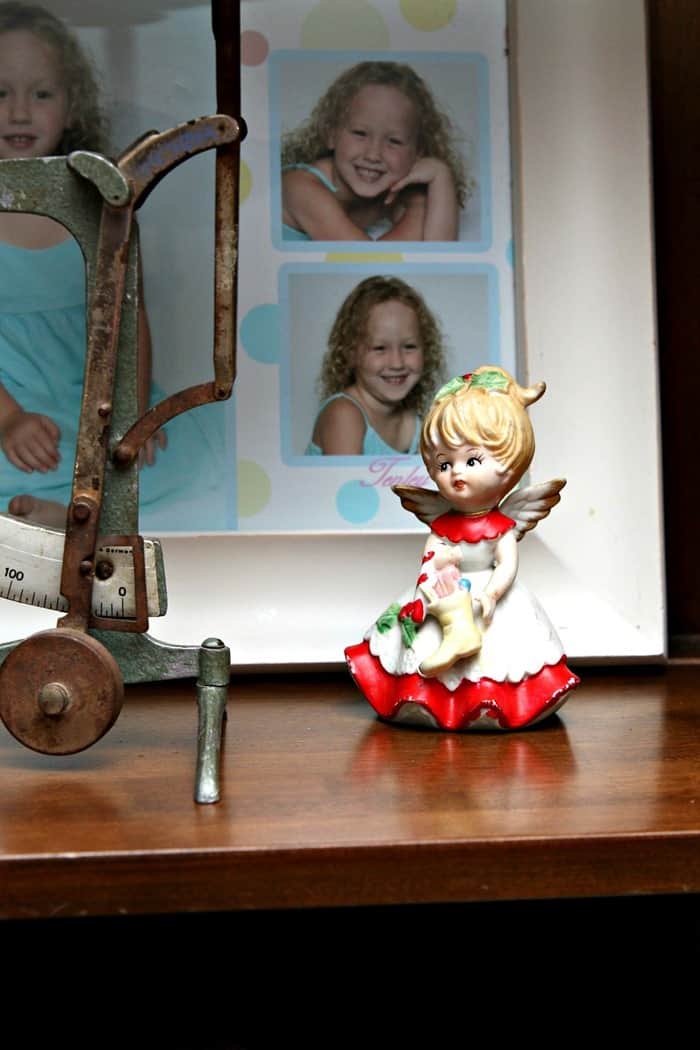 Another sweet little Christmas angel,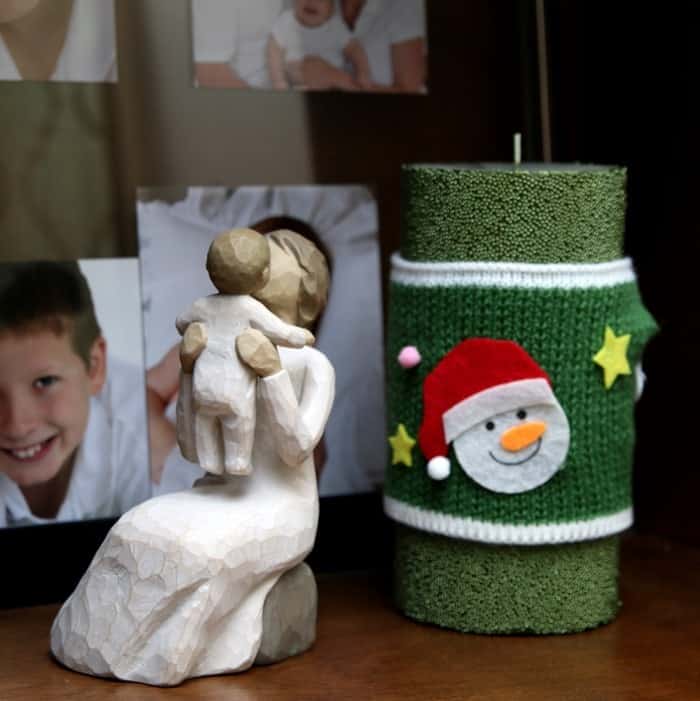 The knit santa is a mug cozy but it looks good on the candle. I don't plan to burn the candle so we're safe.
More vintage goodness with the kitchen scale and Hartmann briefcase.
Everyone's favorite Miss Mustard Seed Milk Paint vintage radio cabinet. Yes, I still have it.
Moving on to the kitchen and dining area. I pulled out my Christmas dishes and all the red stuff I could find.
Ths china cabinet is lighted and I leave the light on all day until bedtime.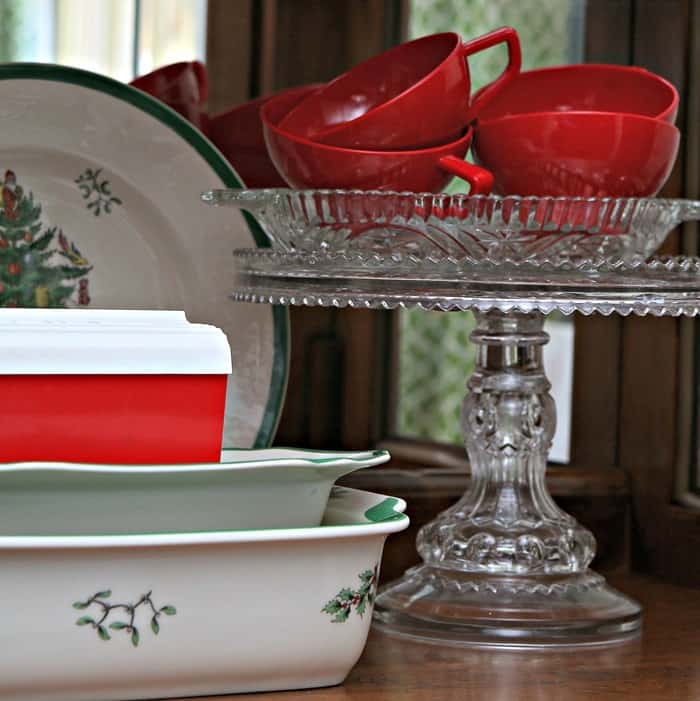 I have a vintage red recipe holder and vintage red cups.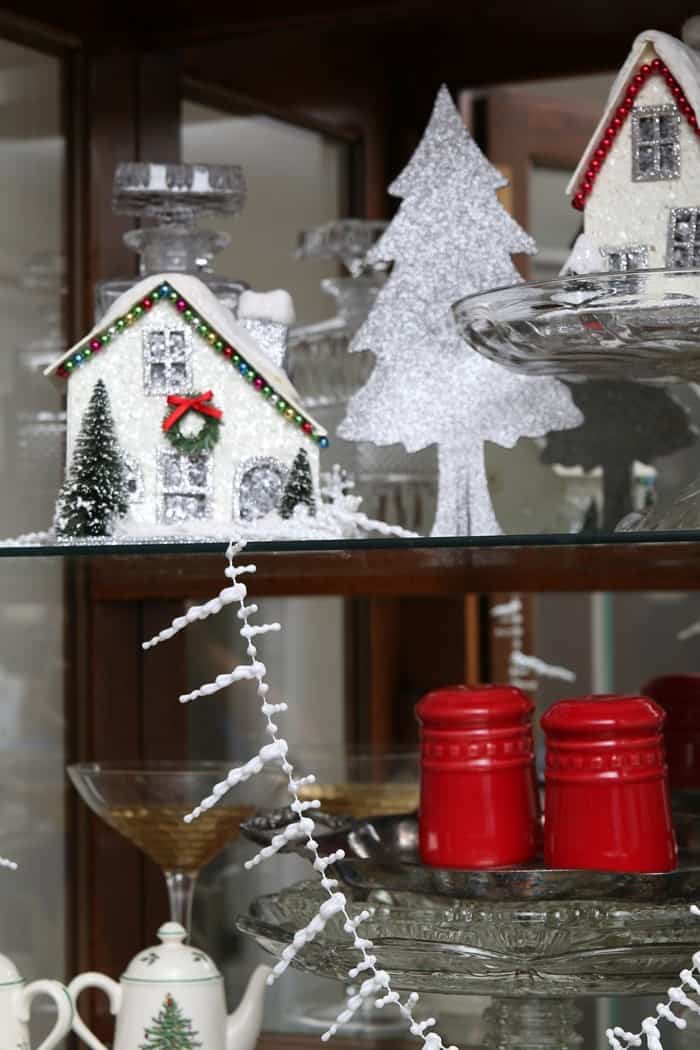 The Christmas houses are from a local home decor store. I bought them several years ago.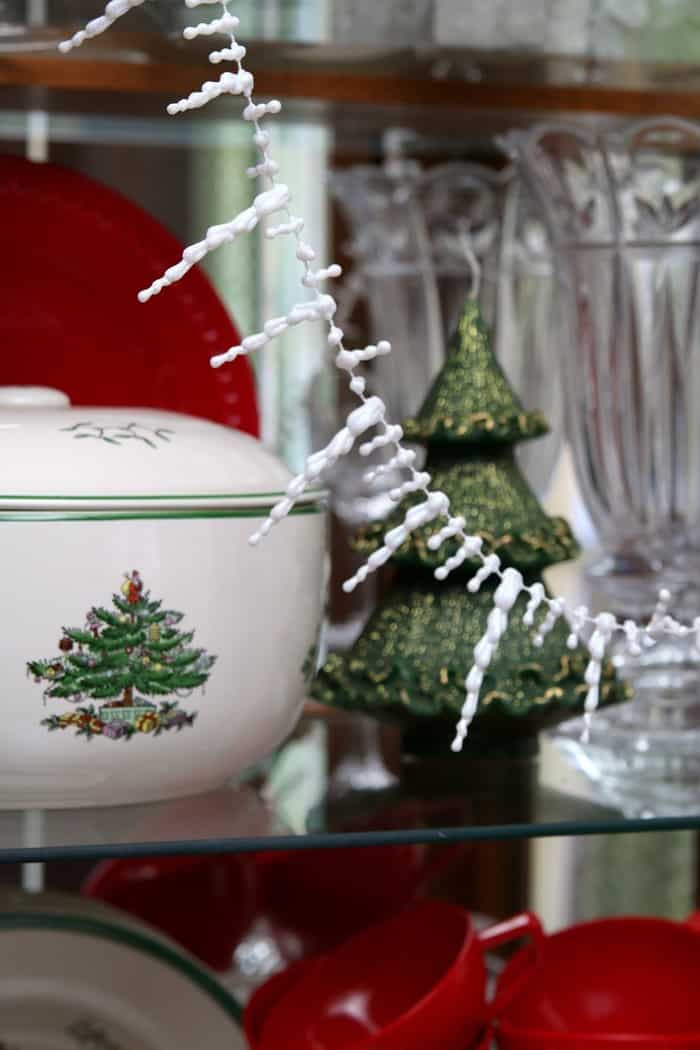 The Spode Christmas dishes have been collected over the years mostly at after Christmas clearance sales and as gifts.
used to set the table with the dishes, glasses, casseroles, etc., but I've gotten lazy and usually use paper plates.
I know, not environmentally friendly. But you don't have to spend a lot of time cleaning the kitchen when you use paper products and there's more time to enjoy family.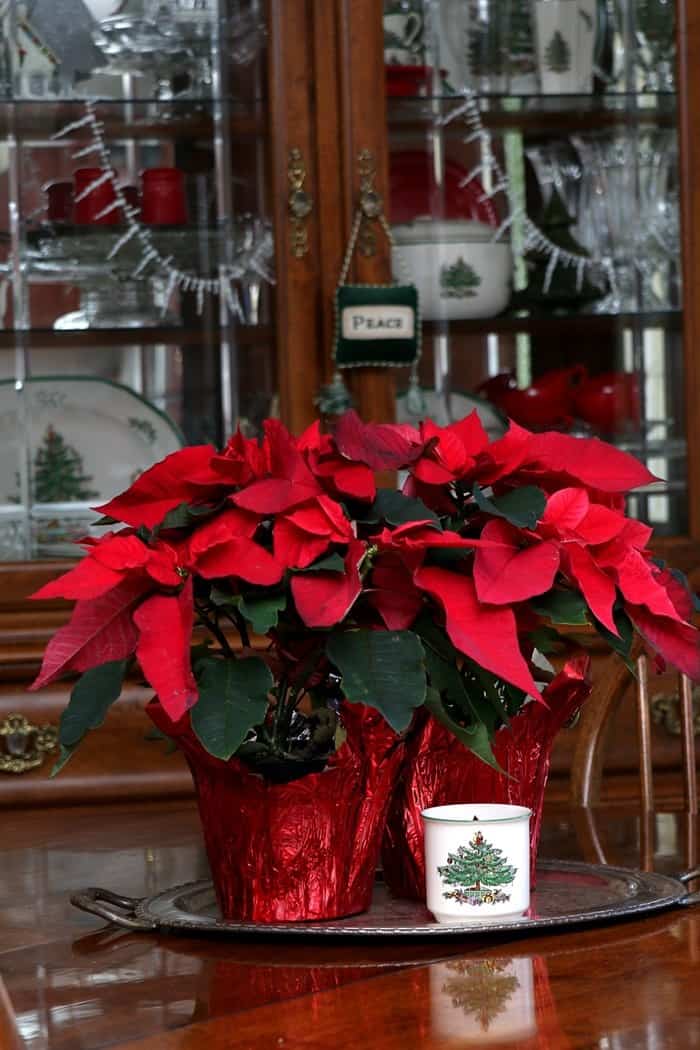 The centerpiece is another easy display. The silverplate tray is on the table all the time and holds various seasonal decor. This year the $1 poinsettias were so pretty I just set two of them together on the tray along with a candle holder.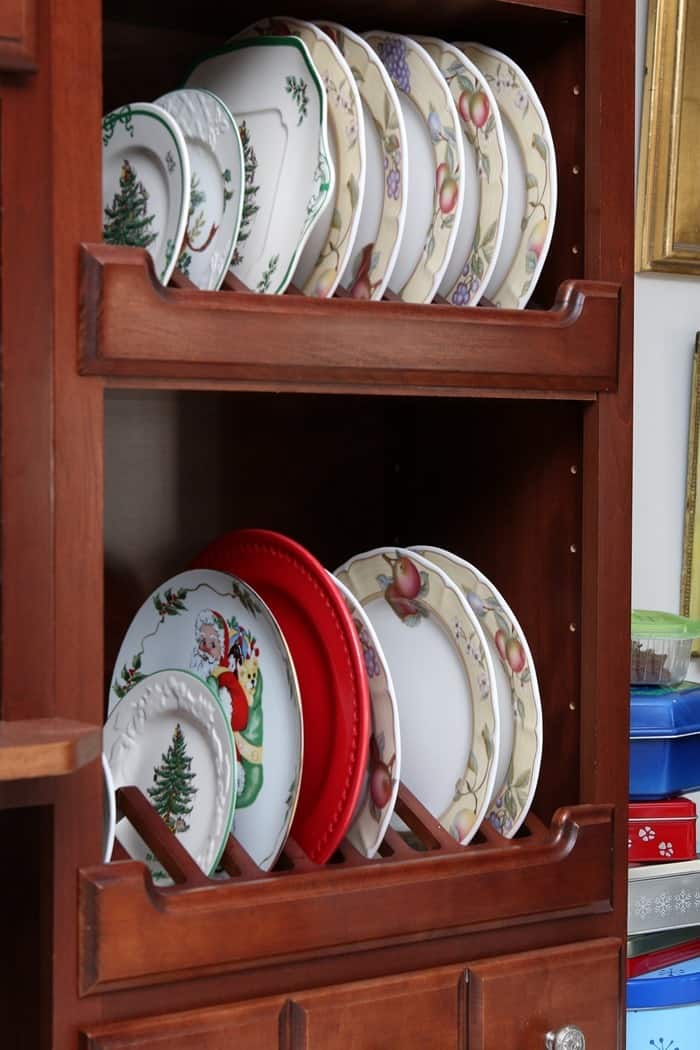 The Santa plate in the plate holder cabinet is vintage and I don't remember where I got it.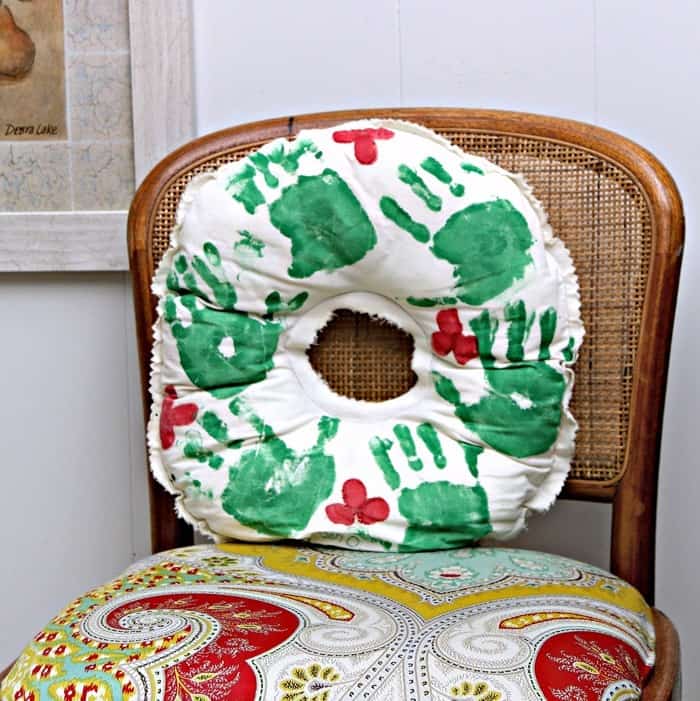 My son made the handprint wreath at daycare. It has a handwritten date of 1990 which means my son was 7 years old. Hard to believe he is 36 now. I love these keepsakes. He also made a reindeer sweatshirt and his handprints are the antlers.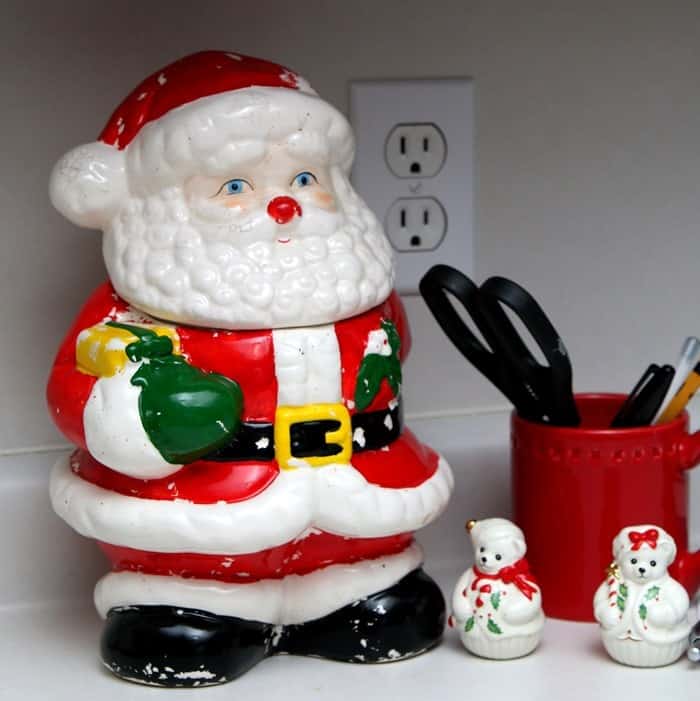 Santa cookie jar I bought at the junk shop recently. I guess I told a fib. I bought 2 or maybe 3 vintage Christmas items this year to add to my stash.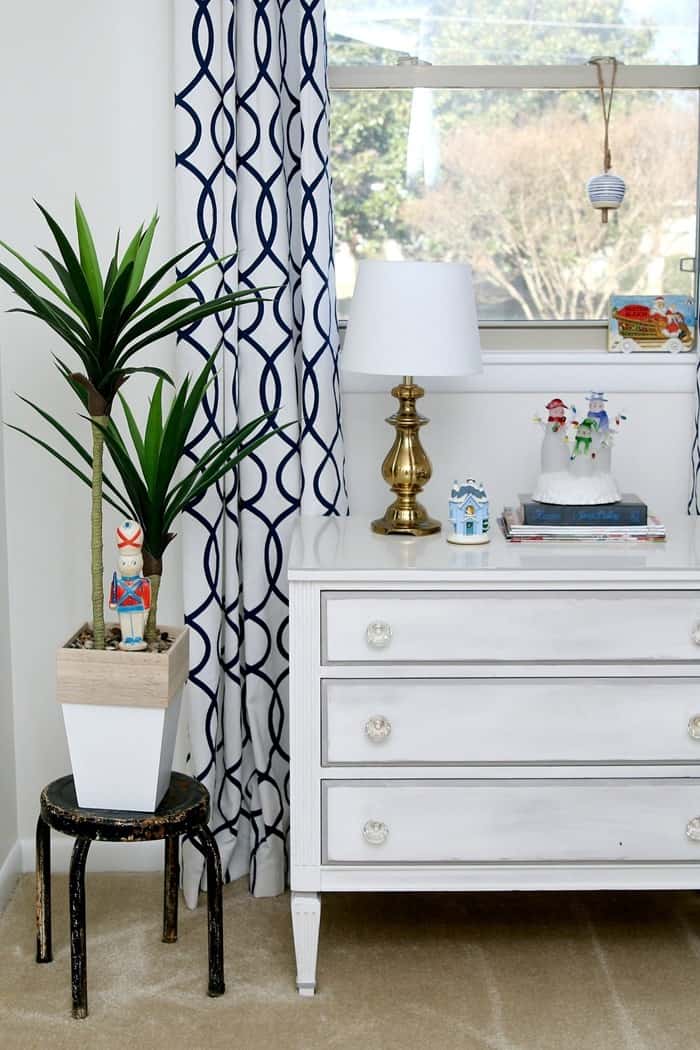 This is one of the guest rooms we redid from top to bottom this year. It looks so clean and crisp with the white walls and new decor.
I bought everything on the cheap so the makeover was very inexpensive. The white chest of drawers was only $68 at a local flea market and it was already painted.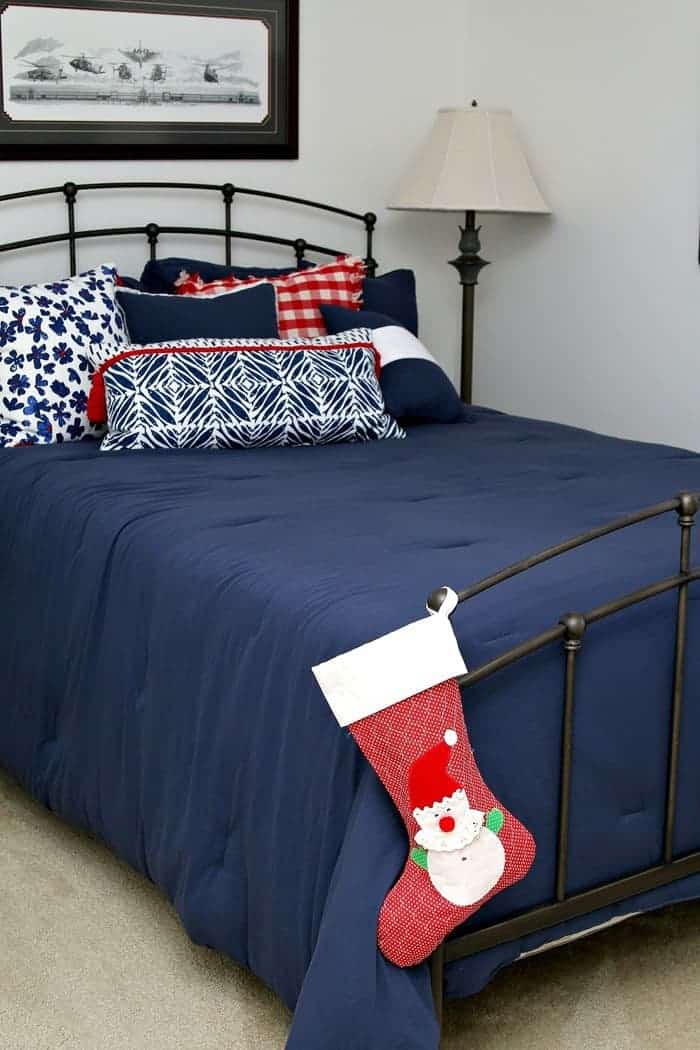 The stocking has been around so long I have no idea where I got it.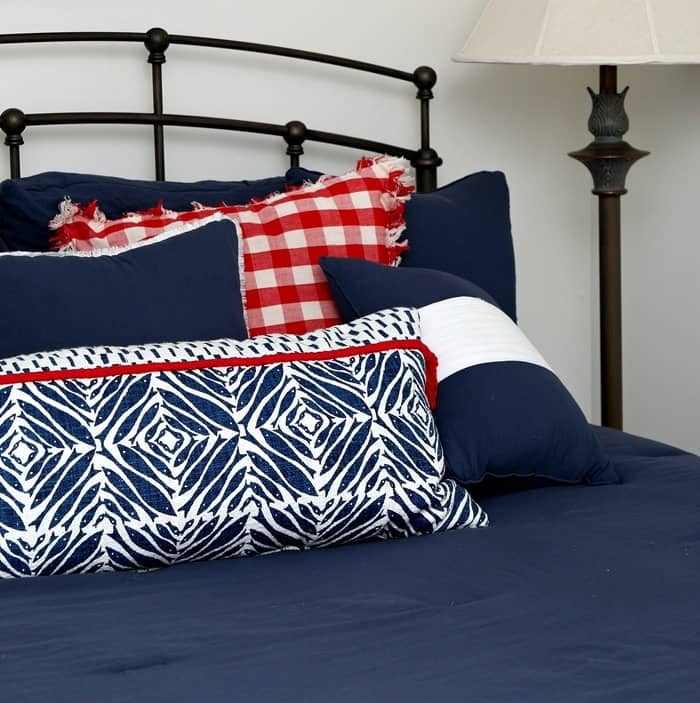 The red and white checked pillow was a flea market find. The long pillow with red trim came from Target.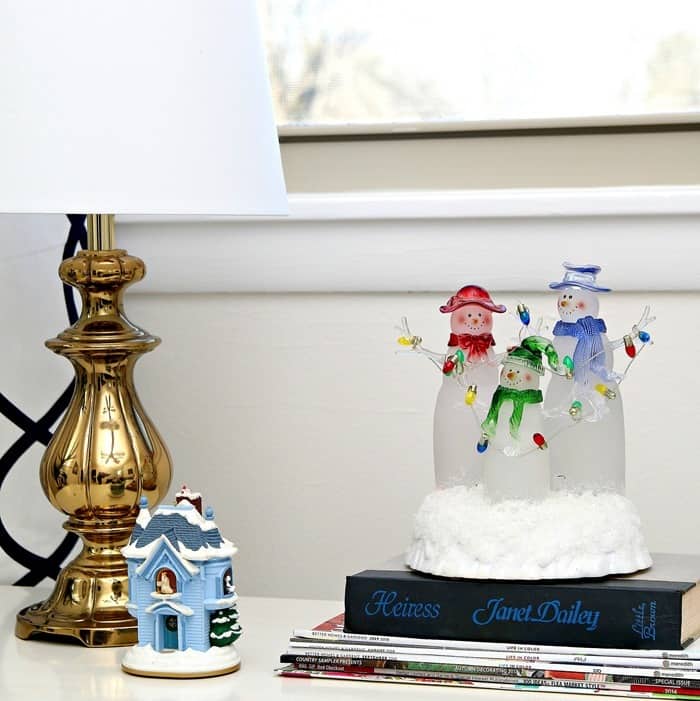 At one time the snowmen light up but not anymore. Still pretty. The blue house is a Hallmark ornament. It winds up and the man and woman pop in and out of the window.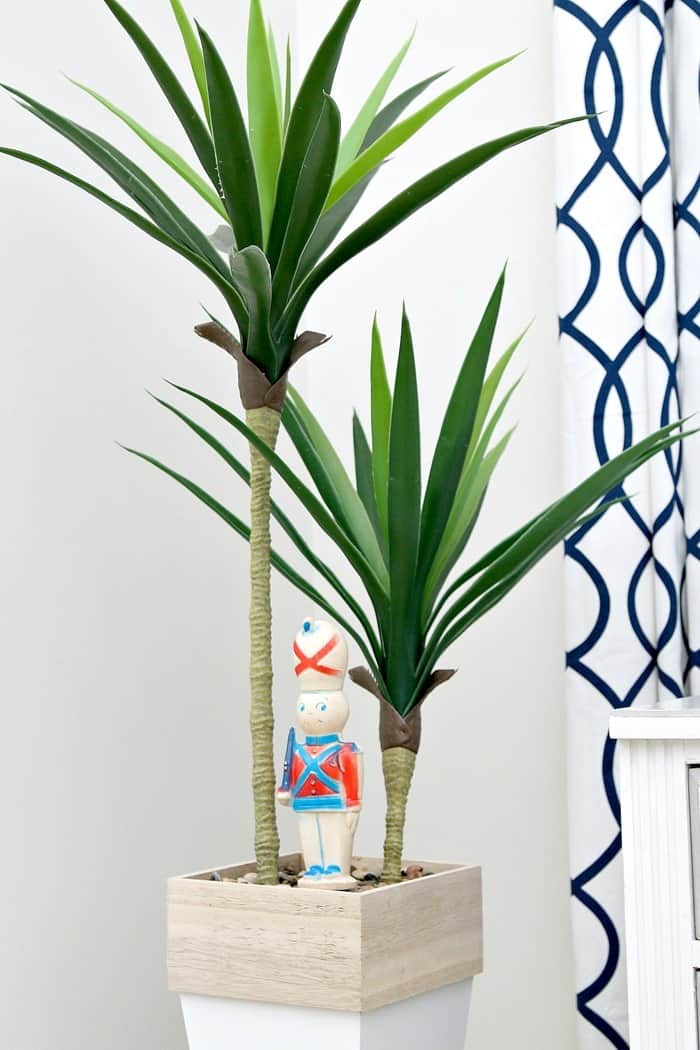 I placed the vintage nutcracker childs squeeze toy in the plant pot. Genius.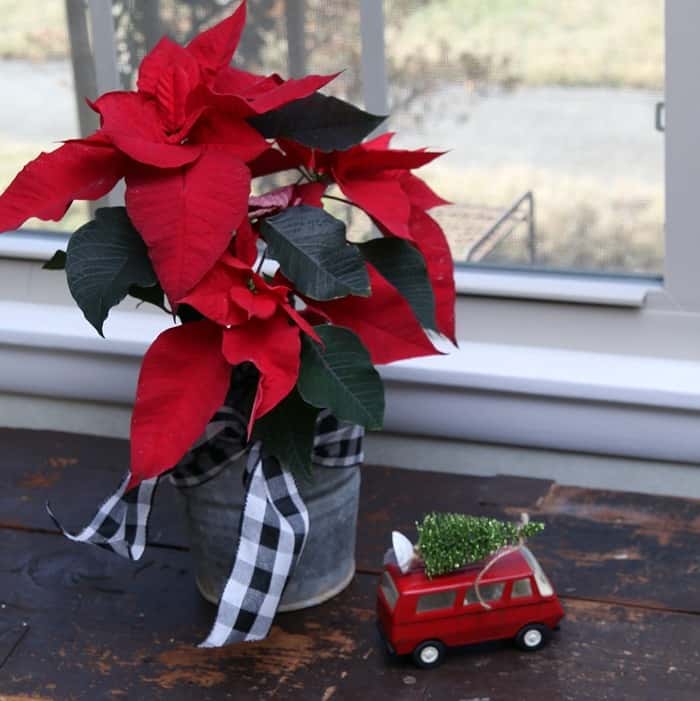 Another $1 poinsettia on the trunk in the living room and a red toy van hauling a tree home to be decorated.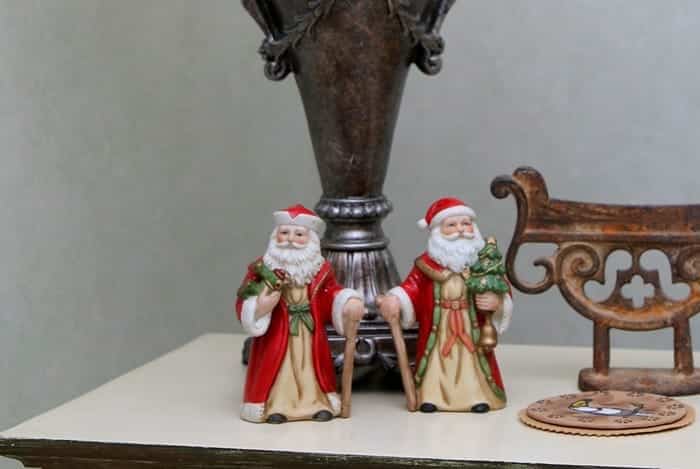 A couple of old world Santas from Home Interior. The other Santa is still packed away.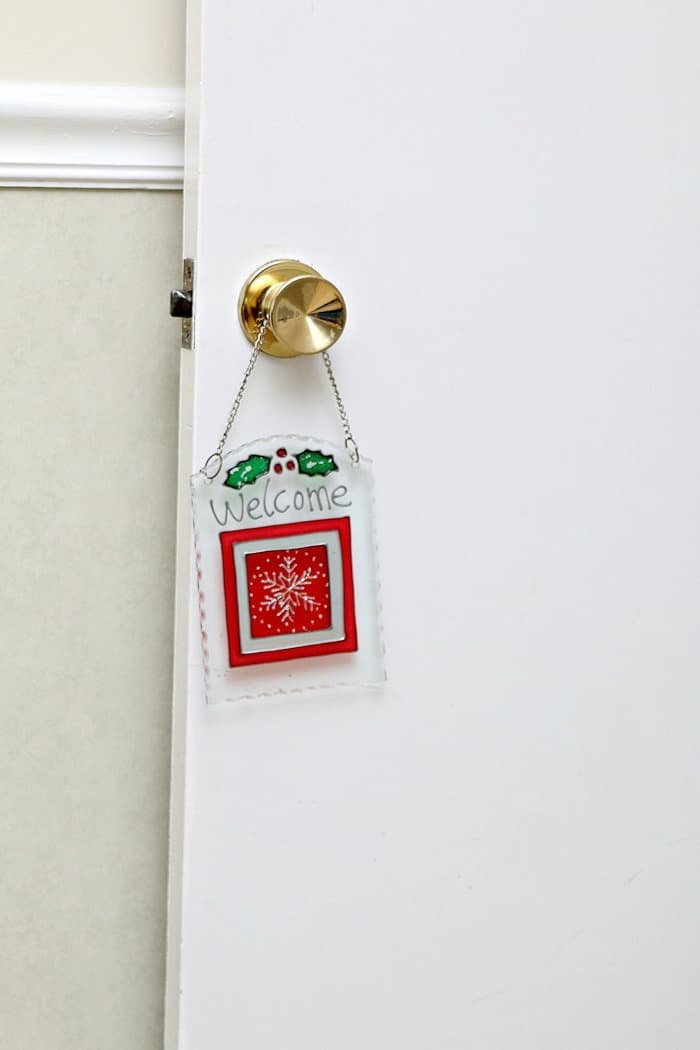 A newish Welcome sign adds a pop of color on the door knob.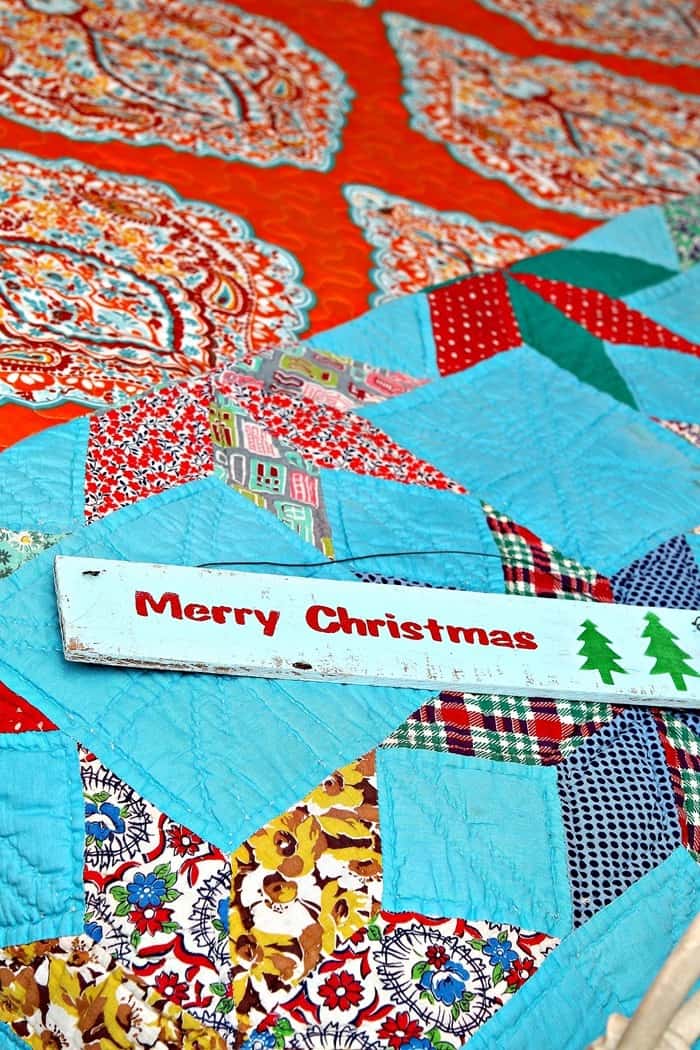 The Merry Christmas sign I made several years ago matches the pretty vintage quilt I bought recently at the shop where I have a booth. I saw it and couldn't resist. I'm a sucker for handmade quilts.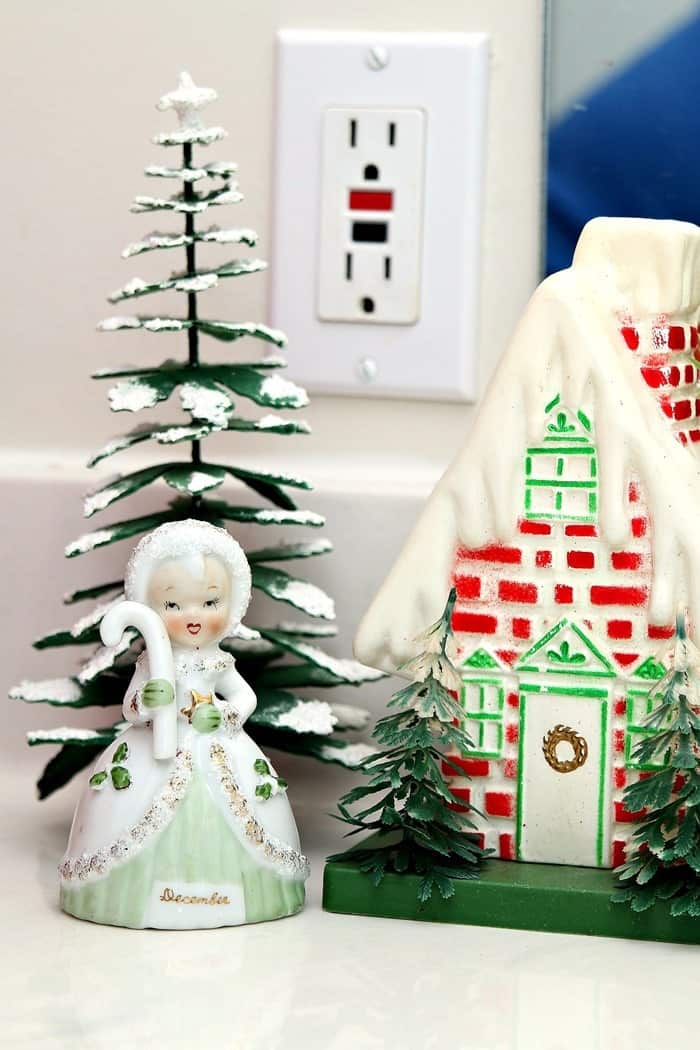 Another vintage angel and a plastic house. Not sure if the house is vintage or new. I'm thinking vintage and I love the tree behind the angel. Not sure what you call that style of tree.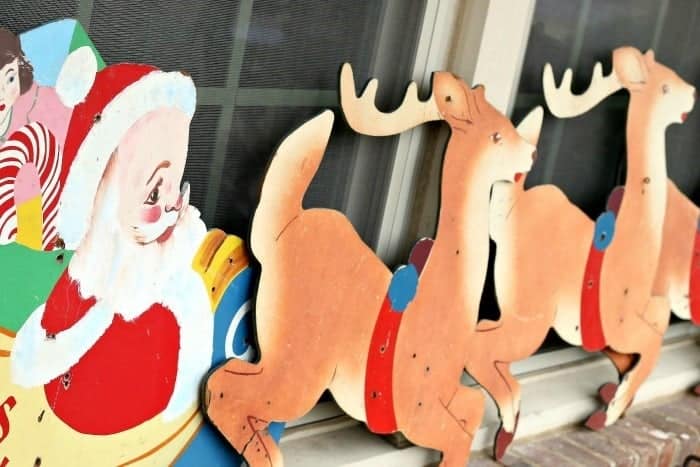 If you read my porch decorating post earlier this month you saw the vintage Santa and Reindeer. If not you can see them here Red Porch Decorations With Buffalo Check Accents .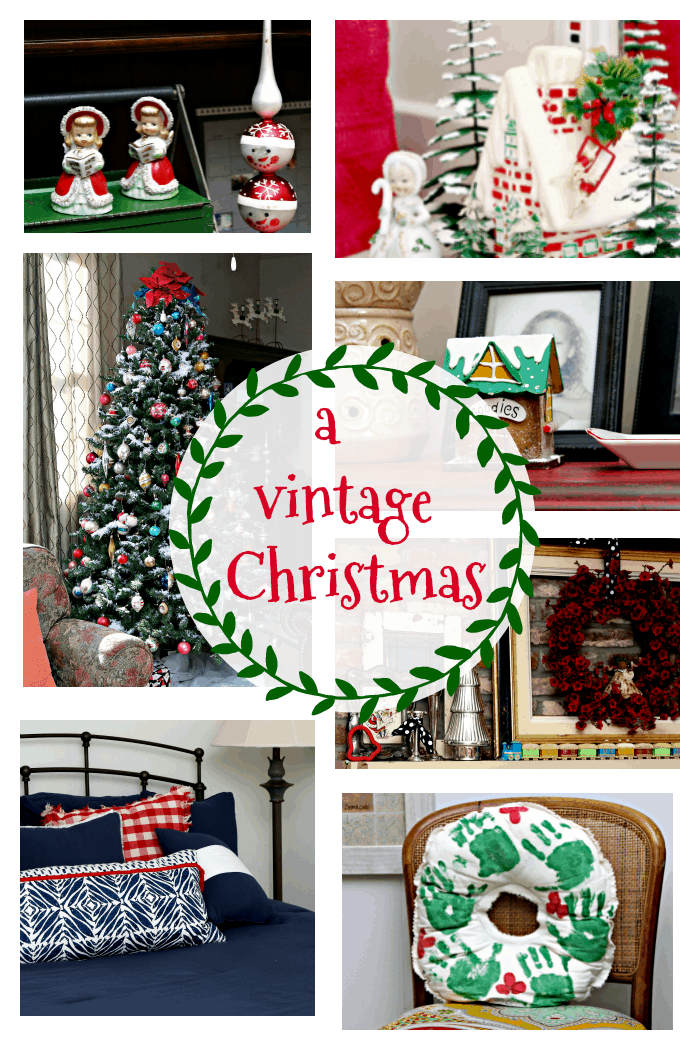 Vintage Christmas Decorations Throughout The House
Do you decorate with vintage or new or both or don't decorate at all? Do you put up a tree or maybe more than one tree? Did you see anything in my vintage Christmas decor that reminded you of home?
Leave a note please. I've been slow on replies lately but I read every single comment.
As always, thanks for being here, Kathy