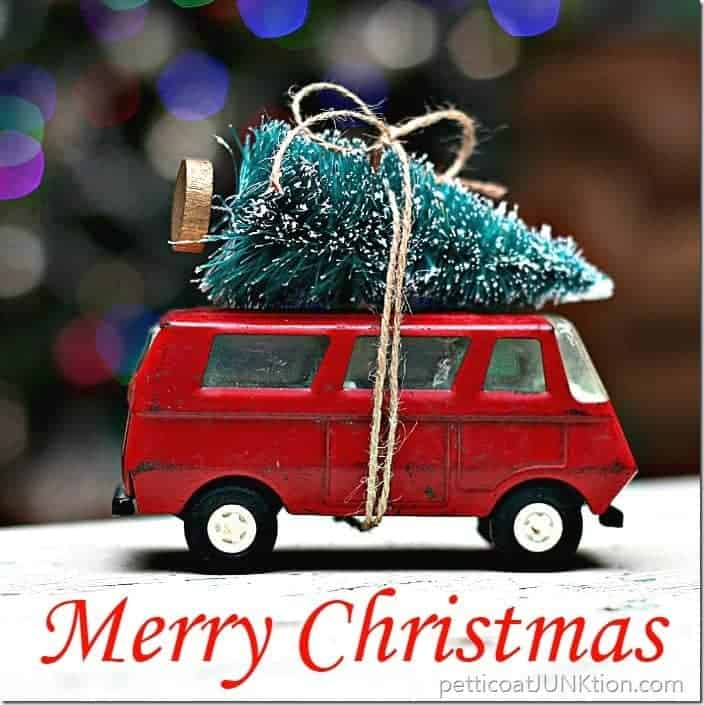 Christmas Tree on top of a Red Van
 Merry Christmas Friends!
Well, I have my granddaughter Tenley to thank for putting the tree and red van project together. We were in the workshop yesterday and I was trying to tie the tree to the top of the red metal van from the Nashville Flea Market. I had it wrapped this way and that.... sometimes trussed up like a turkey. She said, "here let me do it", and she did. Works for me. Sometimes it's the simplest projects that bring the biggest smiles.
I haven't shared a whole house Christmas home tour with you this year. I took a lot of photos a couple of weeks ago but haven't shared very many of them. So you get to see a few of them today. Or not. I know all of you are busy this time of year. I just wanted to wish you guys a very Merry Christmas and say thank you for being here. I would be lost without you. One of the highlights of my day is reading your comments.
On to the tour.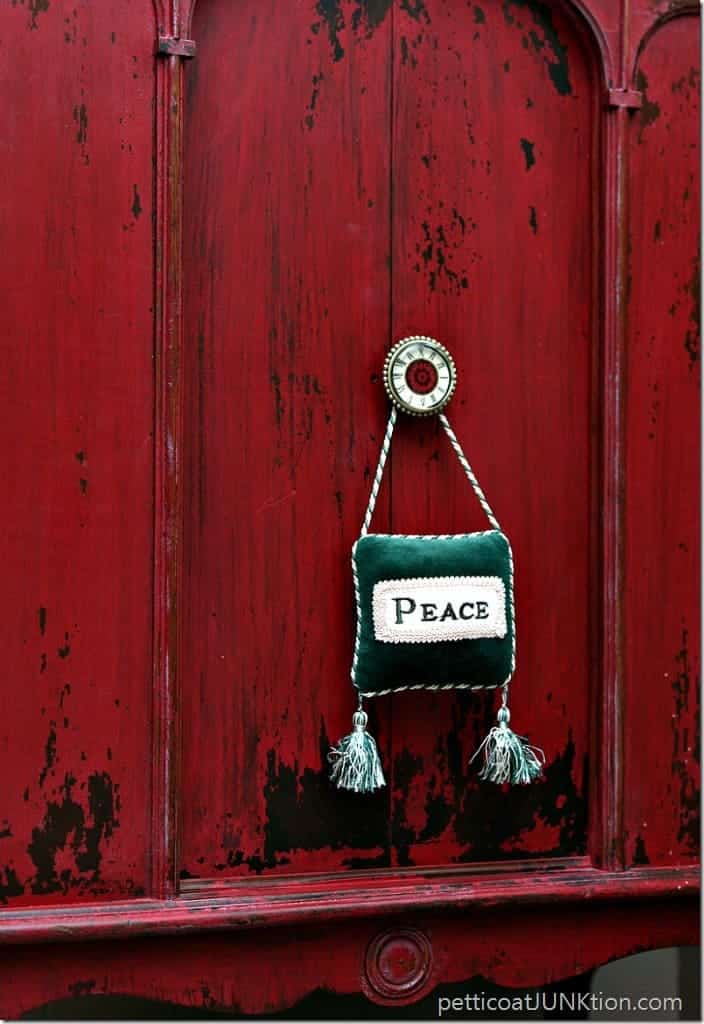 I like the little Peace pillow. It's hanging on the Tricycle Red Miss Mustard Seed's Milk Paint Cabinet. This is the painted piece of furniture I am most known for in the blogworld.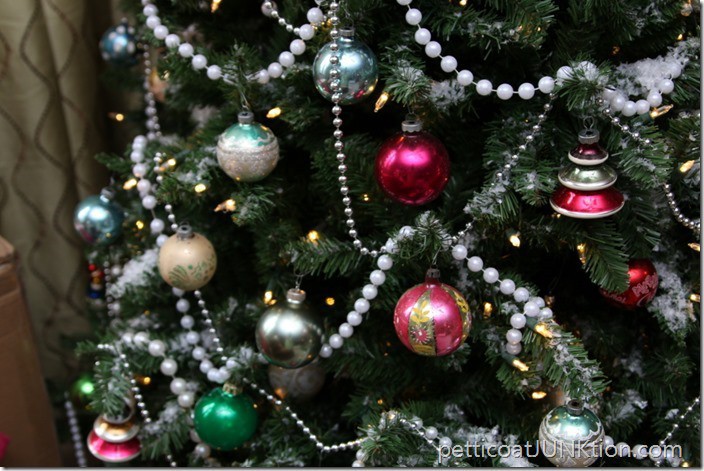 A look at my tree with the vintage Shiny Brite ornaments.
The tree at night with the clear lights. We have an artificial tree and the lights can be changed from multi-color to clear with a click of a button….cool. We got the tree at K-Mart a couple of years ago.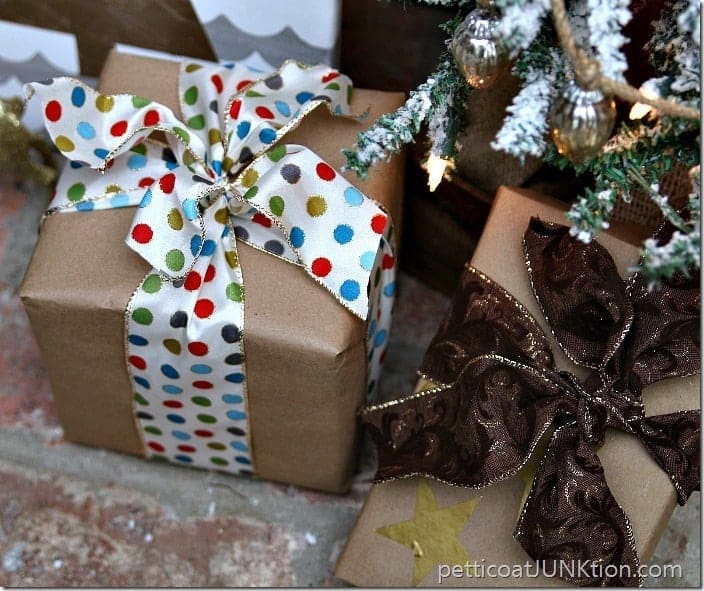 I love wrapping gifts. Anyone else? I used only brown Kraft Paper this year and bought some pretty ribbon from Hobby Lobby….half price of course. The gold stars are from Wallternatives. I use the Kraft Paper for birthday and wedding gifts too.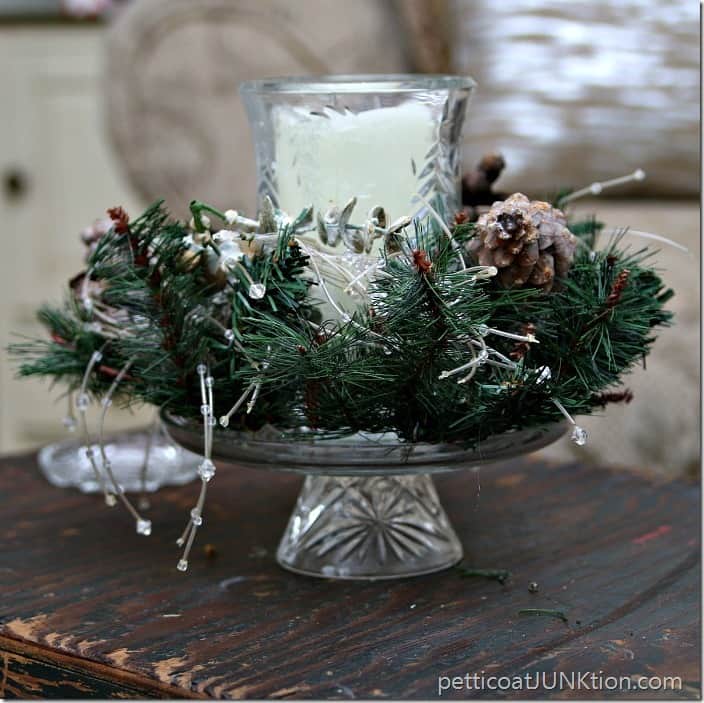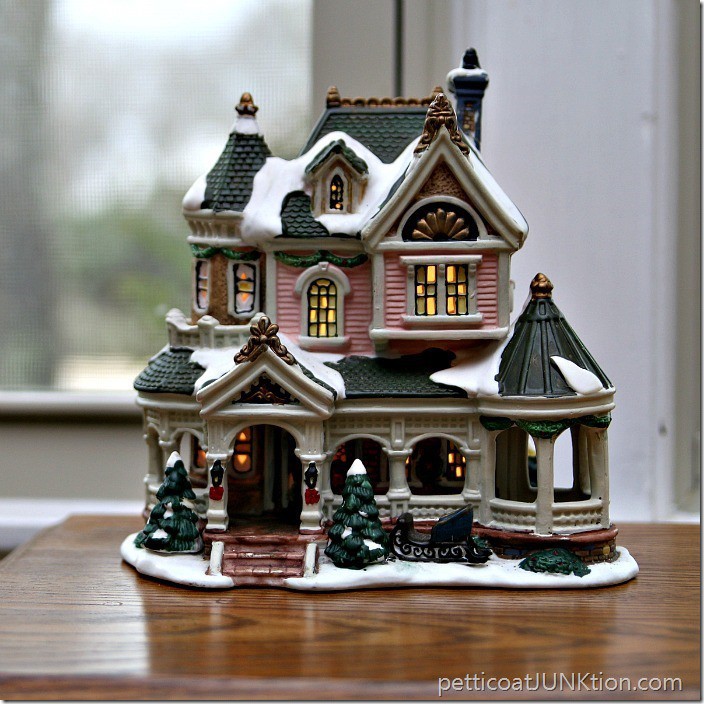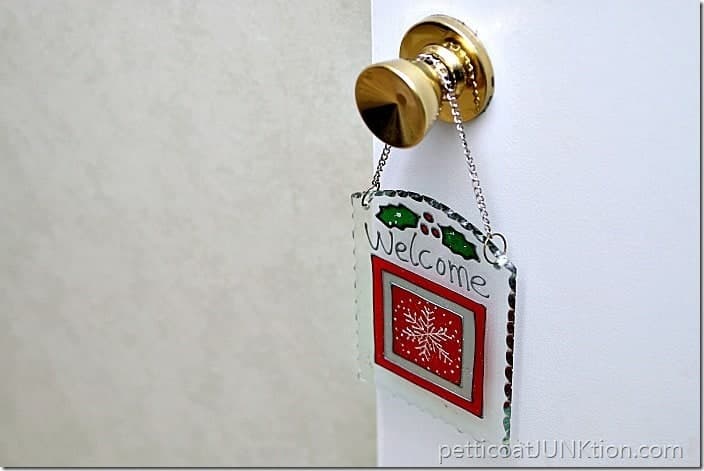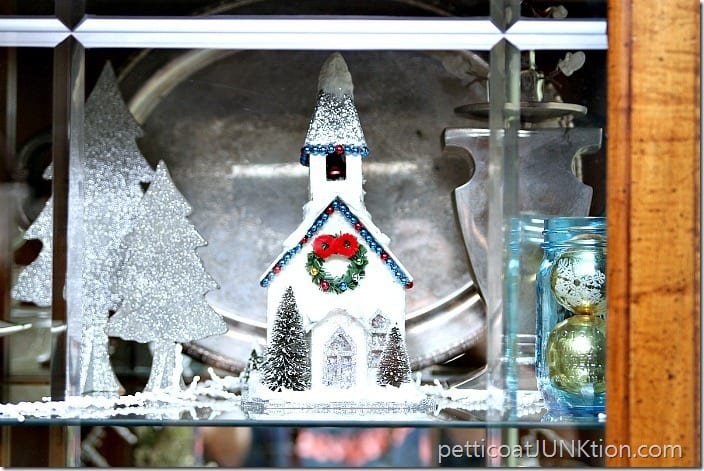 The little white church and glittery trees make me smile. I put them in the china cabinet this year.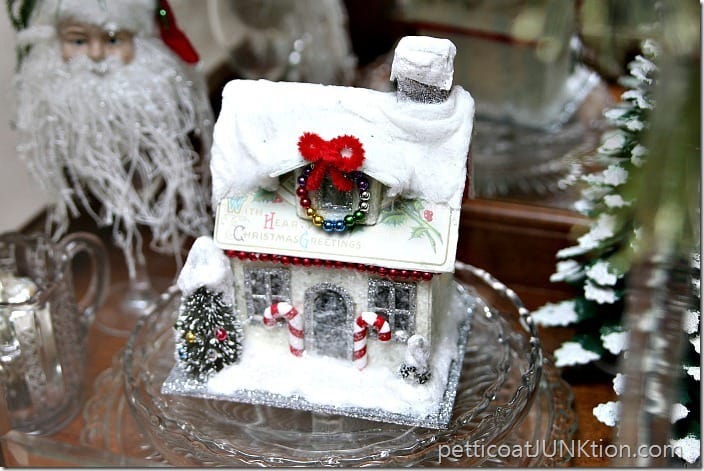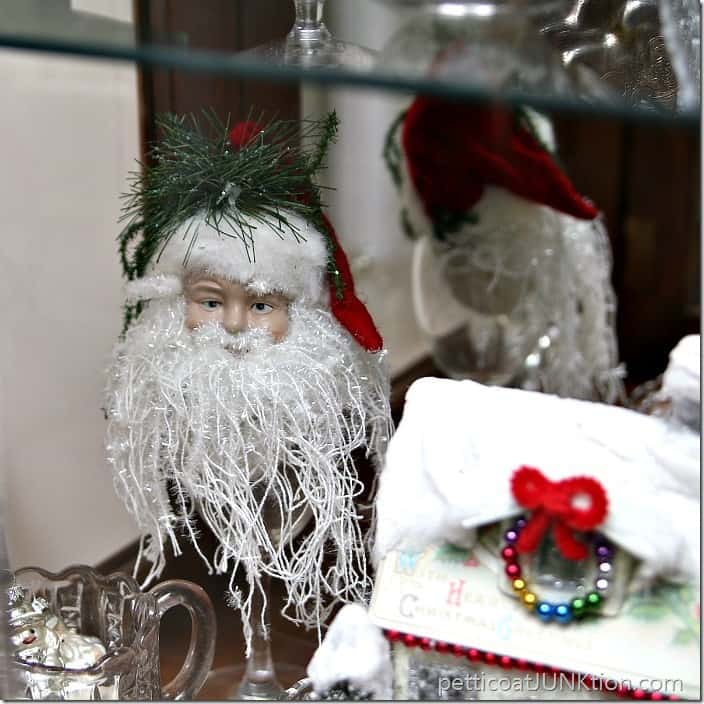 The Santa head is sitting on a wine glass. I selected some of my favorite things to display in the china cabinet. At one time Santa adorned a wreath.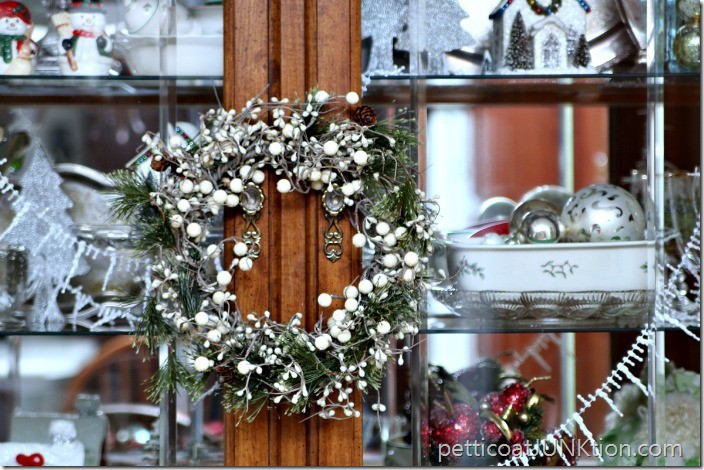 The china cabinet is lighted and looks really pretty at night. The inside back of the cabinet is mirror covered. It's hard to get decent photos of the stuff inside. I hung the wreath on the cabinet door knobs.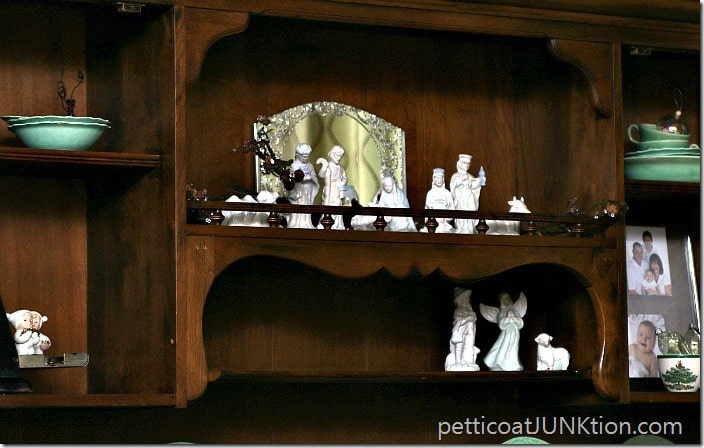 The JTS bought the Nativity set at an auction a few weeks ago.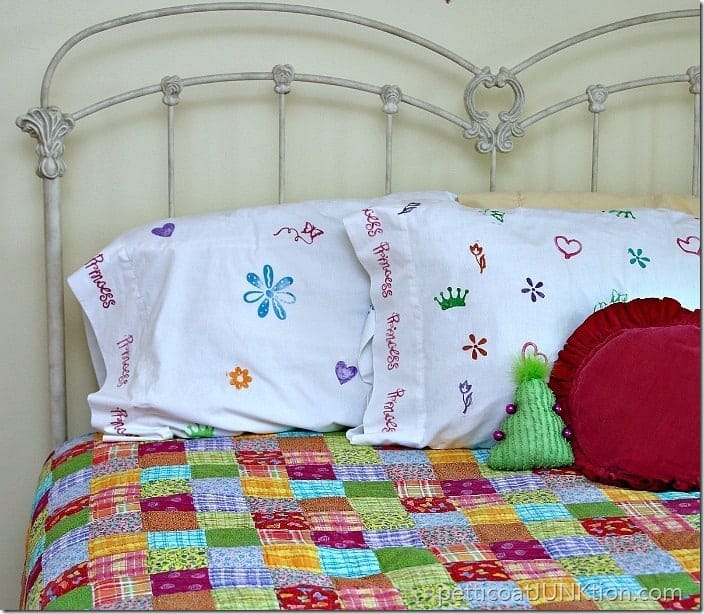 The granddaughters bedroom.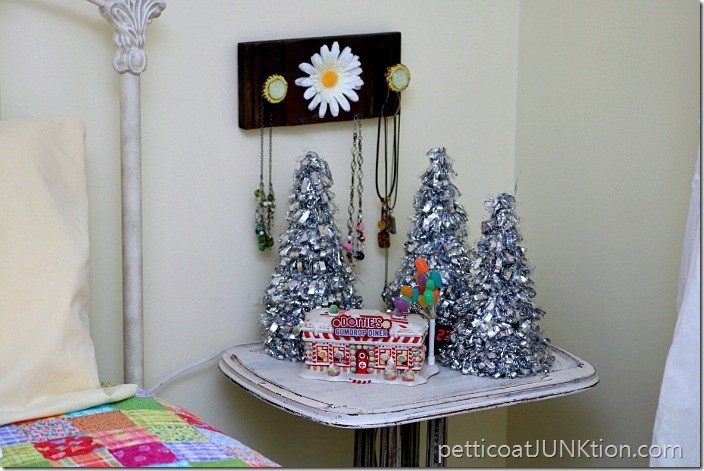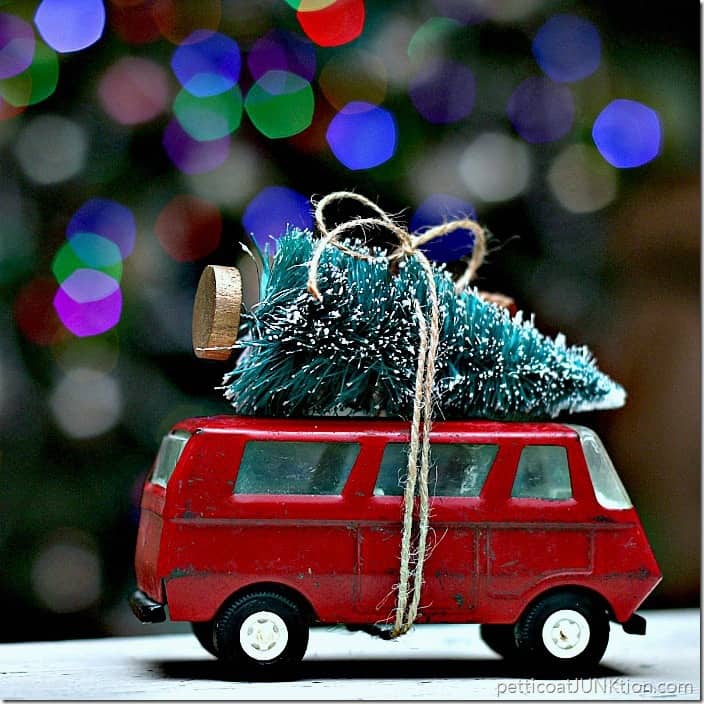 Merry Christmas! Hope your holidays are the best!
I'll be back next week.
Want more Petticoat Junktion Christmas Inspiration? Click any photo below!
Click here to have Petticoat Junktion updates delivered free!