Time To Decorate The Porch For Christmas
Now that Thanksgiving is over we can decorate for Christmas. I pulled out all the stops and went over the top with my red porch decorations. The red poinsettias for $1 a pot at Home Depot were irresistible and I bought 6.
Then I grabbed the roll of black and white buffalo check ribbon I used on another project and went to town. Everyone knows black and white is the perfect compliment to red.
A look at my red porch decorations….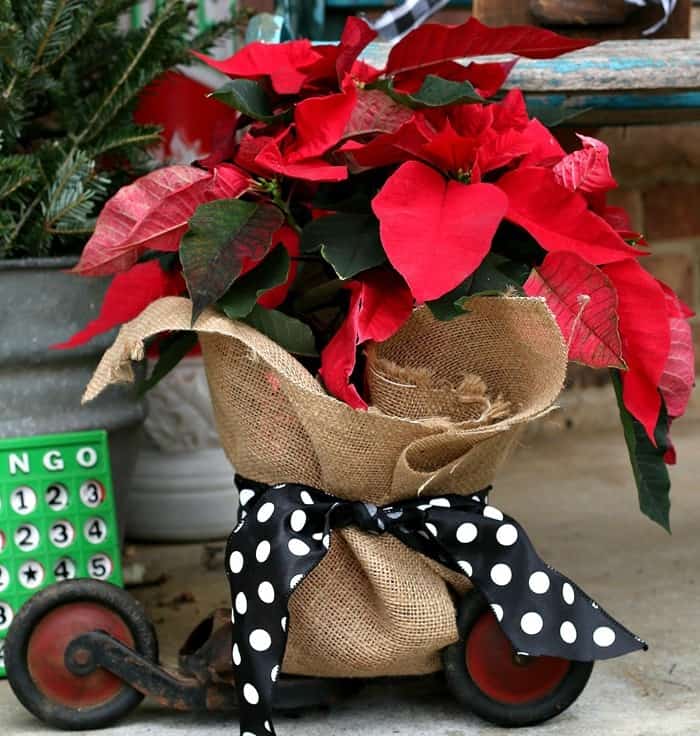 In the past I've decorated the porch in a variety of colors, everything from vivid yellow to hot pink. Going with traditional Christmas red this year just felt right.
The blog post today is filled with decorating inspiration. For our Christmas Ideas Tour 2019 we decided to have a one day tour instead of a week long tour……and today is the day. There are 20 bloggers in the tour and the links are at the bottom of this post. Enjoy!
My junk stash figured heavily in the décor. I absolutely love the vintage red three wheeled skate. I forgot I had it and in the middle of another workshop cleanup/organization attempt I found it on the back of a shelf. Just in time for Christmas. It's nice and rusty and that's what makes it perfect.
Want to see the famous junk shop where I buy all my goodies? I have a short video tour for you at the very bottom of the post.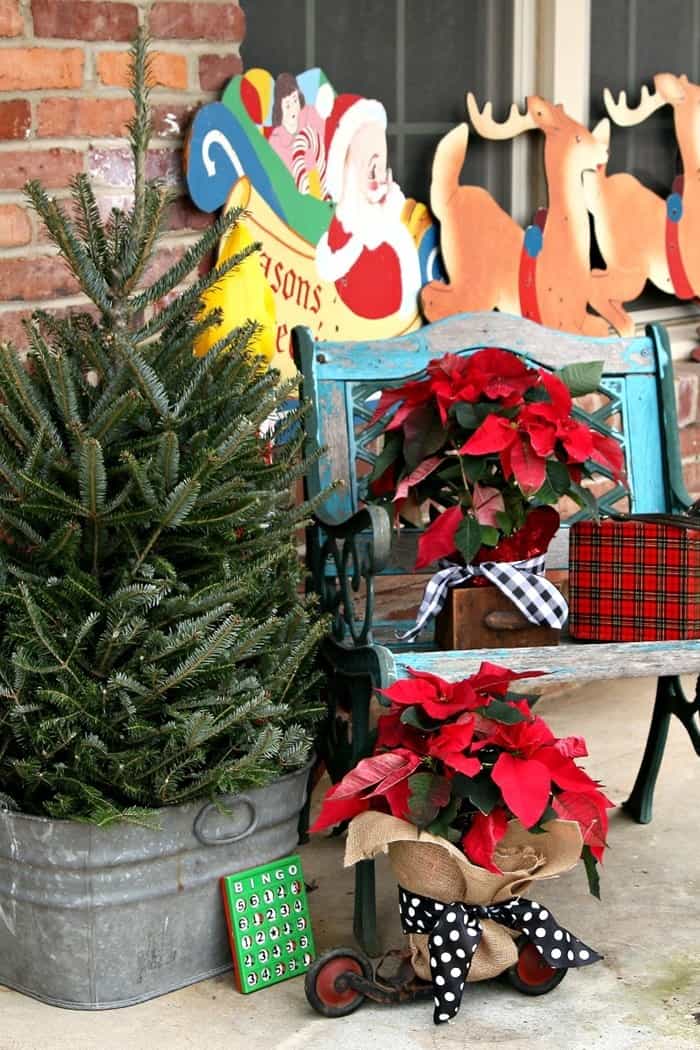 Red Poinsettias
The small live spruce tree is a porch holiday tradition now. The square galvanized tub is a new purchase. I bought it at an auction last week for $15.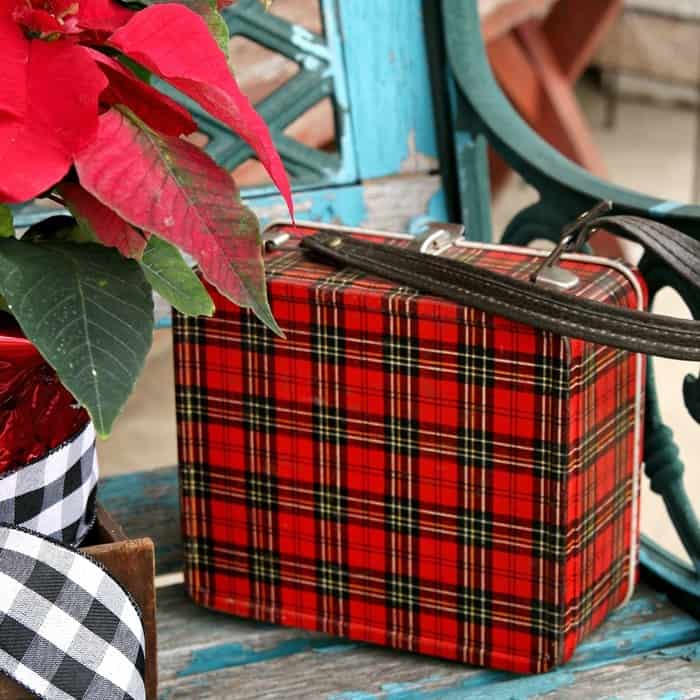 The plaid lunch box with the leather handle is one of my favorite finds and I don't plan to part with it anytime soon.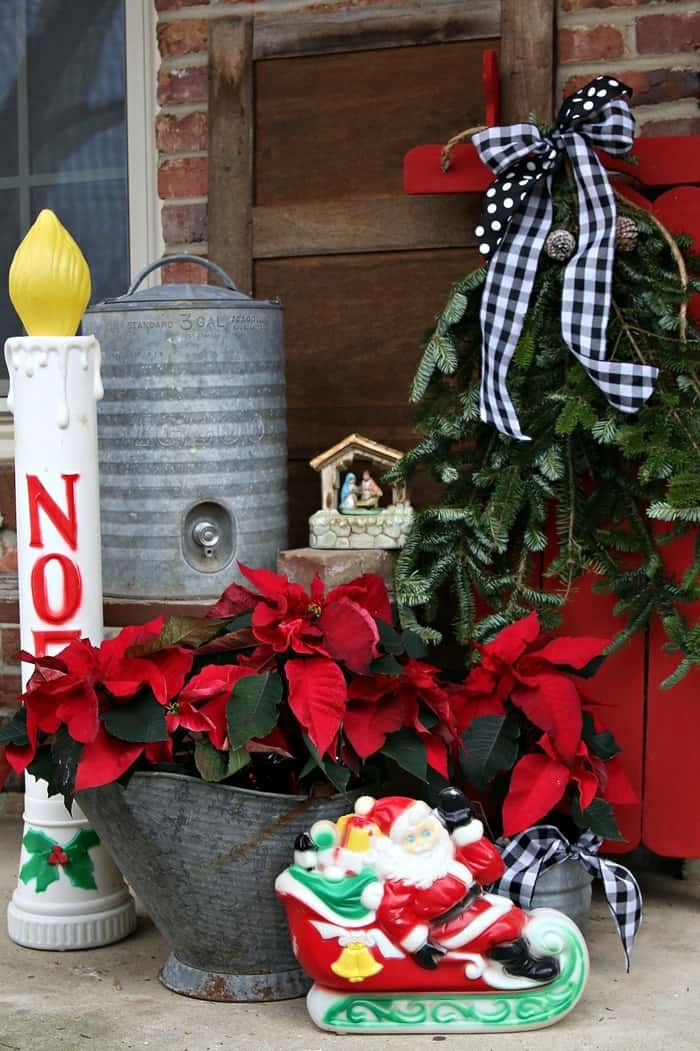 Petticoat Junktion is a participant in the Amazon Services LLC Associates Program. As an Amazon Associate I earn from qualifying purchases.
Vintage Christmas Decorations
What can I say about this display…..poinsettias, vintage plastic Christmas, and junk buckets. The wood sled is a flea market purchase and the original color was country blue and that's not my style so I painted it white……. and didn't like it.
I moved on to red with plans to stencil something on it. I found the live greenery swag at Home Depot and that was it. I removed the red velveteen bow and replaced it with the buffalo check and a bit of black and white polka dot ribbon.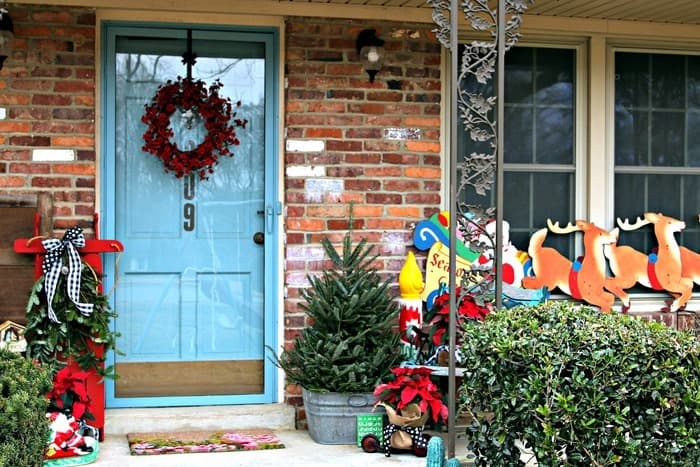 The whole porch décor came together in less than 2 hours. As usual I waited until the last minute to decorate but sometimes that's the best way. I get in high gear and get it done instead of playing around.
I tied short pieces of the buffalo ribbon around a few of the flower pots. This easy decorating trick packs a punch.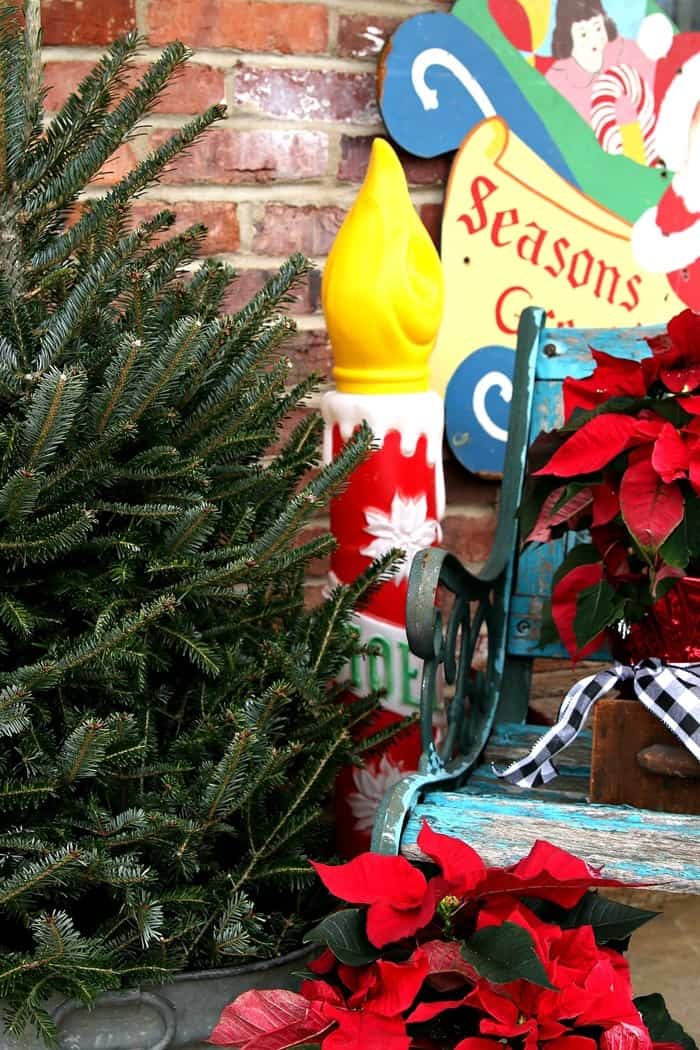 Red Christmas Candle and Decorations
The NOEL candle was a Nashville Flea Market find. The colors of the candle are so vivid.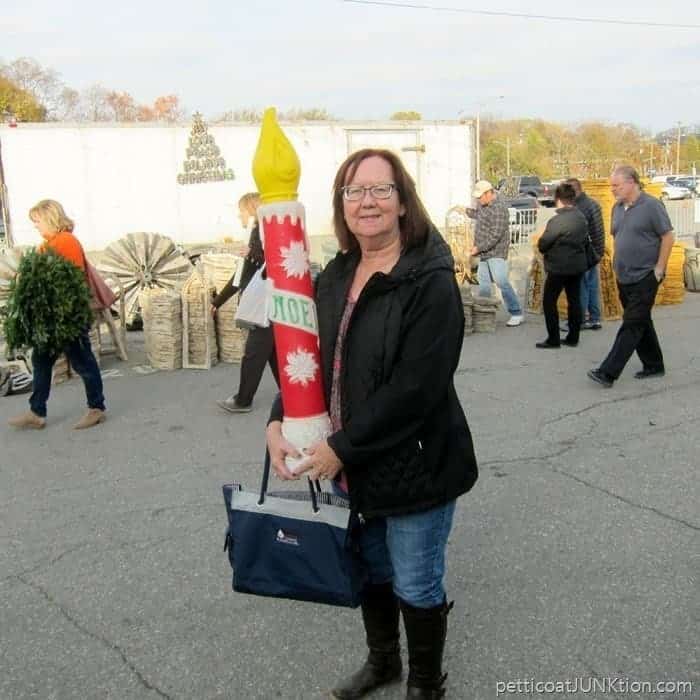 I bought it 3 years ago and paid $20 for it. Not a steal but not a deal either.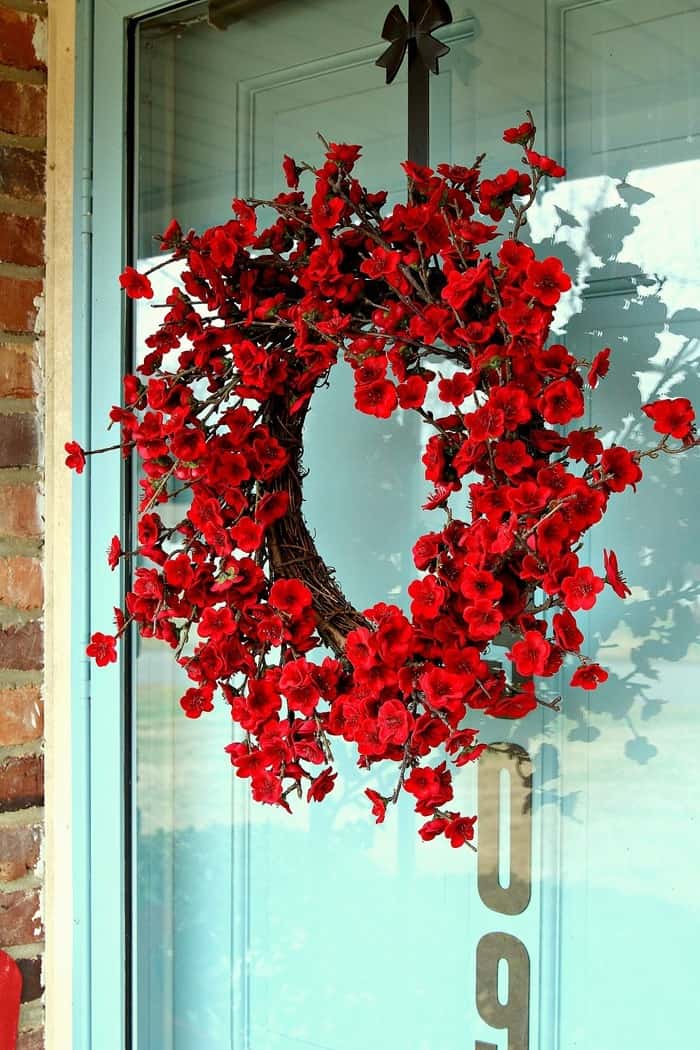 Red Front Door Wreath
The red floral wreath is a TJMAXX purchase. I could decorate with the wreath year round, especially for Valentines' day but I always save it for Christmas.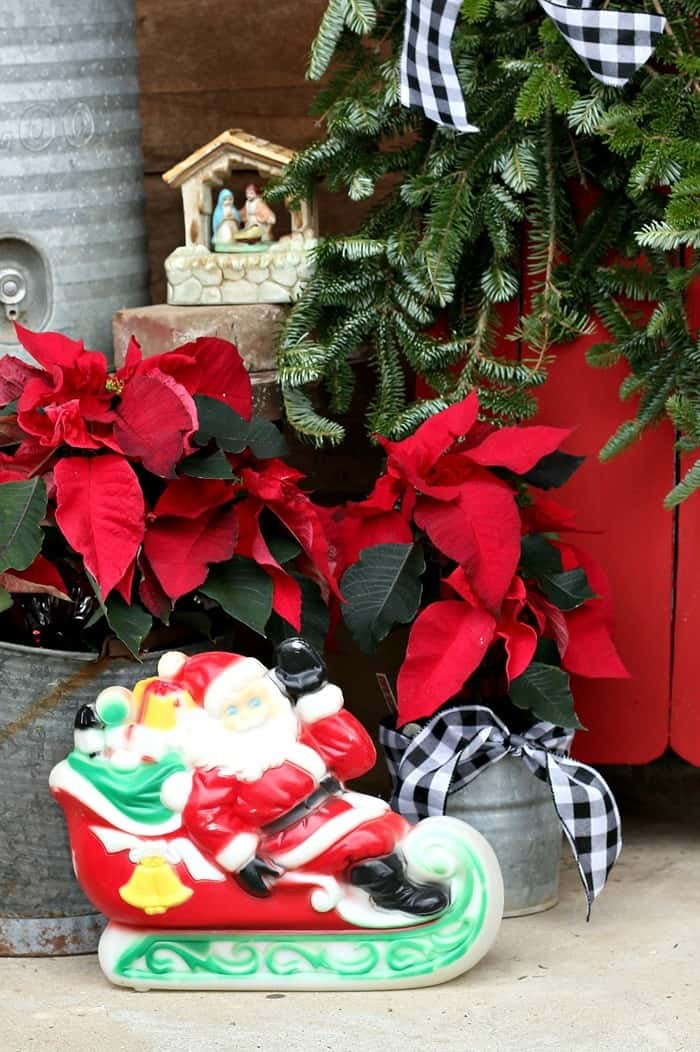 I bought the little ceramic Nativity scene at my favorite junk shop a couple of weeks ago for $2. It was really grimy and when I started washing the stable roof the paint came off. So, it's still dirty and it's been relegated to the porch.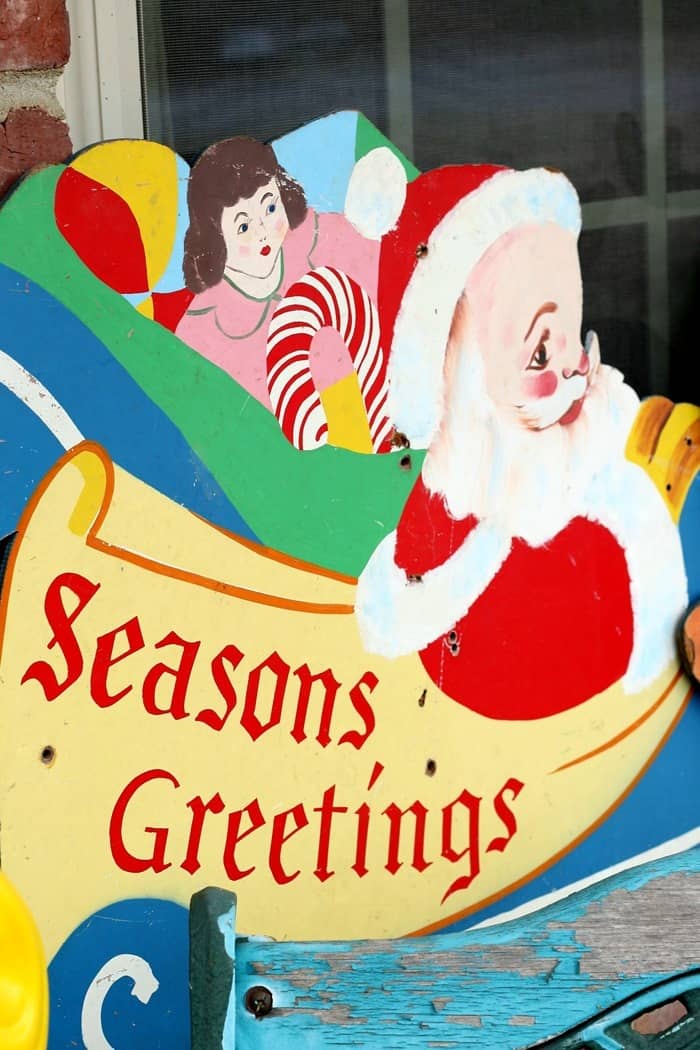 The Santa and Reindeer are also a Nashville Flea Market purchase. I kid about the holes in the sleigh and reindeer being bullet holes but I could be right. Or maybe they're screw holes?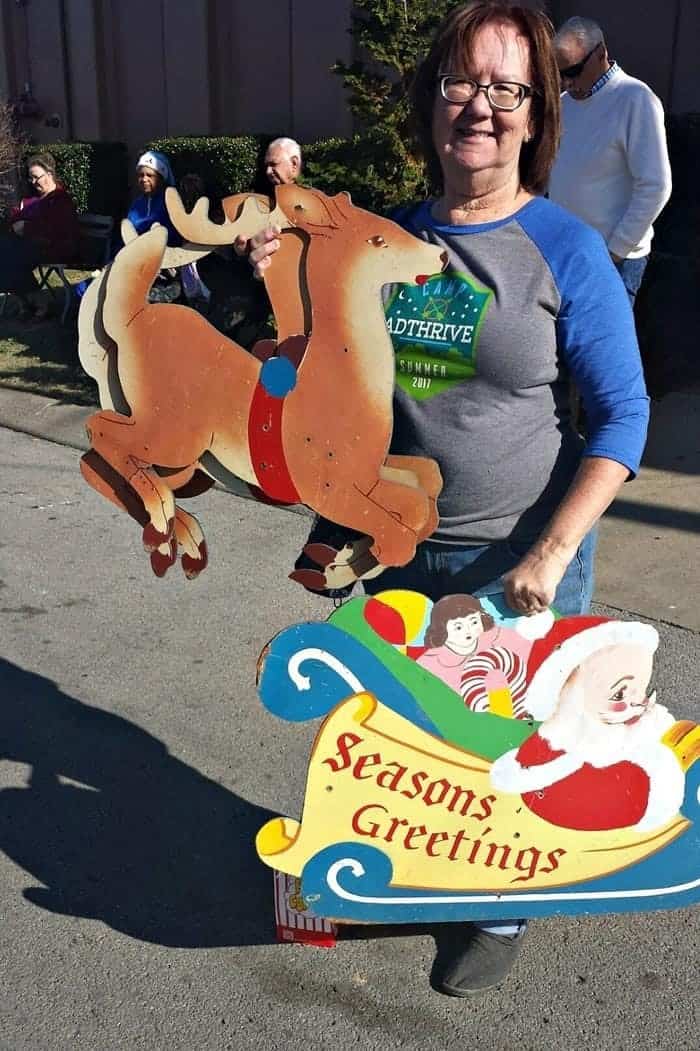 The vendor I bought Santa and his sleigh and 3 tiny reindeer from came all the way from Buffalo, New York.  I paid $20 for the vintage set.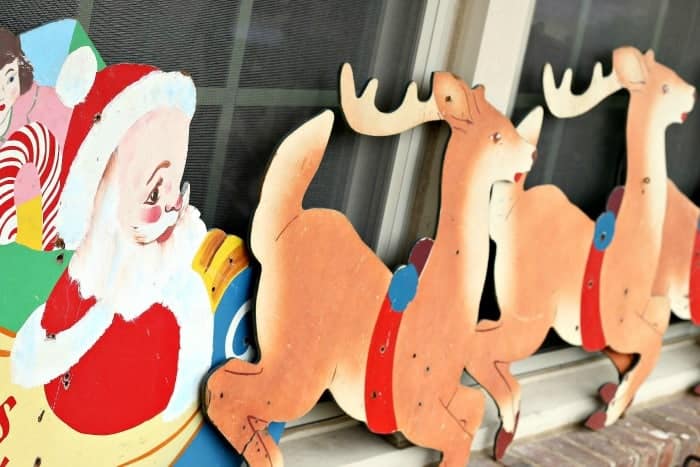 Santa and his Reindeer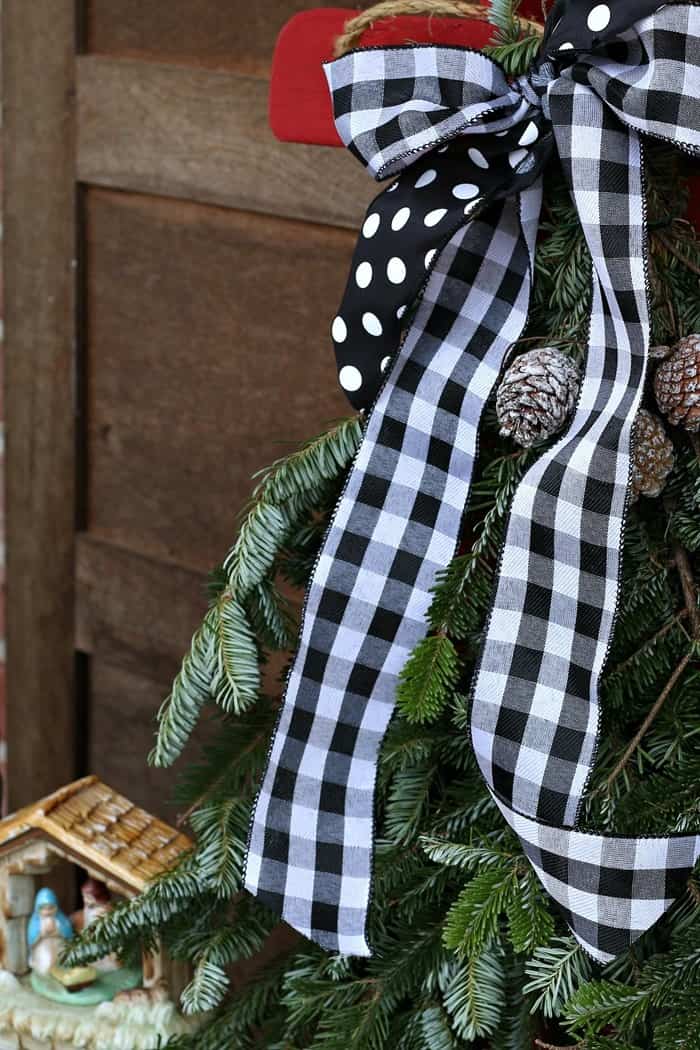 I hope the greenery swag lasts through the holidays and doesn't lose all of it's needles. The black and white ribbon looks much better than the red one.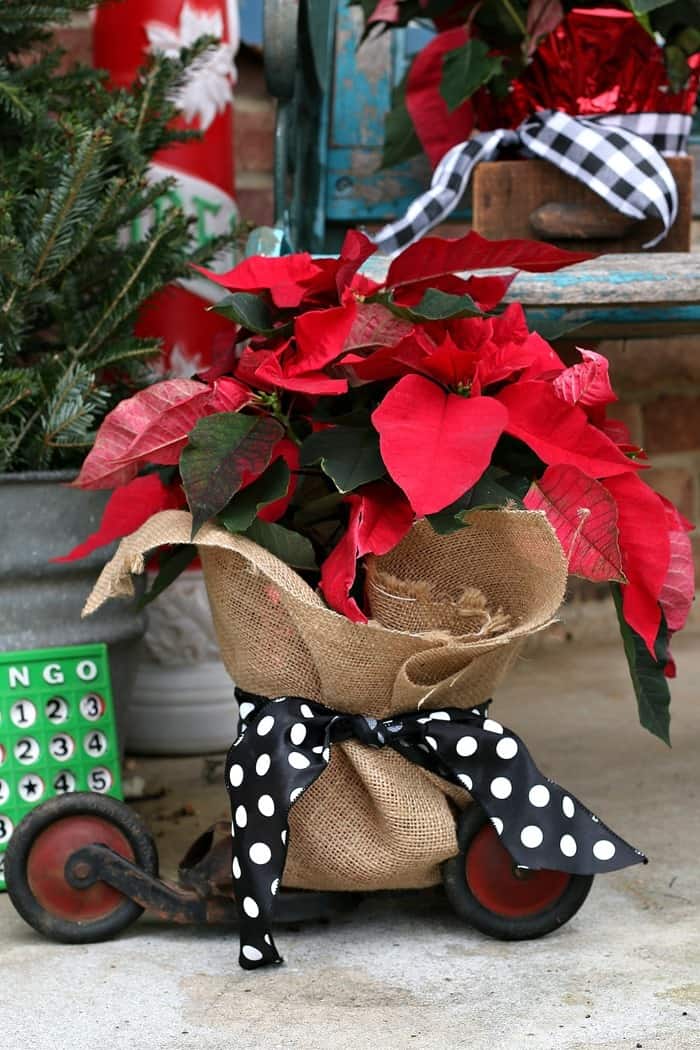 Red Porch Decorations
Another look at the three wheel skate holding the potted poinsettia. I cut a square of burlap to cover the pot and cinched it up with ribbon. This is so easy to do and looks much better than the bare pot or the red foil.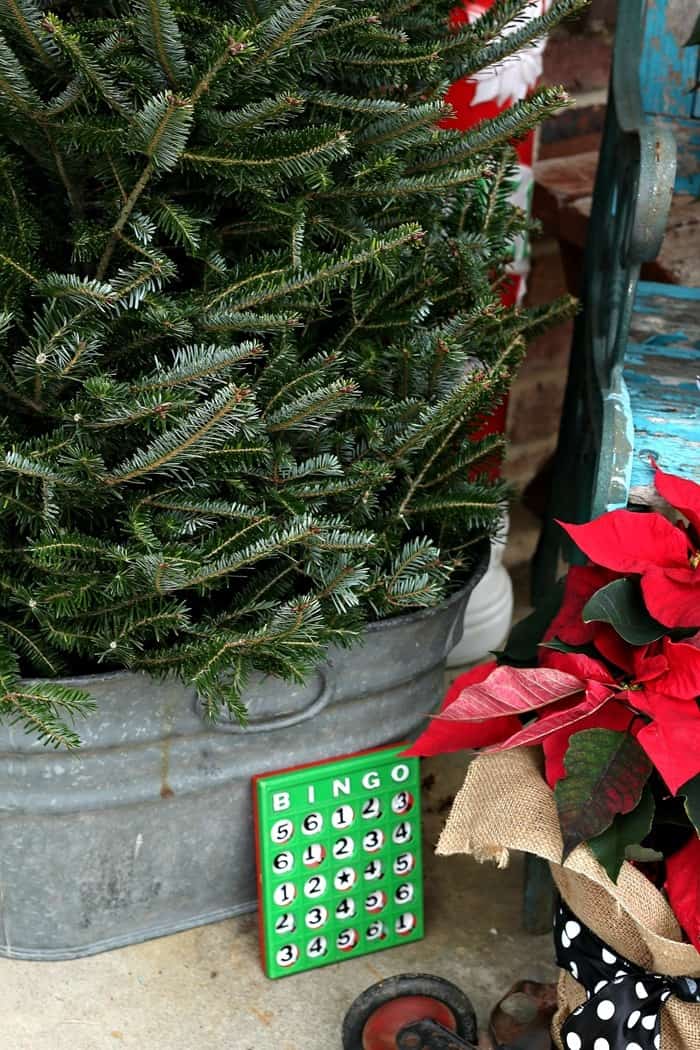 The plastic BINGO card is a fun whimsical touch. The opposite side of the card is red.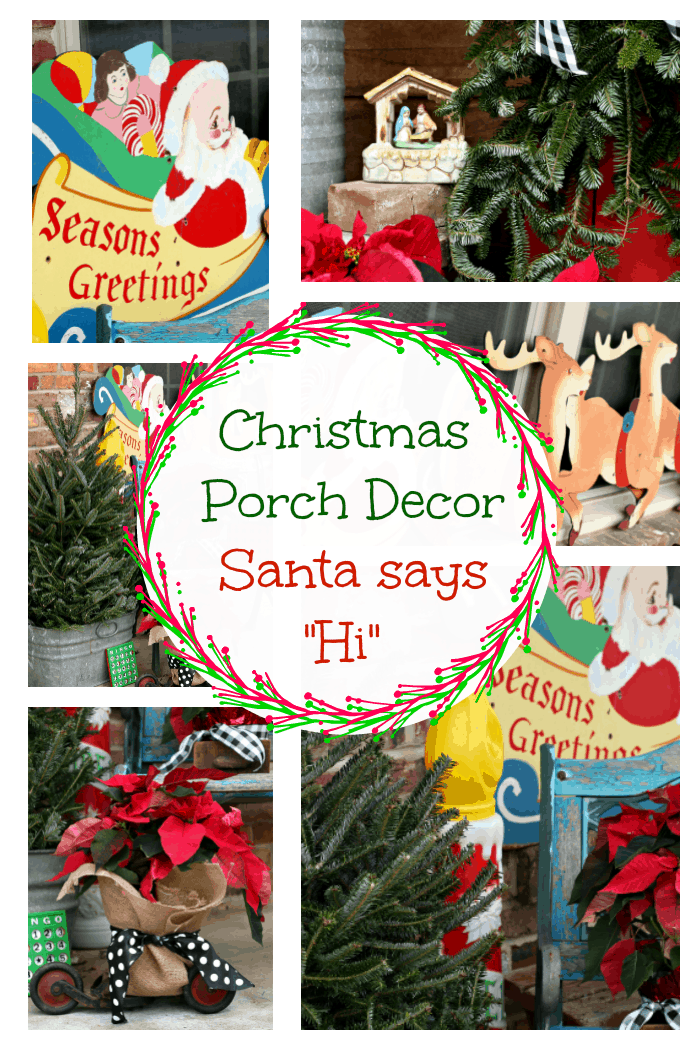 Decorating with Traditional Red for Christmas
That's it for my porch decorations. Did you have a favorite piece? Share in the comments and then take the Christmas Ideas Tour below. Be sure and bookmark this post so you can come back in case you can't make it all the way through the tour today or because you might want to take a second look.
Are you ready for more ideas? Here are some great ones for your mantel, porch, table, plus handmade gift ideas and gift wrap ideas. Be sure to visit everyone to see all the details.
Christmas Ideas Tour
Mantels
Porches & Decks
Tablescape Ideas
Handmade Gift Ideas
Gift Wrap Ideas
Christmas Home Decorating Ideas
Find Buffalo Check Ribbon and my favorite DIY supplies on the Petticoat Junktion Amazon Page here.
Tour of Butler's Antiques
As always, thanks for being here and have a great day, Kathy