New Junk Finds
I made it to two great junk shops in the same week and I found some great project pieces. Now I need to run some ideas by you and also share photos from the Southern Kentucky Flea Market.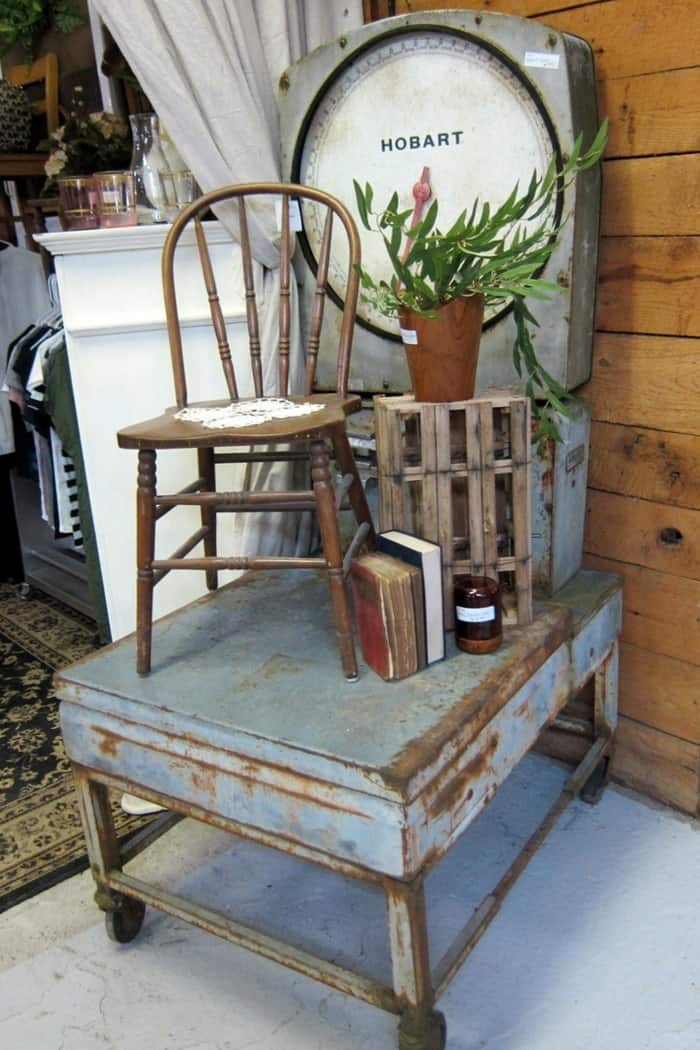 Isn't that scale the coolest. I love the size, shape, color, rust……everything. It would be a great piece to have if you had a large space…..so many ideas. I don't know what type of scale it is. Maybe someone could help me with that?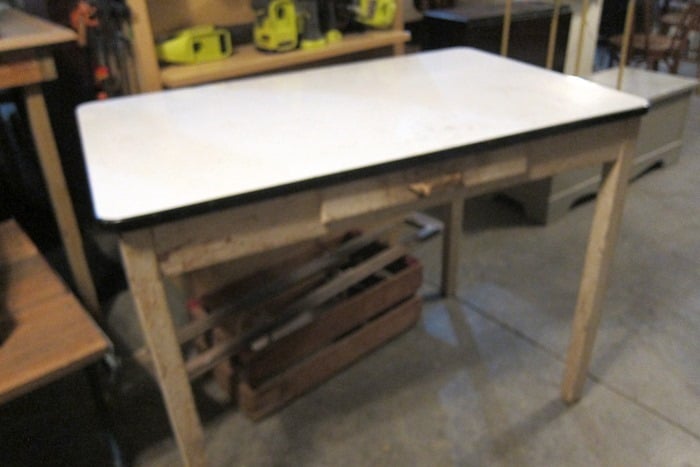 Sorry this photo is so blurry. Didn't realize it and now I'm not home (visiting in Arkansas) to take another quick photo. I got the porcelain enamel top table at my favorite junk shop for $20.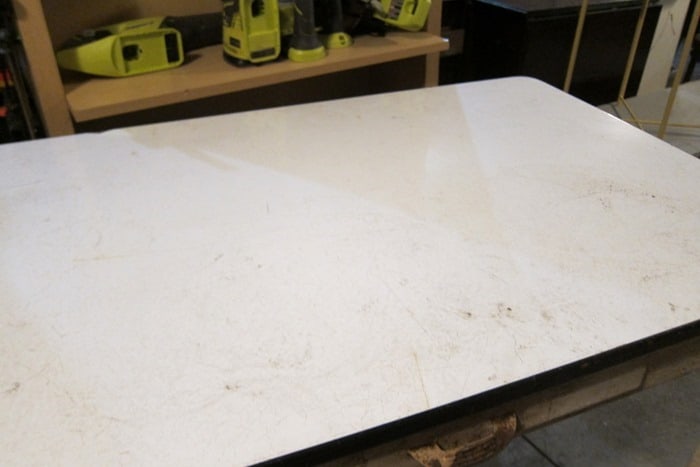 The top is scratched up by overall not bad.
It has one drawer with a cool drawer pull.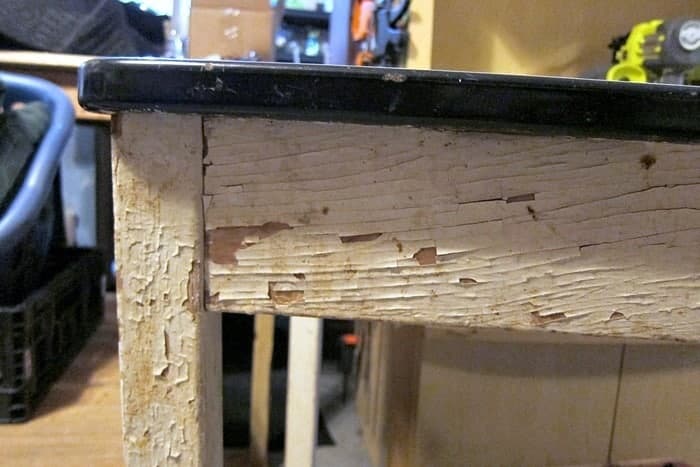 The paint on the wood body and legs is rippled and chipped. I'm not going to paint the wood at this time. The plan is to sand off the loose paint and apply a clear wax. I'll clean the table top well and maybe line the drawer with paper after it gets a good cleaning.
I was planning on using the table in my booth but on second thought I think I will keep it to use when I film videos. I plan to do  more videos in the future and I ordered a simple setup to hold my camera or phone to get overhead shots of my DIY projects. The table is a good size and height. We'll see what happens.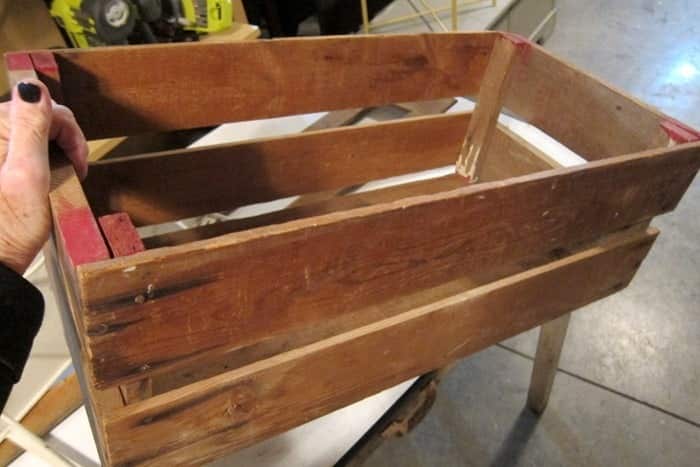 The homemade wood crate will look nice with a coat of white paint distressed and maybe a stenciled phrase of some kind.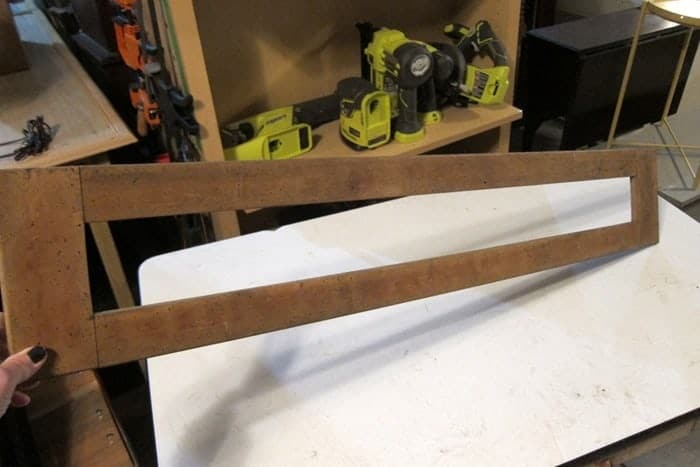 The long narrow wood cabinet piece was too nice to pass up. I thing I can do something cool with it.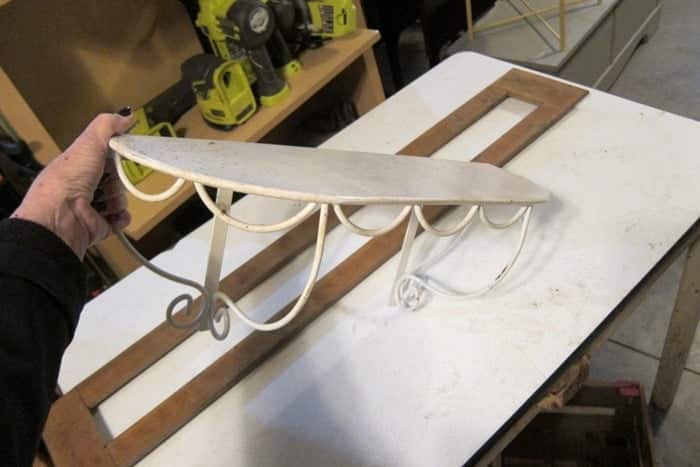 I also bought the metal shelf and have no clue if I will use it as is or decorate it somehow.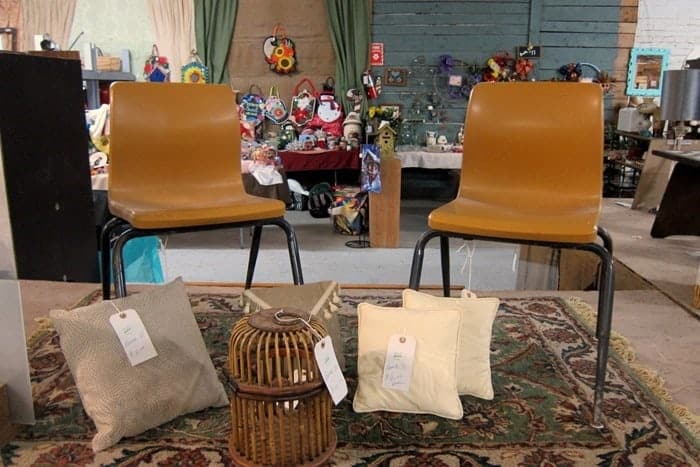 My other junkin' buys came from the Southern Kentucky Flea Market in Guthrie Kentucky. The indoor market is open every Friday – Sunday. I bought the pair of chairs for $10. I want to decoupage them and I have a couple of inspiration pieces.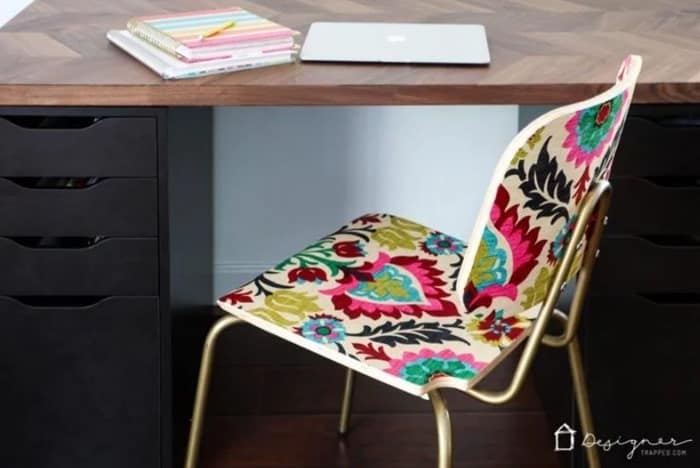 Decoupage Chair from Kaleidoscope Living
I've always loved the colorful decoupage chair by Tasha, Kaleidoscope Living (formerly Designer Trapped in a Lawyers Body). The bold colors and fabric design are awesome!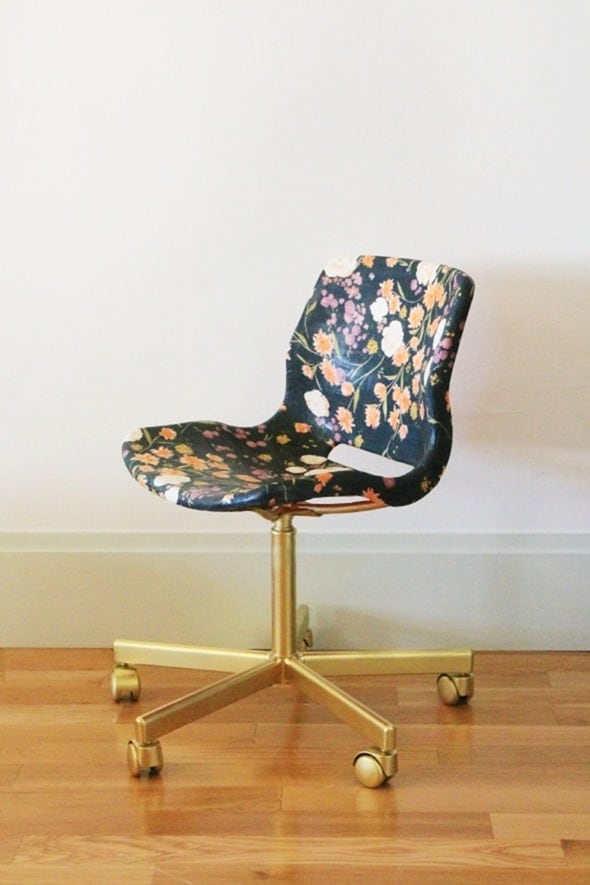 Chair Project From The Little Green Notebook
Another inspiration piece is from The Little Green Notebook. I definitely think I should spray paint the metal chair legs and go with a bold fabric for the pair of chairs I bought. Just not sure how easy it's going to be to wrap fabric around the edges of the chairs and get it trimmed all nice and neat.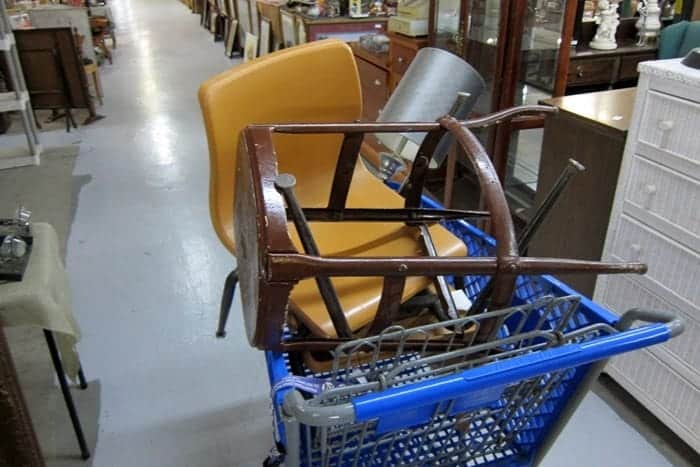 I also bought a metal stool for our workshop and a cool lamp. The metal stool will get spray paint another color. The brown is not doing it for me.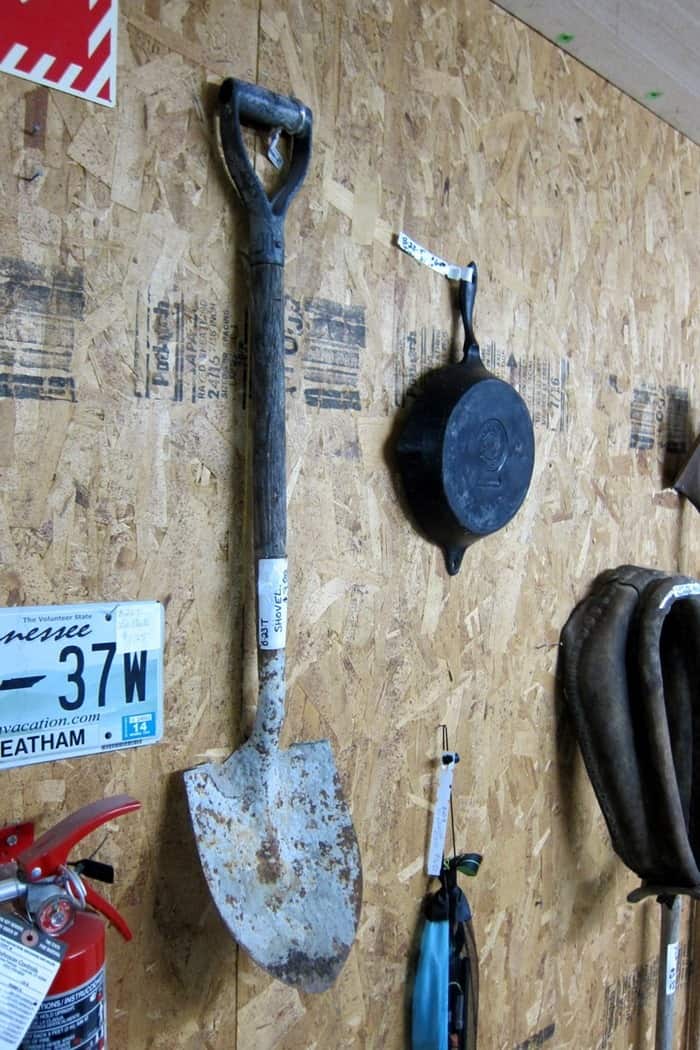 I bought the short shovel for $3. Maybe a floral display of some type???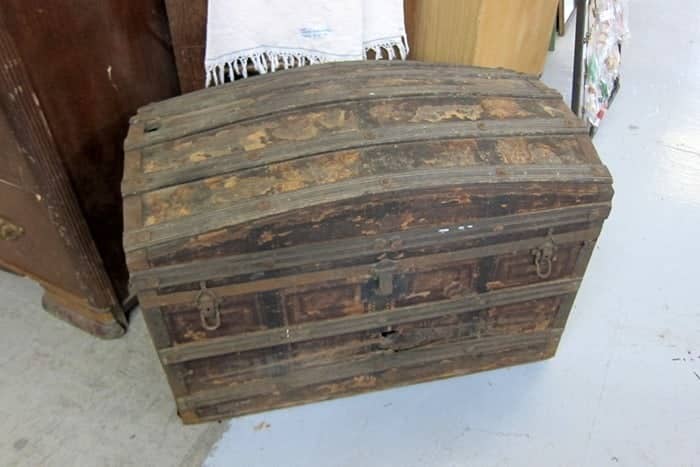 Next I'm sharing photos of cool things spotted at the flea market like this antique trunk.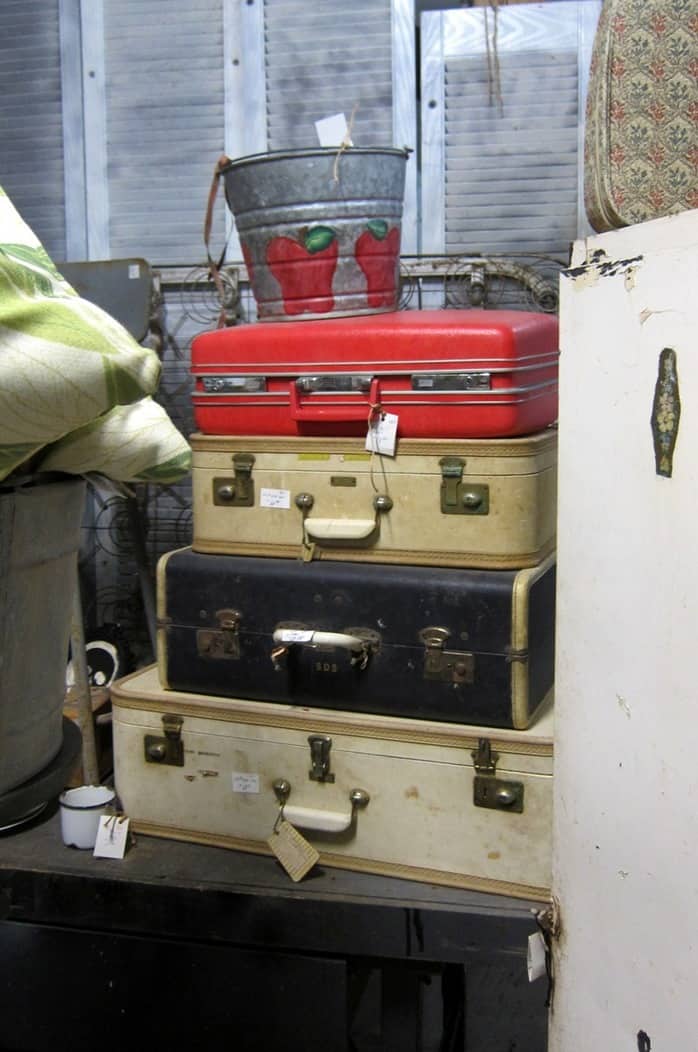 And I love all of the suitcases. They look so nice stacked.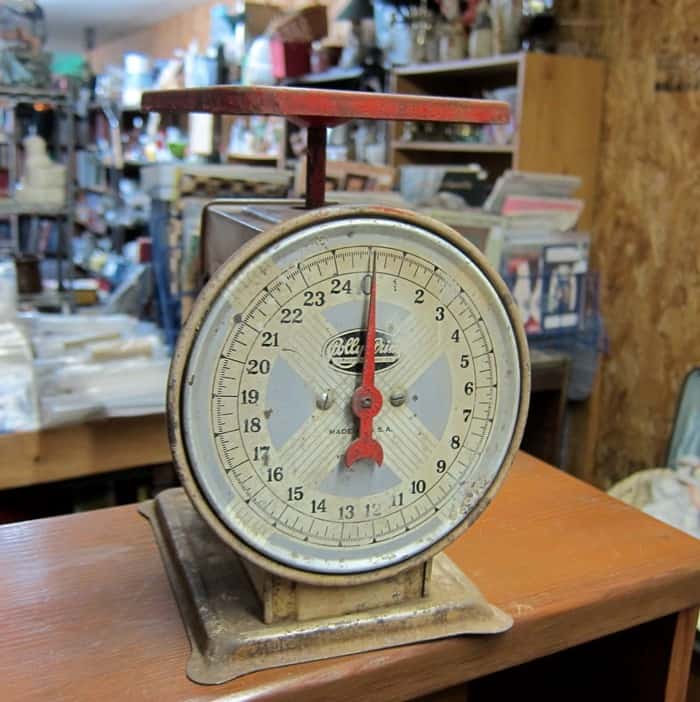 You guys know I love kitchen scales but this one was over my budget at $35.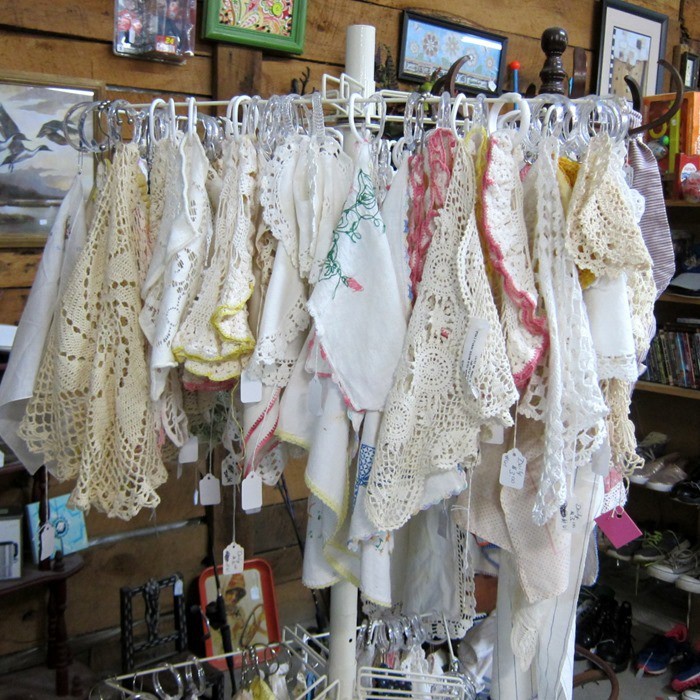 How about the pretty display of vintage linens? Hand worked stuff is the best.
Well that's it. What do you  think about my finds. How about the decoupage chair idea? Leave a note for me and thanks for being here.Have a great day, Kathy
Author: Kathy Owen (Petticoat Junktion)
Kathy is the founder of PetticoatJunktion.com, a home décor blog focused on repurposing and upcycling furniture, old hardware, rusty stuff, and thrifty finds into unique home décor. Kathy's projects have been featured on the Home Depot Blog, Plaid Crafts, Behr Designer Series, and in numerous magazines. Read more about Kathy here.